Working From Home – Opportunities, Challenges & What of the Future?
Working from home can significantly improve work life balance, however, can also bring on other health concerns, particularly for mental health and feelings of isolation.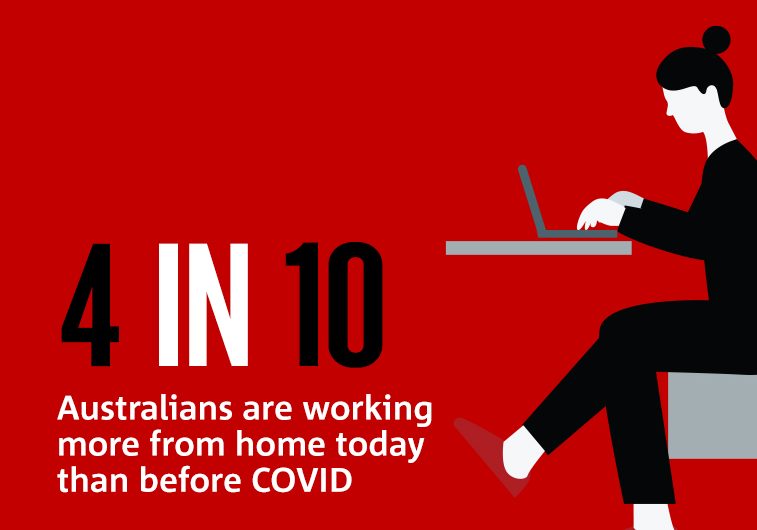 The impact of COVID-19 on working arrangements in Australia has been profound, with many of us still working from home more than 12 months after the outbreak of the pandemic in the country. While social distancing has been crucial to stopping the spread of the virus, working from home can bring on other health concerns, particularly for mental health and feelings of isolation. But it can also significantly improve work-life balance, connection to family and the ability to meet caring responsibilities, commute stress and cost, and feelings of wellbeing, without compromising productivity and focus. In fact, Australians believe the single greatest positive benefit of working from home has been their ability to get work done. As life begins to return to some semblance of "normality" and people filter back to their workplaces, what of the future? In this special NAB Health Wellbeing Insight report, we explore some key issues around working from home, including how Australians view their ideal working situation, how current working arrangements are impacting key aspects of our lives and what we have missed most since working from home.
On balance, working from home has been an extremely positive experience for most people, and ideally Australians wish to do so even more in the future, despite some concerns around loneliness, loss of informal interactions and the challenges of balancing work and home life. While many would like to work more from home, gender, income and location play a key role in determining whether this option is even available. This raises potential issues of inequality with workers typically on lower incomes missing out on some of the positive wellbeing and lifestyle benefits reported by those who are now working more from home.
4 in 10 Australians are working more from home today than before COVID.
Over a typical 5-day work week, on average, one-third of work time is now from home (or 2 days).
Victorians spend the most time working from home (2.5 days) followed by NSW (2.2 days) – significantly more than workers in the NT (0.6 days) and WA (0.9 days).
As a proportion of total time worked, people in in VIC and NSW spend 42% of their work week at home – compared to just 14% in the NT and 16% in WA.
Professional/managerial workers spend the most time (2.4 days), along with higher income earners (2.1 days);
Workers with children (2.4 days or 41% of their work week) spend more time at home than those without children (1.7 days or 34%).
Australians would ideally spend 2.4 days at home (vs. 2 days currently), or 43% of the workweek (37% now).
Many groups currently spend far less time working from home than they would like – particularly in WA (40% ideal vs. 19% now), the NT (26% vs. 11%), TAS (40% vs. 27%), the ACT (39% vs. 27%) and QLD (43% vs. 33%), women (43% vs. 31%) and unskilled workers (34% vs. 19%).
The positives significantly out-weigh the negatives particularly for: getting work done, productivity, family connection, happiness, caring responsibilities, collaboration with colleagues & customers and weekly finances.
But mental health & feelings of anxiety (35% of Australians perceive a negative impact, particularly women), career development opportunities and the ability to separate their work & home life, are much less positive.
The key negative is loneliness – for 1 in 3 (32%) Australians overall and particularly for women aged 18-29.
What we miss most since working more from home are informal chats and interactions (particularly women); friendships with colleagues; brainstorming (particularly men); human interaction; the line between work and home (particularly women); office humour (particularly men); and the ability to switch off.
Get all the insights in the NAB Health Wellbeing Insight Report – Working From Home