September 12, 2023
Building culture and careers in property with Susan Lloyd-Hurwitz
One of Australia's most successful executives gives some inside tips at NAB's Women in Property Finance industry networking event and reveals the biggest intellectual challenge of her post-Mirvac life.
After more than 30 years working in property finance around the globe, Susan Lloyd-Hurwitz says she is still captivated by the sector with all its varied disciplines, challenges and opportunities for change.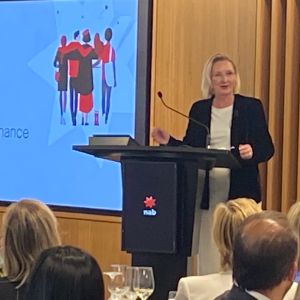 "I'm absolutely enthralled by this industry," she says today. "I'm enthralled because it's this wonderful, eclectic mix of urban geography, economics, finance, psychology, sociology, behavioural science, public policy and, of course, the built form."
Lloyd-Hurwitz was speaking as special guest at NAB's Women in Property Finance event to share her career highlights, tips and current areas of focus with a room of 80 industry professionals across the property finance value chain, including valuers, lawyers, fund managers, regulators and development managers.
Now in its second year, the event offers the chance to connect with peers over lunch, while hearing inspiring stories from leaders in property and construction promoting female participation across the sector.
Along with the shared career stories and big industry breaks, guests heard how women are working on ways to transform the industry, forging new pathways and innovation for the future.
As Lloyd-Hurwitz's keynote and discussion showed, if there's been a thread to her career, it's been one of constant learning and curiosity since first falling into the sector "quite by accident" after finishing a thesis on Icelandic migration to Australia as an arts honours student at Sydney University.
It was around this time her supervisor received an opportune call from Knight Frank which landed Lloyd-Hurwitz a research job despite her lack of property experience. This break set her "off and running" in a career that has since spanned Australia, Asia, the UK, Europe and the US, including 10 years as Mirvac CEO, a position she stepped down from in March this year.
Along the way she also completed an MBA in France and says she is still excited to be learning about different areas of the economy today in a range of advisory and board roles encompassing banking, resources, housing, education and gender advocacy.
Walking the talk
Of all the many lessons she has learnt, it's the importance of building the right workplace culture that stands out – starting with "walking the talk" as a leader.
Lloyd-Hurwitz says an especially searing moment came during a simulation exercise early in her career at Lendlease. She'd been "behaving badly" by subtly signalling the training wasn't worth her time and not really being present or joining in. Afterwards, the session runner took her aside and said she could behave like that if she wanted but she would pay a big price in her effectiveness as a leader.
"I've absolutely never forgotten that lesson," Lloyd-Hurwitz says today. "People pay attention to how you behave: what behaviour you ignore, how you engage with something, when you raise your eyebrows, make a face, when you pay attention and when you don't.
"Your words are nice, but they don't carry nearly as much weight as what you do. As employees we're all very alert to hypocrisy. Not walking the talk is the first thing that breaks trust between you and your people."
Lloyd-Hurwitz says she also didn't fully understand both the power and burden of the "leadership shadow" until she stopped being Mirvac CEO and "could finally be Sue; not Sue the CEO".
"I realised in that moment how conscious I had been all that time of trying to thread that needle of being really authentically me, but also being super-conscious of my leadership shadow and the way I was moving Mirvac along, often without saying a word. It's what you do, what you pay attention to and don't pay attention to that says way more than what you actually say."
Cities and culture
Lloyd-Hurwitz says the changing nature of work and the implications for the future city and office is what which fascinates her about property today. She cites culture as the single most important predictor of company performance and "something created where people are together".
"Cities are the driving force of our economic growth because cities are where people come together," she says. "It's the city as an agglomeration of humans which creates the innovation, the spark and the conversation that is the generator of wealth, not people in their individual isolated environments completing their tasks."
While she says it is too early to tell if there has been a structural shift in demand for office space, there is clearly a "bifurcation between fit-for-future office assets and ones that won't be".
"There's going to be fantastic obsolescence opportunities for the reshaping of our cities and it's going to be fascinating to see how that plays out," she says.
In her advocacy role as President, Chief Executive Women, Lloyd-Hurwitz says like other pressing social issues, there are no quick fixes for gender equity. But she champions promptly addressing the gender pay gap within organisations by looking at, and immediately acting on, the data and then continually redressing the balance to ensure "it doesn't creep back in".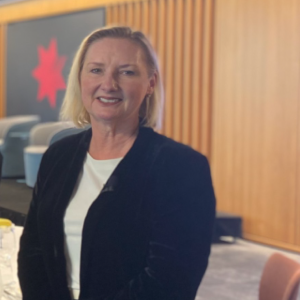 The other practical approach to growing the number of women in senior management, she says, is to have targets around hiring shortlists.
"You don't have to hire diversely, but you have to go find diverse candidates. When the headhunter gives you a list that doesn't have 50 per cent females on it you have to send it back. We know empirically that companies that set targets improve their gender diversity and companies that don't go backwards."
Lloyd-Hurwitz says for prospective senior executives it's also important to find colleagues and companies who will support and sponsor that ambition.
The housing challenge
 But of all the work she is doing, the biggest intellectual challenge she relishes today is as Chair of the Federal Government's Housing Supply and Affordability Council.
"It's the hardest thing I do actually in my post-Mirvac life," she says. "It's the most challenging council to chair. And coming up with real ideas that can be implemented and can make a difference is the most intellectually challenging thing that I do in all the range of things that I'm working on."
Despite the scale of the task, she remains optimistic that efforts by the federal and state governments will improve what she says is the fundamental issue of supply amid myriad challenges – including the need to reform planning systems and encourage institutions to invest more heavily in build-to-rent and affordable housing.
"All Australians should have access to safe, secure, well-located and affordable housing but millions don't," she says.
In November 2022, NAB announced a new target to lend at least a further $6 billion by 2029 to help more Australians access affordable and specialist housing.
The priority areas focus on access to finance for low-income earners and essential workers through government-supported housing schemes; financing high quality Specialist Disability Accommodation; and financing and partnering to enable social, affordable and community housing projects.
Accelerating change
Lloyd-Hurwitz was in discussion with NAB Executive, Client Coverage, Cathryn Carver, who said the property finance industry today was grappling with both economic and cultural challenges while working on ways to accelerate changes in the workplace.
Carver said new entrants to the industry were increasingly seeking purpose-led careers and stressed how sustainability and workplace diversity needed to be embedded within organisations at all levels to attract, develop and retain talent.
"Women continue to make their mark in developing a new workplace culture and this is something that is particularly important to me. Women are taking leading roles in really transforming the property industry and investing in the development of their colleagues.
"As leaders in a range of industries, we look to and learn from the past as we create the future. These are not easy challenges but they're an amazing opportunity for the kind of brainpower we've got in the room to think through."


Pictured above (L-R): Bill Halmarick (NAB), Victoria Whitby (Archistar.ai), Cathryn Carver (NAB), Allys Todd (Val.Ai) and Susan Lloyd-Hurwitz (CEW).