Building relationships in a region of opportunity
Now is an optimal time for Asian investors and contractors to explore Australia's thriving infrastructure sector.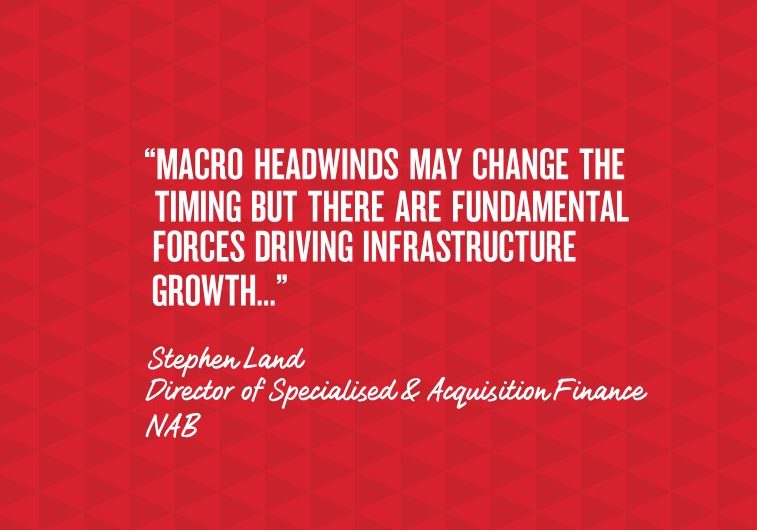 As Asia's largest economies slow and trade tensions reshape supply chains, now couldn't be a better time for Stephen Land, Director of Specialised & Acquisition Finance, NAB to move to Singapore – because regardless of any near-term volatility, regional infrastructure trends are poised to create a mass of mutually beneficial opportunities for investors, builders and owners alike.
As Land points out, infrastructure is a basic and pressing need; the Asian Development Bank estimates the region will need to invest US$26 trillion by 2030 to address its infrastructure gap.¹
And Singapore is set to be a hub in these efforts with the government's new Infrastructure Asia initiative, which aims to promote development by bringing together governments, companies and other stakeholders.²
"Infrastructure (in Asia Pacific) is predominantly funded by government and there's a realisation it's time to help build up private sector involvement," Land says. "There's going to be a lot of change. It's a big opportunity from the institutional perspective."
A two-way street
According to Land, infrastructure investment trends are moving in two main directions – both of which are fostering a more integrated region. First, Australian institutions are increasingly international in their outlook and keen to strengthen relationships in Asia's dynamic and growing markets.
Second, more Asian investors are exploring infrastructure as they seek diversification and yield – and Australia is rapidly emerging as a destination of choice. In fact, in one recent poll of investors, Australia topped the list of planned Asia-Pacific infrastructure investment destinations and was also seen as the market generating the most exciting infrastructure opportunities.³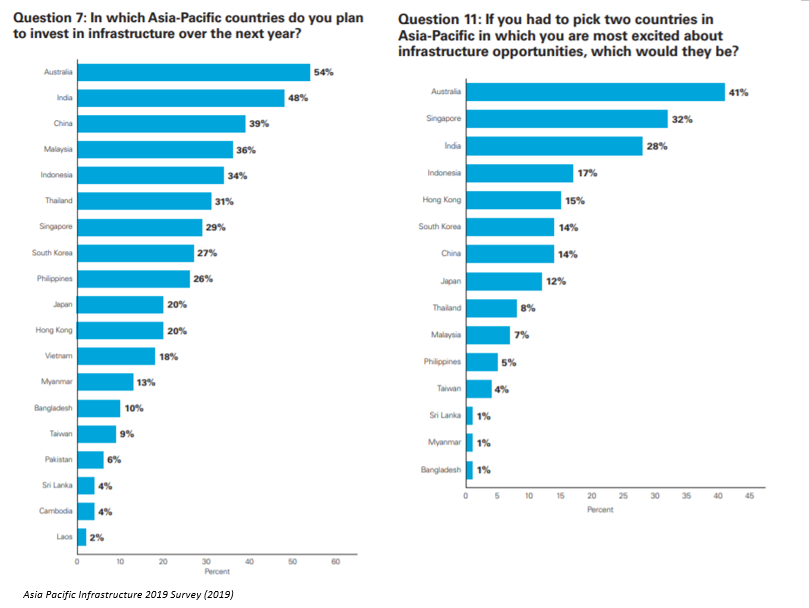 Land says there's good reason for this. "Australia is an environment with clear, readily enforceable contracts and a legal system that is robust and transparent, ensuring stability and surety for investors."
Transparency is another key advantage. The government's independent infrastructure advisor, Infrastructure Australia, "has developed a list that clearly ranks projects by priority," Land notes. "There's good visibility over the upcoming pipeline not just for the next 12 months but the next five years, giving investors and builders a degree of certainty.
"The strong and sustained pipeline means it's not a case of five projects this year and nothing the next," Land points out. "Investors and contractors understand there's a sustainable business opportunity."
There are several other factors drawing Asian investors and builders to Australian projects. "With some of Australia's state governments grappling with a shortage of contracting capacity, we've seen examples of governments  contributing towards bid costs, to actively attract offshore players," Land said.
"This makes it a very good time for Asian investors and developers to get involved".
"And it's not just mega-projects – there are plenty of projects that might be in the realm of a few hundred million dollars that are still worthwhile for companies to participate in, particularly if they've got a more strategic long-term view on the Australian market. You can work your way up to the really big projects."
The renewables race
While ambitious plans are emerging everywhere from transport to telecommunications, Land sees renewable energy as particularly promising. "There's a huge decarbonisation job ahead," he explains. "A lot of coal-fired power generation is starting to come to the end of its useful life and is being taken offline. The cheapest form of new generation to add is renewables. Whilst network issues have been in the news recently, these will be overcome in time, and they provide opportunity."
Economic and environmental forces mean renewables projects can serve investors' sustainability and performance goals, while Asian contractors can meet the rising need in Australia for their expertise in fields like wind turbines and distributed solar, Land notes. Green hydrogen is also becoming a fertile area for partnerships as the government seeks to support the development of production in Australia and export to Asian markets.
As Asian investors and builders explore these possibilities, NAB is well positioned to offer support, due to its home-market expertise and pan-regional. According to Land, the bank's solutions set extends beyond updates on changing regulatory conditions or guidance on local contractual practices, to more proactive forms of advisory.
As part of its role as lead arranger, underwriter and bookrunner for Goldwind's acquisition of the Stockyard Hill Wind Farm, for example, NAB dispatched a technical services team to the turbine manufacturer's facilities in China to gain comfort for the manufacturer's products to sustain a project financing. "This formal arranging capability, and strong local insight, helps us provide strategic advice," Land says. "We see pretty much every deal that goes through the market."
This ability will prove useful given Land expects Australia to generate many more compelling projects for Asian investors and contractors in the years to come.
"Macro headwinds may change the timing but there are fundamental forces driving infrastructure growth and strong support from all sides of Australia's political spectrum," he notes. "The vast majority of projects will go ahead – and Asian investors can play a significant part."
Speak with a specialist
¹ https://www.adb.org/news/asia-infrastructure-needs-exceed-17-trillion-year-double-previous-estimates
² https://www.enterprisesg.gov.sg/industries/hub/infrastructure-hub/infrastructure-asia
³ https://events.whitecase.com/insights/2019-asia-pacific-infrastructure-survey/asia-pacific-infrastructure-2019-survey-eng.pdf