Determination transforms struggling start-up into smoking success
A Victorian couple have turned their vision for a southern US-style barbecue restaurant with a good heart at its core into a fast-growing business.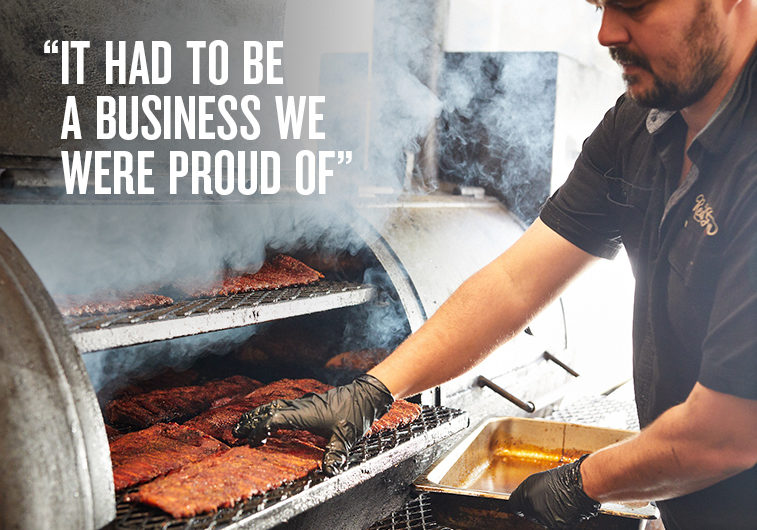 For years Melissa and Martin Goffin had conversations with each other over late-night glasses of wine about their dream of running a restaurant and sharing their love of southern-style American barbecue with diners.
Today that dream is reality. The couple's almost two-year-old restaurant Red Gum BBQ on Victoria's buzzing Mornington Peninsula is winning acclaim and growing fast as locals and tourists discover the combination of succulent slow-cooked meat served with warm hospitality.
But it was a dream that almost faltered, saved only by the couple's determination to succeed and their clear vision of the ethically-based 'good' business they wanted to create.
Making it happen
Miami-born Melissa is a former high school teacher whose love of wood-smoked American barbecue was instilled in her by her family's food heritage, while Martin, a local government youth projects officer, had become obsessed with the craft of the barbecue 'Pitmaster' during visits to the US with Melissa.
"These were food styles we loved but didn't see in Australia," Melissa recalls.
"Martin fell in love with barbecue. He was cooking for friends, making pulled pork and ribs and sauces, perfecting the 'low and slow' meat. We'd talked for years about a restaurant but, with no background in food businesses, it seemed unlikely."
But when Melissa returned to work after having their first child while Martin took paternity leave, the idea turned to action.
"I came home one day and Martin said, 'I want to open that barbecue restaurant'. And I said let's go for it," Melissa says.
Financial wake-up call
In 2013 the couple started small to test the product and concept with consumers – and themselves. Using savings, they bought a Texas offset smoker and began the difficult search for the free range and grass-fed meat producers they wanted. They started trading at markets and later as a pop-up eatery at a local brewery.
A key turning point arrived, however, when they realised the business just wasn't working.
"Martin loved cooking and we loved people's responses," Melissa says, "but it became so much work and everything we were doing was losing money. There was a low point when we wondered if we could continue."
Not willing to give up, the couple sought financial advice. For an intense three months, a consultant took apart their finances and then helped them redesign their business.
"It was confronting," Melissa admits. "It opened our eyes to the necessity of understanding our finances first and foremost. We had to work out if we could shift it somehow, but still maintain our standards – find the things that were profitable, make it more efficient."
Rebooting the business
Using the advice, the couple made changes to the business including adjusting pricing to a point that would be profitable, closely tracking their costs and reducing wastage. They cut out trading at markets and started focusing on catering, as well as the pop-up, while also looking for their own permanent space.
That came in the form of a huge former mechanics workshop in Red Hill, Victoria, which they transformed into what is now their communal-tabled restaurant that is Australia's largest craft beer and southern-style BBQ joint.
Today the business employs 37 staff and serves over a 1,000 people a week. The couple has added more revenue streams, including a growing range of sauces and rubs and in-demand cooking classes with Pitmaster Martin.
But there were big challenges. "We'd found the perfect space," Melissa says, "but it had no water, no infrastructure. "That first year was incredible. We were constantly confronted with things we didn't know. But we just kept working through it.
"We believed so strongly in the concept, we were convinced we'd open and people would come, and we've been incredibly lucky that that's happened."
Purpose-led culture
Underpinning the business has been the couple's ethical business philosophy, which has shaped their approach.
"We had some strong beliefs and values that were important to us," Melissa says. "We were committed to building a 'good' business and that's included things like being ethically-minded, supporting local producers, using only free range, grass-fed meat, being kind and working with other kind, like-minded people.
"Our greatest fear is becoming a business that prioritises profits over everything. It had to be something we were proud of."
The Goffins' ethical commitment helped them recently receive B Corporation Certification, which recognises businesses meeting high standards of social and environmental performance, public transparency, and legal accountability "to balance profit and purpose". Red Gum is Australia's first restaurant with the ethical accreditation, Melissa says, and the Peninsula's first B Corp business.
She believes the values at Red Gum BBQ's heart are a strong success factor.
"So many people tell us our place has a really special feel," Melissa says. "That was our dream, to create a place where people felt that. I get tears in my eyes talking to our customers. It's exactly what we wanted."