Global demand for high-quality Aussie products creates B2B trade opportunities
The global boom in SMEs in a world hungry for quality Australian goods and services is creating opportunities for local businesses prepared to look beyond their own backyard.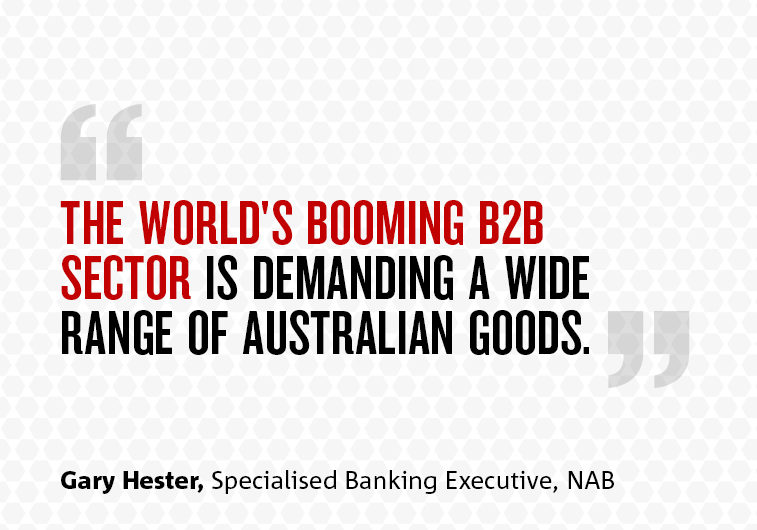 E-commerce isn't just for consumers. Businesses around the world have been increasingly leveraging e-commerce not only to optimise their procurement, but also to distribute their goods and service to business customers. While the number of Australian small to medium enterprises exporting to the world continues to grow, there are still vast untapped opportunities for local SMEs prepared to make the leap.
With between 365 and 445 million micro, small and medium-sized businesses in emerging markets around the world, global B2B demand is growing. By 2020, Frost & Sullivan predicts that the global B2B online retail market will generate revenues of US$6.7 trillion – double the size of the B2C online market.
Leading the charge for Australia is China, our largest trading partner, which accounts for roughly one-quarter of all our exports – or more than $100 billion annually.
More than 80 per cent of China's registered enterprises were micro and small businesses in 2017, including more than 23 million enterprises and 50 million individual businesses. The Chinese B2B market now accounts for almost one-third of the global B2B market. This share is only expected to grow, pushing China into the position of the world's largest online B2B market by 2020, according to Frost & Sullivan.
It's growth such as this that has seen increasing B2B demand for Australian products not just in China but around the world, particularly thanks to Australia's reputation for high quality standards and strict quality control, says Gary Hester, NAB Specialised Banking Executive, Trade and Working Capital, for Victoria and Tasmania.
"A lot of our agribusiness customers – not so much the farmers, but our post-farm-gate customers – have seen phenomenal success overseas over the past five to eight years," Hester says.
"A lot of that is driven by growth and demand in China, but really there's a global opportunity here waiting to be tapped."
Multiple export options
The world's booming B2B sector is demanding a wide range of Australian goods as well as services such as health, education and finance, Hester says. Key growth sectors include agriculture, food and beverage, health and beauty.
Despite this vast untapped B2B potential sitting on Australia's doorstep, many businesses still view entering foreign markets as too daunting.
For one thing, the volumes required to sell into large foreign markets can seem formidable to SMEs with a turnover of a few million dollars each year. This is where NAB can assist, Hester says, with funding to support different growth opportunities – such as working capital and short to medium-term trade loans.
"Beyond finance, we can also provide our customers with insights into how we see different industries approach international trade, and where Australian businesses have been successful," he says.
"Obviously there are the cultural and language barriers, but there are also the logistical challenges of shipping overseas, establishing a distribution network and really understanding the wants and needs of those local customers.
"That's where we see the likes of Alibaba helping our customers to establish a strong presence in the B2B space – not just in China but around the world, thanks to its incredible global reach."
A little Alibaba magic
The Alibaba Group consists of several global businesses handling business-to-business, business-to-consumer and consumer-to-consumer transactions. Some influential platforms include alibaba.com, T-Mall Global and Taobao Global.
Alibaba.com is the world's largest B2B trading platform for SMEs, reaching businesses around the globe connecting buyers and suppliers. China is the largest buyer from Australian businesses on the platform, with India second and fellow Australian businesses third.
The gateway to the world for many businesses, Alibaba.com not only offers a way to reach new business customers but also assists with the logistical challenges of shipping products, says John O'Loghlen, Regional Head of Business Development with the Alibaba Group (Australia and New Zealand). It also understands the markets relevant to Australian SMEs.
Within China, Australia is well-known for its high-quality products, O'Loghlen says, particularly in the categories of food and beverage, mother and baby, health and nutrition, and cosmetics.
New product categories on the rise from Australia include oats and cereal, all-natural skincare, pet foods and products, and sportswear and activewear. There are also growing opportunities for fresh Australian produce including milk, beef and seafood, all of which are becoming increasingly popular with Chinese consumers.
"The China-Australia Free Trade Agreement has further positioned Australia as a leading trade partner, providing market access and reduced tariffs for a number of Australian products," O'Loghlen says.
"Even so, for most SMEs looking to sell to China, the hardest part is knowing where to start."
Understanding the platform
This year Alibaba launched the Alibaba Made Easy tool, which provides guidance to Australian businesses on how to start their Alibaba journey. Australian SMEs can also look to seller.alibaba.com to start capturing global trade opportunities, and the e-commerce giant runs a range of events and activities designed for Australian businesses.
"Along with the Alibaba Made Easy tool, businesses can also work with our growing team servicing Australia and New Zealand," O'Loghlen says. "They are on the ground to help facilitate brands and retailers to access our marketplaces and solutions across cloud, marketing, e-commerce and payments."
"Australia is well known for its high-quality products, and there are big and exciting opportunities for more Australian businesses to sell to China."
The information provided in this article is intended to be of a general nature only. It has been prepared without taking into account your objectives, financial situation or needs. Before acting on the information in this article, National Australia Bank Limited (ABN 12 004 044 937, AFSL and Australian Credit License 230686) (NAB) recommends you consider whether it is appropriate for your objectives, financial situation and needs. NAB recommends that you seek independent advice before acting on any information in this article.