Markets Today: More caution on manufacturing undershoot
US equity markets have begun the new week in a tentative manner with a nervous feeling in the air. A slightly softer, but still elevated ISM print added fuel to peak growth concerns and the UST curve bull flattened.
Todays podcast
Overview You Drive Me Nervous
US ISM small miss adds to peak growth concerns
China delta outbreak adds to economic slowdown worries
UST curve bull flattens. 10y UST trade to a low of 1.1475%, now 1.17%
US equities mostly lower. Europe mostly higher
USD stable. AUD and JPY outperform
Oil down amid an uncertain demand outlook
Coming Up: RBA, AU Housing Finance and Building Approvals, US Factory and Durables goods orders
And then you say, You drive me nervous, nervous
And then I said,You drive me nervous, nervous, nervous, oh -Alice Copper
US equity markets have begun the new week in a tentative manner with a nervous feeling in the air. A slightly softer, but still elevated ISM print added fuel to peak growth concerns and the UST curve bull flattened with the 10y Note trading to an overnight low of 1.1475% before recovering to 1.17%. Oil prices fell by over 3% amid an uncertain demand outlook. The USD had a stable night AUD and JPY small outperformers.
The July US ISM eased to a still-solid 59.5 reading against expectations for a small uptick to 61 from 60.6 in June. On the positive side, the employment component moved back into expansionary mode, rising to 52.9 in July from 49.9 in June. Survey respondents still point to difficulty in finding labour, nevertheless this was an improvement relative to the previous month. The new orders also pushed higher and, while production was lower, the index of customer inventories fell to a record low, boding well for future output. On the not so good side of the ledger, the prices index remained at a very elevated level of 85.7, but 6.4-points lower than June. Export orders fell slightly to 55.7 from 56.2 previously and imports recorded the biggest move of any sub-index, falling 7.3-points to 53.7. The industry comments in the release continued to convey the message of production constraints, shortages of raw materials and difficulty in finding labour.
From a historic perspective a 59.5 manufacturing ISM reading is still a very robust activity reading, nevertheless reaction to the data release by the UST market suggest the market is concern over "peak growth" and the potential for more slowdown ahead . This narrative of course has not been helped by the recent China data flow with the softer official China PMI manufacturing survey released over the weekend followed by a softer than expected the Caixin version yesterday (51.03 from 51.3, est. 51.0). The UST curve bull flattened after the ISM release with the 10y Note trading to an overnight low of 1.1475% before recovering a somewhat. The 10y Note no trades at 1.17% while other core yields are also lower, 10y Bund down 2.6bps to -0.49% while 10y Gilts are -4.4% to 0.52%.
The US debt ceiling suspension officially ended at the weekend so expect to hear more about this over coming weeks and months until a new ceiling is agreed. Until then, debt will be capped at the current level of $28.5 trillion and special measures to hold it at that level have already begun. The US Senate is heading toward passage this week of a $550b infrastructure bill, with Majority Leader Schumer saying that it would pass "in a matter of days".
The cost of the programme will not be met by raising taxes but by various means such as selling oil from the Strategic Petroleum Reserve, tapping unspent funds previously allocated elsewhere and extending some budget cuts far into the future. Worth noting however that there is still a long and rocky road ahead. House Speaker, Nancy Pelosi said she won't bring the bipartisan infrastructure bill to the floor until the Senate acts on the follow-on Democratic budget package. This is president Biden's $3.5 trillion over a decade spending plan, but the proposal still needs backing from Democratt Senators Manchin and Sinema. Both have expressed reservations at the price tag as well as the tax increases needed to partly fund the plan. Meanwhile on the opposite end, New York Representative Alexandria Ocasio-Cortez warned that she and her allies have enough votes to sink the infrastructure plan if their priorities aren't addressed in the budget package.
China is seeing the biggest outbreak of COVID19 in six months, with a broad spread of new cases spanning almost half of the 32 provinces. Cases numbers are up over 300 so far, but as we've seen with the delta variant elsewhere, numbers can escalate quickly and its widespread is of some concern.
Oil prices tumbled following the release of the ISM survey, driving Brent crude down over 3% to a low of USD72.30, with the survey adding to some concern about potentially weaker demand alongside reports of spreading COVID19 across Asia.
Moves in FX haven been relative subdued. The USD is little changed in index terms (BBDXY @ 1140 and DXY @92.06), but somewhat surprising the growth/risk sensitive AUD shares the outperforming podium with the safe haven JPY. The Yen is up 0.42% (USDJPY @ ¥109.33) consistent with the cautiousness in the air and mover lower in UST yields. The AUD is up 0.27% to 0.7367, so still stuck in its recent 0.7290 to 0.7413 range and still in a downtrend established since mid-June . That said, on the day, the move up in the AUD represents a small recovery after being the biggest loser through July, with some traders noting a squaring of positions ahead of the RBA announcement this afternoon ( more below).
The NZD is flat at 0.6975, trading sideways centred at that level and within a 40pip range. EUR and GBP also show little movement, while lower oil prices have dragged down CAD by about 0.3%.
Coming Up
This morning Australia gets its weekly consumer confidence reading and Japan releases Tokyo CPI figures for July (core unchanged at 0%) which tend to be a good leading indicator of the national reading out later in the month. Australia's Housing Finance and Building Approvals data are also due for releases this morning, ahead of the RBA policy decision this afternoon.
Later today the Euro Area gets PPI figure for June, the US releases Factory and Durables goods orders (June) and Canada publishes its manufacturing PMI for July.
NAB's view is that the RBA will reverse its taper decision, keeping purchases at $5bn a week until February 2022 with the lockdown meaning the RBA is further away from its goals of full employment and inflation sustainably at target. Updated SoMP forecasts are out Friday, but we expect an outline of the new numbers in the post-Board Lowe statement which will need to incorporate the impacts of the lockdown. Governor Lowe also speaks just prior to the SoMP in parliamentary testimony.
As for Australia's Housing Finance and Building Approvals, we think these will show an ongoing unwind of the HomeBuilder effect and look for declines in both – Housing Finance  2.0% m/m (consensus +1.5) and Building Approvals -5.0% m/m (consensus -4.5%).
Market Prices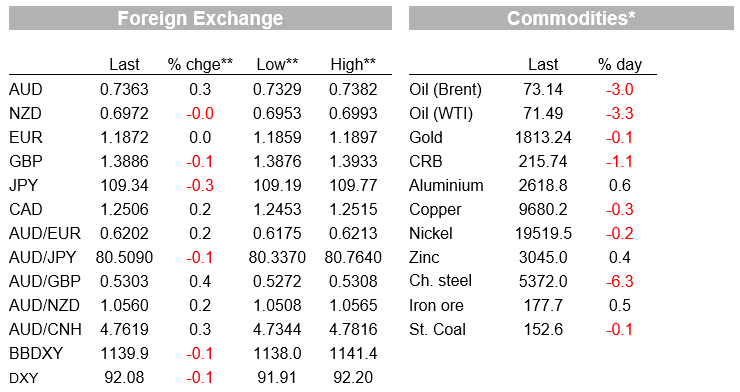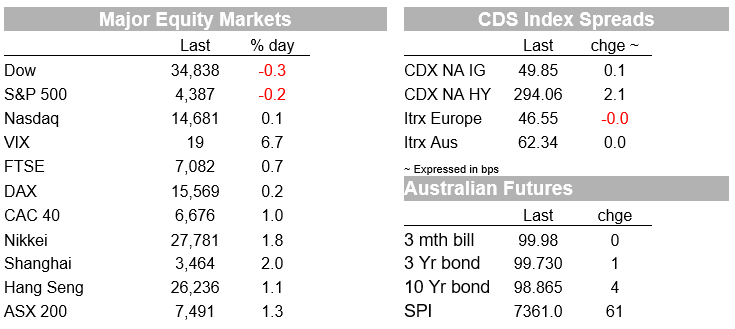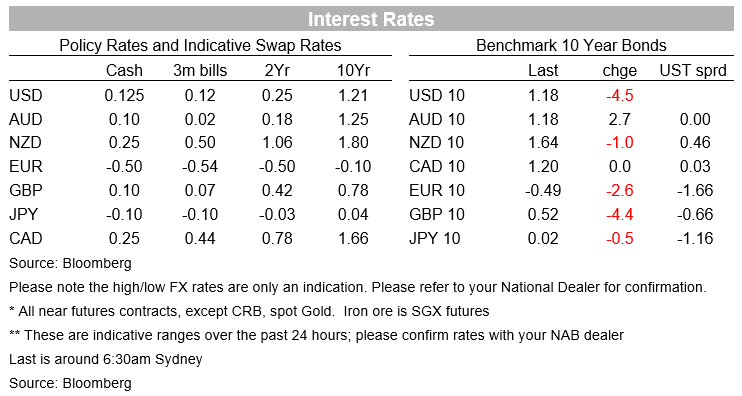 For further FX, Interest rate and Commodities information visit nab.com.au/nabfinancialmarkets