Markets Today: A quiet day
Markets have been calm overnight, in wait and see mode ahead of a series of more important events this week.
Today's podcast
Overview: Going the distance
Quiet night ahead of key risk events starting from Wednesday
G10 FX little moved +0.2%, ditto global yields with US 10yrs -1.4bps to 1.82%
US Agri Secretary suggests Dec 15 tariffs will not go ahead; ultimate decision though rests with Trump
Sparse data on the stronger side and supportive of the thesis of global growth starting to stabilise
US ISM semi-annual survey also notes firms remain optimistic, manufacturers though remain under pressure
Coming up today: NAB Survey, China CPI/PPI, UK Monthly GDP, US NFIB
A quiet start to the week ahead of key risks events that include the FOMC (Wednesday), ECB (Thursday), UK Election (Thursday) and the December 15 tariff deadline (Sunday). There has been no further development on US-China trade, although intriguingly the US Agriculture Secretary suggests the December 15 tariffs will not go ahead – the decision though rests with President Trump. In that context G10 FX is little moved with the USD (DXY) broadly unchanged at 97.67, with most major pairs +0.2% including the AUD -0.1% to 0.6833. EUR is unchanged at 1.1065, while GBP is +0.1% to 1.3148 ahead of the general election with the polls pointing to a conservative majority. Yield moves have also been contained with US 10yr yields -1.4bps to 1.82%. Equities are slightly in the red with the S&P500 -0.2% to 3,138.
Data was sparse, but tended to be on the stronger side and supportive of the thesis of global growth starting to stabilise. Japanese Q3 GDP was revised up to 0.4% q/q from the initially reported 0.1% q/q driven by stronger business investment (upgraded to 1.8% q/q from 0.9% q/q). Eurozone investor sentiment rose to +0.7 in December against the consensus of -5.3 and perhaps points to a stronger German ZEW survey later today. The German Trade Balance rose to €20.6bn from €19.2bn, boosted by a 1.2% m/m jump in exports and coming after a 1.5% rise in September. NZ also saw strong manufacturing production which was enough for our BNZ colleagues to revise up their Q3 GDP estimate due next week to 0.5% q/q from 0.3%. Some signs then that stabilisation is starting to emerge in the corners of the global economy.
On trade, news has been sparse
The one headline that caught your scribe's eye was the US Agriculture Secretary who stated: "We have a deadline coming up on the Dec. 15 for another tranche of tariffs, I do not believe those will be implemented and I think we may see some backing away". Secretary Purdue also noted "…there's got to be some movement on their part to encourage him not to do that and hopefully the signal that they sent over soy and pork reduction might be that signal in that way". On the weekend China granted further waivers for US agricultural purchases. The decision whether or not to raise tariffs on December 15 rests with President Trump and he has continued his constructive ambiguity on the issue which is keeping markets guessing.
Finally
A semi-annual survey by the US ISM Institute finds firms remain optimistic despite headwinds. The two caveats though are that Manufacturers are expecting to decrease capex by 2.1% in 2020, and stall hiring plans (0.1% increase). Non-manufactures in contrast expect to increase capex by 1.3% and increase employment by 1.2%. So it is clear that the manufacturing sector is in a recession, but non-manufacturing is more resilient and explains why the US economy has been outperforming. Interestingly the survey also noted the US-China trade war is likely to have permanent effects on global supply chains with "76.8% of manufacturers and 59.9% of non-manufacturers reporting they were either evaluating new supply sources and/or altering their existing footprint as a result of both U.S. and counter-tariffs". (see ISM Survey for details).
On supply chains and de-coupling the FT yesterday reported the Chinese government had ordered all government offices and public institutions to remove foreign computer equipment and software within three years. The report notes the move is part of  a broader campaign to increase China's reliance on home-made technologies, while it could also be seen as a reaction to the US' crimping of Huawei. It thus seems a degree of de-coupling is baked into the cake even if a partial US-China trade deal were agreed to.
 Coming up
Domestically markets will be looking at a speech by Governor Lowe and the NAB Business Survey. Even though Dr Lowe's speech is on payments, there is Q&A with the potential he is drawn into the realm of monetary policy. Internationally it is very quiet with the only potentially market moving pieces scheduled being the Chinese CPI/PPI and UK Monthly GDP. Events heat up further out in the week with the FOMC (Wednesday), ECB (Thursday), UK Election (Thursday), and US tariff deadline (Sunday).
NZ: Truckometer (10.00am local, 8.00am AEDT): Not market moving, last month had the Truckometer up 2.5% m/m.
AU: RBA Governor Lowe (9.05am AEDT): Governor Lowe is speaking on "A Payments System for the Digital Economy" at the AusPayNet Summit in Sydney. It is unlikely to be market moving, but there is always the potential given there is Q&A.
AU: NAB Business Survey (11.30am AEDT): No hints here apart from reiterating the survey is closely watched by Martin Place. Last month (October) conditions were +3 and confidence was +2 with both being slightly below their long-run average. Capacity utilisation out of the survey can also give a 6-7m lead on the trend for unemployment.
AU: House Prices – ABS measure (11.30am AEDT): The ABS measure of house prices is expected to rise 1.5% q/q in Q3. Note we have already had monthly house price data for November from Corelogic, so the data should not be a surprise.
CH: CPI/PPI (10.00am local, 12.30pm AEDT): Pork prices are likely drive headline inflation higher with consensus looking for a rise to 4.3% y/y from 3.8%. Inflationary pressures outside of pork though remain very subdued and the PPI is expected to remain in negative territory at -1.5% y/y. Inflation remains no barrier to further easing, though Pork-driven inflation is seeing China lift its agricultural imports for both proteins and feed stock (such as soybeans).
JN: Machine Tool Orders (3.00pm local, 5.00pm AEDT):
GE: German ZEW Survey (11.00am local, 9.00pm AEDT): Analyst sentiment is expected to improve only slightly, though risks are to the upside following the better than expected Sentix report yesterday. Consensus looks for ZEW Expectations at 0.0 from -2.1.
UK: Monthly GDP and Industrial Production (9.30am local; 8.30pm AEDT): GDP growth is expected to rise in October by 0.1% m/m, up from last month's -0.1% outcome. There is a large left tail in the distribution of forecasts and risks appear to be to the downside – note 7/20 economists are tipping flat growth in the month.
US: NFIB Survey (6.00am local, 10.00pm AEDT): Unlikely to be market moving. Consensus looks for a small rise to 103.0 from 102.4.
 Market prices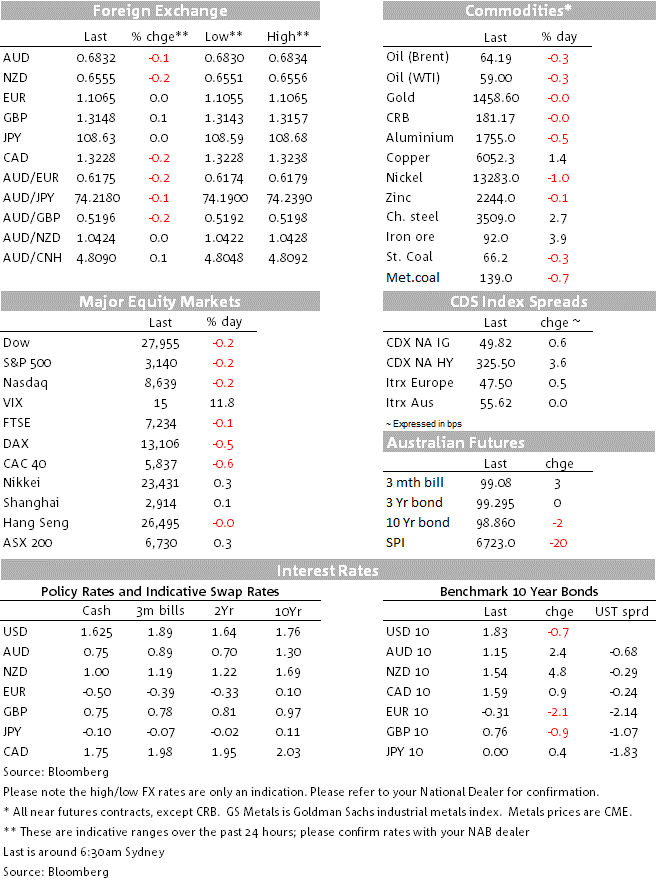 For further FX, Interest rate and Commodities information visit nab.com.au/nabfinancialmarkets
More from NAB