Markets Today: A sea of red
Equities, oil and bond yields are all down.
Today's podcast
Overview: Simply Red
Wary mood sees European and US equities start the new week with sharp declines
USD loses ground with safe haven bid favouring JPY, CHF and EUR
Ahead of the FOMC meeting Trump has another go at the Fed
Oil and UST yields drift lower
AUD and NZD little changed
RBA Minutes and US housing data the highlights today
Equity markets are a sea of red amid a wary mood by investors with soft US data releases not helping the mood either. Ahead of the FOMC later in the week President Trump had another go at the Fed and expanding US stockpiles have weighed on oil prices with WTI settling below $50 for the first time since October 2017. After trading to an 18 month high on Friday, the USD drifted lower overnight with safe haven bid favouring JPY, CHF and EUR.
Equities
A combination of company specific news, Friday news that Obamacare could be unconstitutional and soft US data releases contributed to a wary market mood  with European equity indices closing lower across the board while US equity indices also look set to start the new week with sharp declines. A decline in oil prices over the past couple of hours have not help energy shares either.
Retailers led declines in the Stoxx Europe 600 Index after Asos shares collapsed by 39% following the company's warning that its Christmas sales got off to a terrible start. Asos's warned that revenue growth would reach only 15% in the year through Aug. 19, well below the 20-25% medium-term target. The Stoxx Europe 600 index closed Monday at -1.14% with the consumer discretionary the worst performing sector, down 1.67%.
US healthcare share have remained under pressure as investors continue to assess the implications form a Texas court ruling that the Affordable Care Act (Obamacare) is unconstitutional. Meanwhile Johnson & Johnson extended its recent losses, down more than 2% overnight, after reports that it had worried about the potential for asbestos contamination in its Johnson's Baby Powder for decades.
Finally US data didn't do much to appease concerns of a global growth slowdown with the NAHB housing index falling to its lowest level since mid-2015 while the NY Empire Manufacturing index  printed a sharp drop in December.
Currencies
Ahead of the FOMC meeting later in the week, President Trump had another go at the Fed with an overnight Tweet saying "It is incredible that with a very strong dollar and virtually no inflation, the outside world blowing up around us, Paris is burning and China way down, the Fed is even considering yet another interest rate hike. Take the Victory!" . The market expects the Fed to defy Trump by raising rates but to drop its reference to "further gradual increases" in the Fed funds rate, signalling that monetary policy will be more data-dependent next year.  With rates at the lower-end of the Fed's neutral rate estimates, the hurdle for additional hikes will be higher than previously.  We expect Fed officials' median interest rate forecast for next year to decline from three hikes to two hikes, which would reinforce the notion that Fed might "pause" its tightening cycle in March (the market prices a 30% chance of a March hike).
Trump's tweet didn't elicit a big market reaction but the souring in US equities along with disappointing US data releases have weighted on the USD overnight. After trading to an 18 month high on Friday, major USD indices are down around 0.35% with DXY currently trading at 97.099, so still pretty close to it ytd highs.
For a change the safe haven bid has favoured JPY, CHF and EUR. JPY has led the gains against the USD with USD/JPY down 0.57% to ¥112.75. Declines in equities along with a 3bps decline in 10y UST yields to 2.85% have helped the yen performed. EUR is 0.44% higher and currently trades at 1.1348. News from Italy in regards to the government budget helped the euro with the populist coalition government announcing that the coalition had settled on a 2.04% fiscal deficit target for 2019.  That is all well and good, but the European Commission still needs to formally agree to the proposal, but the watered-down deficit target should reduce the risk of financial penalties for Italy.
AUD and NZD are again bystanders with both antipodean currencies little changed. AUD now trades at 0.7177 and it is still about 20pips below its 50DMA, so technically the pair looks vulnerable and with risk sentiment taking a turn for the worst, we still think the AUD is at risk of heading lower near term. The VIX index briefly traded above 25 overnight and currently trades at 24.51. NZD trades at 0.6805 and for now remains comfortably within its recent 0.6785 – 0.6820 range. The ANZ business survey is released today and there is another GDT dairy auction tonight (our BNZ colleagues see a good chance that prices increase somewhat).
GBP has also managed to make some inroads on the USD, up 0.31% to 1.26222. After pressure from Labour Leader Jeremy Corbyn threatening to call a parliamentary vote of no confidence, if the PM didn't confirm what date the meaningful vote on her Brexit deal would take place, Theresa May said the parliamentary vote on her Brexit deal would be held in the week of the 14th January.
Bonds
US Treasury yields have drifted lower amidst the fall in equities and softer oil prices. UST yield fell in an almost parallel fashion with all major tenors down over 3bps relative to Friday's closing.
Early in the session levels, Bunds gained less than one basis point closing at 0.255% and gilts rose 3bps to 1.266%.
Commodities
Oil prices have come under pressure again with WTI (-3.6%) settling below $50 for the first time since October 2017 following news that Genscape Inc. was said to report a jump in inventories at the biggest American storage hub in Oklahoma. Copper is down  0.71% while Gold (+0.72%) and aluminium (0.83%) bucked the trend.
Economics
US housing market index (HMI) in the homebuilders' survey fell to 56 in early Dec from 60 in Nov, below the 61 consensus.
The US Empire State index dropped to a 19-month low of 10.9 from 23.3 in November, well below the consensus, 20.0.
Coming up
This morning New Zealand gets its monthly Business confidence reading and this afternoon the RBA releases Minutes from its December meeting. Later in Europe Germany gets its IFO survey and the US prints Housing starts and building permits.
Along with the market we will be reading the RBA Minutes for any policy clues, but we don't expect any surprises. Our sense is that we probably need to wait until the New Year for any clues on how the soft GDP figures have impacted the RBA's growth outlook. Markets will also likely focus on any Board discussion on housing market developments, given recent concerns by RBA speakers over undue credit tightening moves by some banks.
Market prices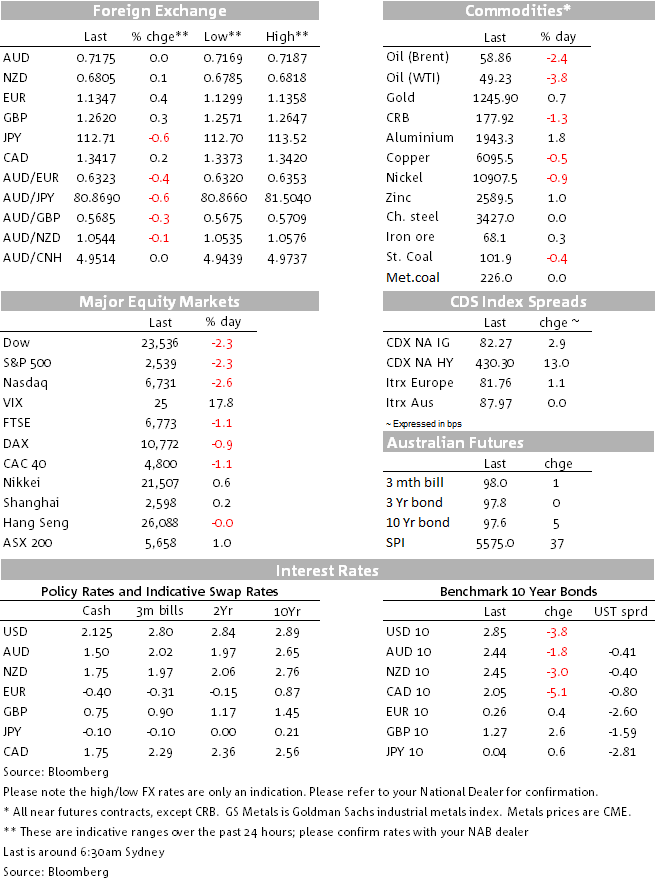 For further FX, Interest rate and Commodities information visit nab.com.au/nabfinancialmarkets