Markets Today: America goes gaga as Janet Yellen acts big
It's Inauguration Day, or it will be when Wednesday eventually ticks round in the US.
Today's podcast
Overview: Dreadlock holiday
Risk sentiment recovers through Janet Yellen nomination hearing, S&P +0.9%
US yield curve initially steeper after Yellen expresses interest in 50-year Treasury Bonds
Goldman results impress more than BofA – Netflix results at 8:00 AEDT
Oil on the rise again but of limited help to commodity currencies, AUD still <0.77
AU Consumer Confidence today – can it exceed December's post-2010 high?
Biden Inauguration Day, Bank of Canada meets
I say, I don't like cricket, oh no, I love it – 10CC
Even as a less than dispassionate observer, yesterday's final Test at the Gabba eclipsed the spectacle of England wresting the Ashes from Australia, for the first time since 1987, upon your scribe's arrival on these shores in 2005.  It evoked the famous quote from Manchester United boss Alex Ferguson in 1999, following the Red Devils' European Champions League victory over Bayern Munich: 'Football – Bloody Hell!'
US equities
Overnight we have seen US equities extend the nascent recovery evident in futures market during our time zone yesterday with the S&P500 coming into the last hour of trade up 0.9% and the NASDAQ +1.5% (the latter ahead of Netflix's Q4 earnings report after the close). Goldman Sachs has flipped from being in the green to red, initially up on its earnings results which beat expectations on stronger than expected sales and trading revenue, comments from CEO David Solomon in the investor call, where he expressed 'significant uncertainty' about the outlook, one reason being offered for the turn-around.  Bank for America also reported, where its sales and trading revenue underwhelmed expectations, though its stock is currently little changed.
The bigger driver of equity strength looks to have been Janet Yellen's Treasury Secretary nomination hearings before the Senate Finance Committee. While much of what she had to say was known via disclosure of her prepared testimony to selected media prior to the hearing, markets nevertheless were happy to discount some of the same news twice, specifically her call that extremely low interest rates provided the justification for the incoming administration to 'go big' with its proposed $1.9tn covid-related support. There would be no reversal of the 2017 Trump tax cuts now, she said, but which would feature in the subsequent budget proposal focused on infrastructure and climate change. Comments on the US dollar, that it (indeed all exchange rates) should be market determined and that the United States would not seek a competitive advantage via its currency, were fully known yesterday.
Treasury bonds
We got a first hint of the new administration's likely attitude toward China, where Yellen said that it was necessary to stand up to China's 'abusive and unfair trade practises (and where she specifically cited industrial subsidies).  Yellen also said the new Treasury will look into 50-year bonds, a comment which initially elicited some steepening in the US Treasury yield curve with the 30-yr bond up some 2bps versus less than 1bps for the 10-year Note (though the 10s-30s spread is since back to flat on the day). Note too that 10-year break-even inflation rates are up 2bps today versus less than 1bps for nominals, meaning real interests remain barely changed since the start of the year – important vis-à-vis the US dollar outlook.
Currencies
Improved risk sentiment is the main factor behind the softer US dollar overnight where the Bloomberg BBDXY index is currently 0.2% lower on Monday's New York close. NOK is leading the charge among G10 currencies with a 0.65% gain, doubtless helped by higher oil prices where Brent crude is up 2% and WTI +1% (not on any obvious factors other than the read though to demand from Yellen's testimony and the emphasis on going 'big' with fiscal policy, plus the softer USD. Other commodity currencies are also up but not faring nearly as well (CAD, NZD and AUD all up by between 0.1% and 0.2%).  AUD is outpacing NZD though, with the AUD/NZD cross up to 1.0814 at present, its best level since 13 October last year. NZD underperformance here is despite a 4.8% rise in the latest Global Dairy Trade auction, to its highest level since 2014, albeit largely as our resident cow whisperer Doug Steel, in Wellington, expected.
The EUR is the main contributor to the fall in USD indices, with something of a boost from the better than expected German ZEW survey, where the Expectations component lifted to 61.8 from 55.0 and against the 59.4 expected, while Current Conditions held steady at -66.5 versus -66.5 against expectations for a fall to -68.3.  Also helpful has been news that  group of Italian senators will abstain in a confidence vote later today, as a result of which Prime Minister Giuseppe Conte will almost certainly survive.
Coming Up
Netflix reports its Q4 earnings after the NYSE close (8:00 AEDT)
Westpac January Consumer Confidence, which recall in December hit its highest level since September 2010
China will hold its Loan Prime Rates steady at 3.85% (1-year) and 4.65% (5-year).
UK has December CPI (headline seen 0.5% from 0.3%, core 1.3% from 1.1%)
Bank of Canada tonight where its Overnight Rate is seen staying at 0.25%, though BoC Governor Macklem in late 2020 was suggesting that while the bar to negative rats was very high, shaving it to 0.1% was practically feasible.
President-elect Biden's inauguration, where Lady Gaga will sing the National Anthem
Market Prices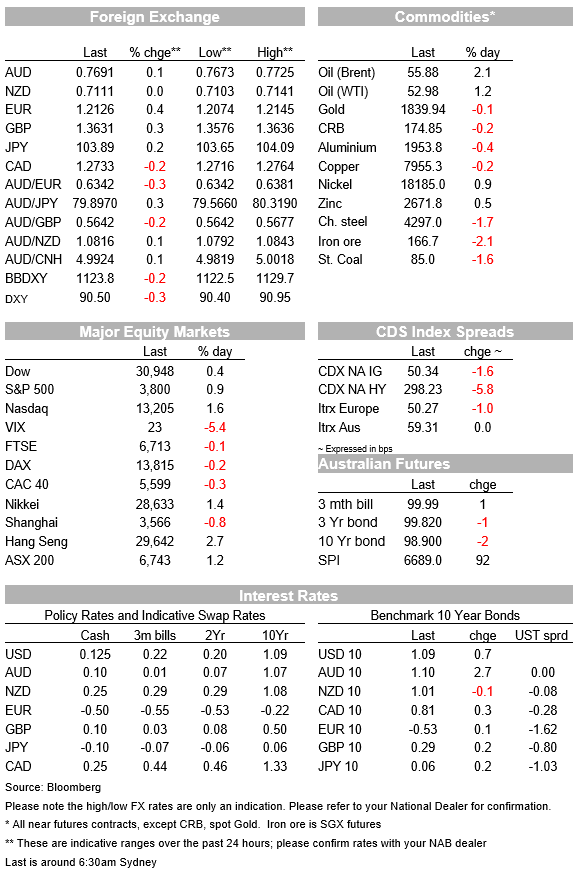 For further FX, Interest rate and Commodities information visit nab.com.au/nabfinancialmarkets