Markets Today: Argentina election shock & HK airport closure
There's a continued risk-off mood in the markets today, not helped by protestors forcing the closure of Hong Kong Airport and a surprise defeat of Argentina's President Macri in primary elections at the weekend.
Today's podcast
Overview: Hong Kong garden
Harmful elements in the air, symbols clashing everywhere – Siouxie and the Banshees
Risk sentiment deteriorates on Hong Kong, Argentine news, soft China credit numbers
US stocks -1.2-1.5%; financials, energy and materials leading the way down
AUD worse performing G10 currency, following further weakness in EM FX
RBA's Kent speaks at 08:00, NAB business survey at 11:30pm
Risk sentiment has picked up where it left off on Friday – or rather fallen down further – with a confluence of factors responsible, for once none of them directly attributable to President Trump's Twitter feed.
The closure of Hong Kong airport after thousands of demonstrators thronged the arrival and departure halls, a mini collapse in the Argentine peso after incumbent President Mauricio Macro lost a pre-election primary by 15.5 percentage points to the populist opposition party, and China July credit data showing the broad Aggregative Financing numbers more than halving versus June and so aggravating concerns that China is not going to fully offset the hit to its export sector from the trade dispute, have all contributed to the risk-off tone.
US equities have closed with losses of between 1.2% (NASDAQ) and 1.5% (DJIA). All 12 S&P500 sub-sectors are in the red led by financials (-1.9%)  with the latest fall in yields and further flattening of the yield curve adding to concerns about banks' net interest margins. The energy and materials sectors, -1.5% and 1.6% respectively, have fared next worse, symptomatic of deepening concerns over prospects for the global economy, even though oil and most hard commodity prices are actually little changed since the end of last week.
The sharp rise in risk that Argentine's reformist (and austerity minded) President Macri will be ousted by the populist opposition that included former left-leaning President Cristina Fernandez, has seen the Argentine peso fall as much as 38% before recouping about half of the losses. Its 100-year US dollar bond traded almost 25% lower at a cash price of 57 cents in the dollar, implying a high chance of default (which the sovereign CDS market puts at around 75%).  Incidentally, if you'd bought Austria's 100 year bond at the end of 2018 (now yielding just over 1%) you would currently be sitting on a YTD return of 66%. So if you are wondering why folks continue to buy bonds with negative yields for reasons other than safety, here's your answer.
Argentine's and Hong Kong's travails have had some contagion effect to broader emerging markets, for example the JP Morgan EM FX index falling 0.4% to its lowest level in almost 12 months. It's down just under 4% since late July. Remember this is a key factor behind our recently downgraded forecasts for both the AUD and NZD.  CNH itself (11% of the EMFX index) is actually unchanged on Friday's close at 7.10, unaffected by either the latest scenes from Hong Kong or last night's July credit numbers. The latter shows Aggregate Financing up ¥1,010bn, less than half of June's ¥2,263 bn in June.  This is all accounted for by bank loans (¥1,060bn) rather than 'shadow' financing.
AUD/USD is the weakest G10 currency overnight, down 0.5% after flat-lining during the holiday-thinned APAC session yesterday (NZD fell by -0.3%). At the other end of the G10 scoreboard, JPY has fared best, USD/JPY extending losses during our time zone to be -0.37% to ¥105.29.  CHF has fared similarly, +0.35% despite evidence from weekly SNB sight deposit data that that the central bank is back intervening to limit the extent of CHF appreciation. GBP meanwhile has recouped a bit of last week's post-negative GDP weakness, on reports that remain-supporting MPs are drawing up plans to take control of the legislative agenda on the 9th of September, the week after parliament returns from recess, in an attempt to constrain Boris Johnson's government from going ahead with a no-deal Brexit.
Finally bond market sees the 10-year US Treasury yield down 10bps to 1.645%, a new post-September 2016 closing low. The 2-year is down 6bps. In Europe, Germany's 10 year Bund loses another 1.5bps to close at a new record low of -50bps, while Italy 10-year BTP clawed back 10bps or so of its recent yield back up after avoiding a rating downgrade from Fitch on Friday night.
Coming up
RBA Assistant Governor Christopher Kent speaks at 8:00 AEST on: The Usual Transmission – Monetary Policy and Financial Conditions
NAB's July Business Survey is at 11:30. In June, Business Conditions rose from 1 to 3 and Business Confidence fell to 2 from 7, the latter reversing the bounce in the May survey that immediately followed the 20th May federal election.
Offshore, in Europe we get the German ZEW survey of financial analysts (se falling on both the Current Situation and Expectations measures) UK labour market data, where the unemployment rate in the 3 months to June held at the cycle low of 3.8%
The US has the NFIB survey (small business optimism) and CPI. One point of interest in the latter is whether it shows up any impact from the lift in tariffs from 10% to 25% announced in May but which only really started to take effect in July when Chinese imports hit US shores. Consensus for the core (ex food and energy) measure is 0.2% on the month versus 0.3% in June, for an unchanged 2.1% yr/yr outcome.
Market prices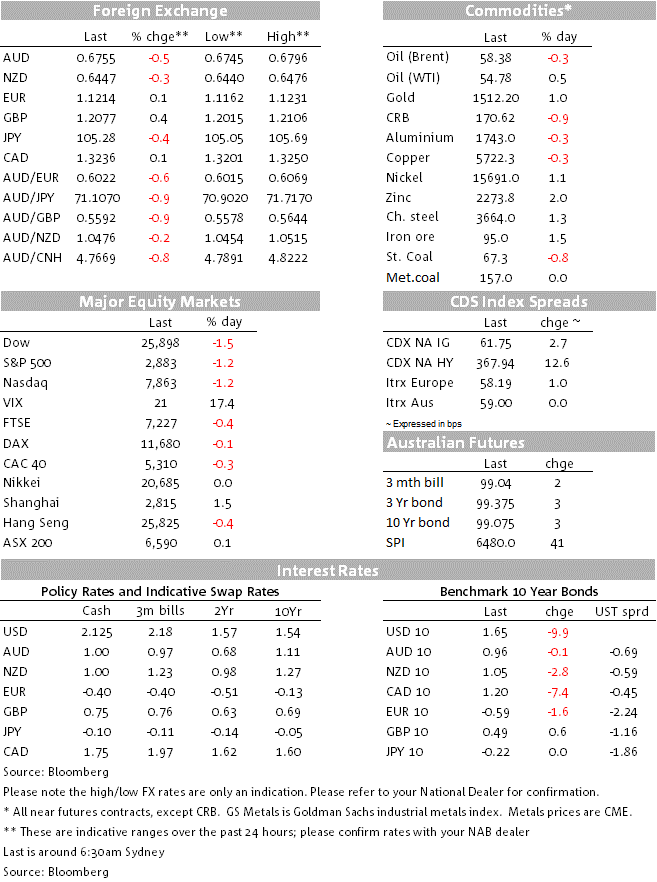 For further FX, Interest rate and Commodities information visit nab.com.au/nabfinancialmarkets