Markets Today: Bad start to a potentially rocky month
May got off to a bad start on Friday with falls in equities and the Aussie dollar the worst currency on the day.
Today's podcast
Overview: Bad moon rising
May starts with a crunch lower in equities and the AUD (ASX200 -5%, AUD -1.44%)
US-China geopolitics back to the fore; Trump threatens $1tn tariffs as COVID-19 retribution
Week Ahead: US payrolls on Friday expected to fall 21 million, unemployment rate to jump to 16% from 4.4%
Week Ahead in Oz: National Cabinet meets Friday; RBA Tue with SoMP Friday; final retail sales, building approvals, trade
I see a bad moon a-rising, I see trouble on the way, I see earthquakes and lightnin', I see bad time today – Creedence Clearwater Revival
The adage 'Sell in May and go away' more accurately describes the historical performance of the AUD than it does global stock markets, but it worked equally well for both on Friday. Following a 5% fall in the ASX 200, led by losses of more than 6% in materials, energy and real estate, the S&P500 lost 2.8% and the NASDAQ 3.2%. Most European bourses were closed for the May Day holiday so will have to play catch-up today. Energy (-6.0%) and consumer discretionaries (-4.6%) led the US market declines, while in the tech sector Amazon lost 7.6% following Thursday's after-hours Q1 earnings miss and warning that in Q2 it could post its first quarterly loss in five year due to higher costs related to the pandemic. Apple was down, by 1.6%, after reporting only a very small rise in Q1 revenue and failing to give Q2 guidance, while also unhelpful was a fall of more than 10% in Tesla (or $14bn off its market cap) after Elon Musk tweeted that he thought his stock price was too high.
Over the weekend
Berkshire Hathaway chief Warren Buffett told investors the firm sold at a loss its near 10% stakes in each of the four major US airlines it had owned, saying the coronavirus has changed his thesis on the industry. Buffett said that he sees the path to recovery for the airline industry as a long one, and that companies may find themselves with more planes than they need if consumers are slow to returning to the air (one statistic to note this respect is that after 9/11, it took until 2004 for global air passenger miles to return to their pre-attack levels – one suspects it could be a lot longer this time, even if international air travel does restart in 2021).
There is no doubt that one factor weighing on sentiment on Friday was the dialling up of anti-China rhetoric by President Trump after Thursday's US market close.  During his coronavirus press briefing, Trump said he has seen evidence that the virus may have been created in the Wuhan virology lab and warned he could impose tariffs of $1 trillion in retribution for the pandemic. On Sunday, US Secretary of State Mike Pompeo claimed there is "enormous evidence" the coronavirus outbreak originated in a Chinese laboratory, but did not provide any of the alleged evidence. The Washington Post reported Thursday that U.S. officials are beginning to explore proposals for punishing China for its handling of the pandemic; it said some administration officials have discussed having the U.S. cancel part of its debt obligations to China. Asked about that option, Trump said "I could do the same thing but even for more money, just putting on tariffs." Trump said withholding debt payments (i.e. defaulting on China's US Treasury holdings) would be a "rough game" that would damage the sanctity of the dollar. "We have the dollar to protect. We want to protect the sanctity of the dollar. It's the greatest currency in the history of the world".
President Trump's comments weren't lost on the Renminbi on Friday, USD/CNY rising from 7.08 to 7.14 (+0.8%) and which may have contributed something to the deeper turn in sentiment against the AUD, which was Friday's worse performing G10 currency by some margin – 1.44% to 0.6418  followed by 1.0% declines for both the NZD and CAD. Consistent with the renewed negative tone in risk sentiment, the Bloomberg BBDXY index finished Friday +0.4%. AUD and NZD are both little changed on Friday's closing levels in early week trade.
The CAD underwent some independent intra-day weakness Friday on news of the appointment of Tiff Macklem to replace Stephen Poloz as new Bank of Canada governor from June 6, disappointing the hopes of current deputy Carolyn Wilkins who was reportedly the one other short-listed candidate for the job. Macklem, deputy governor under Mark Carney's reign and currently dean of the University of Toronto's business school and head of the risk committee at Scotia Bank, told reporters following the announcement that he sees downside risks to the recovery scenario and admitted negative rates were 'among the tools' available to the BoC. He nevertheless expressed comfort with the current BoC rate setting (0.25%) and said there were "some disruptive effects from going negative" and that it "doesn't make sense to introduce more uncertainty". The AUD/CAD cross popped from 0.9040 to 0.9090 during the Macklem news conference before AUD weakness overwhelmed to bring it back down to 0.9046 by the NY close.
US bond markets chopped around on Friday, 10-year Treasuries between 0.59% and 0.645% before finishing at 0.61%, 3bps lower vs. Thursday's close.
The main piece of economic news offshore on Friday
The US April manufacturing ISM survey dropped to 41.5 from 49.1, above the 36.0 consensus but once held up by the rise in supplier delivery times – a function of the lockdowns and disrupted supply chains not excess demand but where any rise in this sub-index contributes positively to the headline reading.  More telling therefore was the further slump in new orders, to 27.1 from 42.2 (the GFC-era record low was 25.9) and in production and employment, both to 27.5, equalling the record low in the case of production and, according to Pantheon Economics, the lowest employment read since 1949. Also notable was that export orders fell 2.3 points to 35.3 their second lowest on record and below the GFC low-point.
Coming up
Japan is out for Golden Week until Thursday and China is shut today and tomorrow. The early May UK holiday is this year shifted from Monday to Friday to coincide with the 75th anniversary of the end of WWII in Europe (VE day).
Looming over the global economic calendar is Friday's April US employment report, where the Bloomberg consensus is for non-farm payrolls to have fallen by 21.3 million and the unemployment rate to have jumped to 16% from 4.4% in March. The non-manufacturing ISM is on Tuesday.  We'll get final Eurozone PMI data today held over from Friday due to the holiday and in China the Caixin services PMI, April trade and FX reserves all on Thursday.
Locally
The national cabinet meets Friday to discuss easing restrictions amid low COVID-19 case numbers. On Friday the PM emphasised "millions more" Australians need to download the government's COVIDSafe tracking app before restrictions are eased.
On Tuesday
The Reserve Bank Board meets and should keep policy unchanged as it monitors data on the extent of economic damage from the pandemic. On Friday, the RBA publishes its Statement on Monetary Policy where it will outline different scenarios for the economic outlook rather than provide the usual point forecasts.
Payrolls on Tuesday will likely show further job losses over early April, after a massive 6% of jobs were lost in the three weeks to 4 April. Building approvals (today) should fall sharply in March (consensus -15%). April ANZ job ads are also today.  Retail trade on Wednesday and trade data on Thursday will likely echo preliminary data with strong rises in both sales and the trade surplus. Retail volumes likely rose a sharp 1.5% in Q1.
Market prices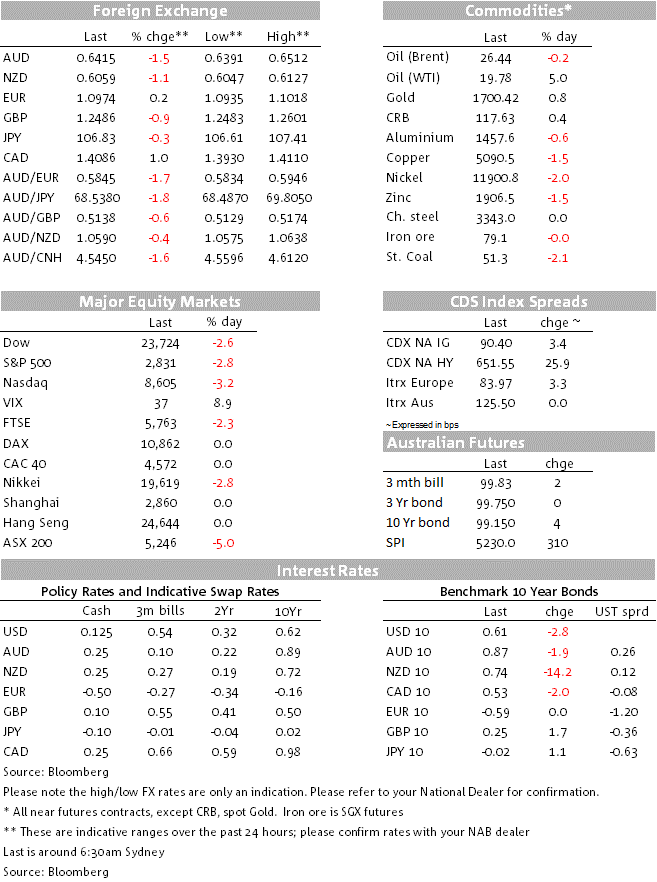 For further FX, Interest rate and Commodities information visit nab.com.au/nabfinancialmarkets
More from NAB