Markets Today: China's stimulus boosts equities – for a bit
China is doing what it can to boost infrastructure investment.
Today's podcast
Overview: It's probably me
"It's me right now that's holding up the deal," – President Trump says
Asian and European equity markets boosted by China's infrastructure policy announcement
Trump's comments ease take the wind out of US equity sails and weigh on UST yields
NZD underperforms again and AUD unchanged in spite of another surge higher in iron ore
RBA Kent and Ellis speak today, US CPI the focus tonight
You're not the easiest person I ever got to know, And it's hard for us both to let our feelings show… I hate to say it, but it's probably me – Sting
Yesterday a new Chinese investment policy announcement boosted equity markets in Asia and provided a positive lead for Europe but later in the session the good vibes didn't last long as comments from President Trump and co  took the wind out of US equity sails. President Trump has been busy with his tweeter account and media appearances, saying he's personally holding up a trade deal with China and a trade deal will not happen unless China agrees to the terms negotiated earlier in the year. Trump also had a go at the Euro and other currencies and could not resist another tweet against the Fed. The USD is little changed in index terms, NZD underperforms for a second day in a  row and AUD is unchanged in spite of another surge higher in iron ore prices (+3.5%).
News that China would ease restrictions on local governments using so-called special bonds to finance infrastructure investment boosted risk sentiment in our APAC session yesterday while a stronger-than- expected yuan fixing was also seen as a confidence boosting factor. China's new policy will allow local governments to use proceeds from special bonds as capital for certain large public infrastructure investments including highways, gas, power supply and railways. Although details in the policy document suggest the investment impact is likely to be modest, given the changes only apply to a small portion of special bonds, the policy signal has been seen as significant given it it's the first explicit policy change aimed at encouraging an increase in infrastructure investment.
Shares of China's infrastructure firms led the rise in China's  CSI 300 index ( +3.01%) and Europe embraced the positive vibes with all  major regional equity indices (barring Spain) closing in positive territory.  The Stoxx Europe 600 ended the day +0.69%, recording gains for the sixth time over the past seven days, basic resources and automakers were the outperformers. US equities opened higher, but the initial gains were not held for long. Comments from President Trump were not seen as helpful, not only he reminded markets that he remains resolute on his stand against China, but he also expressed unhappiness with the euro and other "cheap" currencies, tweeting "The Euro and other currencies are devalued against the dollar, putting the U.S. at a big disadvantage,"
Speaking to the media about China , the US president said that ""It's me right now that's holding up the deal,"  adding that "we're going to either do a great deal with China or we're not going to do a deal at all.". Pouring more fuel to the trade fires, White House Acting Chief of Staff Mick Mulvaney noted that following the positive outcome with Mexico, the President is now encouraged to take a harder line with China. Mulvaney also said that he expected Trump and Xi to meet at the G-20, but that he didn't expect the leaders to reach a final treaty. So overall comments White House officials suggest that the President is not yet in the mood to find a compromise with China, the Osaka summit at the end of June cannot come soon enough!
US bonds have largely mirrored those moves in equities, with the 10 year Treasury yield reaching a high of 2.18% in the New York morning before reversing that move to be unchanged at 2.14%.  Trump renewed his attack on the Federal Reserve on Twitter, saying "the Fed interest rate way too high, added to ridiculous quantitative tightening! They don't have a clue!"  Despite Trump's vocal criticism of the Fed, which could create the perception that he is threatening the independence of the central bank, the market continues to price around an 80% chance of a rate cut at the July meeting.   The market prices close to 60bps of rate cuts by year-end.
Looking at currencies the USD is little changed in index terms with GBP the G10 outperformer while NZD has been the underperformer again. GBP is up 0.31% to 1.2725 helped by a strong labour market report, including a larger than expected increase in wage growth (to near its highest level since 2008 on the measure that excludes bonuses).  On Brexit, the Labour party tabled a cross-party motion intended to prevent a no-deal Brexit.  The motion will likely be voted on tonight and, were it to pass, it will allow opposition parties to control the parliamentary agenda on June 25th, allowing them to introduce a bill forcing the government to avoid a no-deal.  The Conservative party, with support from the DUP, has a wafer thin majority in parliament, so only a few defectors would be sufficient to see the motion passed.
NZD underperformance ( -0.39% and now at 0.6583)  can be partly explained by yesterday's underwhelming  manufacturing data (q/q% 2% Q1). As a results our BNZ colleagues have nudged down their Q1 GDP forecast to 0.6%, although that's still higher than the RBNZ's 0.4% MPS forecast.  GDP is released next Thursday and is the last major piece of NZ data before the RBNZ meeting later in the month.
Last but not least the AUD has been a bystander in what has generally been a quite night for currencies. The pair now trades at 0.6962, essentially unchanged over the past 24 hours. Notably too, based on our fair value model the AUD is currently doing what it should with our model estimate for the currency currently sitting at 0.6920. In spite of a repricing of Fed rate cut expectations the negative AU-US rate differentials remain a downward force on the AUD while the resilience in commodity prices, notwithstanding trade uncertainties, is the offsetting force with gains in iron ore  and gold so far this month ( +5.11% and 1.7% respectively) more than counterweighing the declines in oil ( Brent -3.6% mtd).
Coming up
NZ Net Migration (Apr)
AU RBA's Kent ( 9.20 am AEST) and Ellis (7.00pm AES) speak in Melbourne, Westpac Consumer Confidence Index (Jun)
This morning Assistant Governor Kent is making some remarks at the Australian Renminbi Forum 2019 and tonight while tonight RBA Assistant Governor Ellis speaks on "Watching the Invisibles". We expect she'll discuss the theoretical policy concepts of the NAIRU and the neutral interest rate, suggesting that both have fallen over recent years.
JN PPI (May), Core Machine Orders (Apr 0.8% exp. vs 3.8% prev.)
CH CPI and PPI (May)
The market is looking for a small uptick in China yoy CPI reading from 2.5% to 2.7%. Pork and vegetable prices likely led the upsurge in prices.
EC ECB Draghi and Guindos speak in Frankfurt
Draghi is scheduled to deliver a welcoming address at the CESEE "Resilience to global headwinds? Conference, so no policy comments are expected. ECB Guindos will chair a session at the same conference titled  "Responses to trade shocks"
US MBA Mortgage Applications, CPI (May)
The market expects another benign CPI print with annual core inflation unchanged at 2.1%, a downside surprise would provide further fuel to expectations for Fed funds rate cuts. Currently a June Fed funds rate cut is seen as a low probability (13%) while an August 1st rate cut is currently priced at 86%
Market prices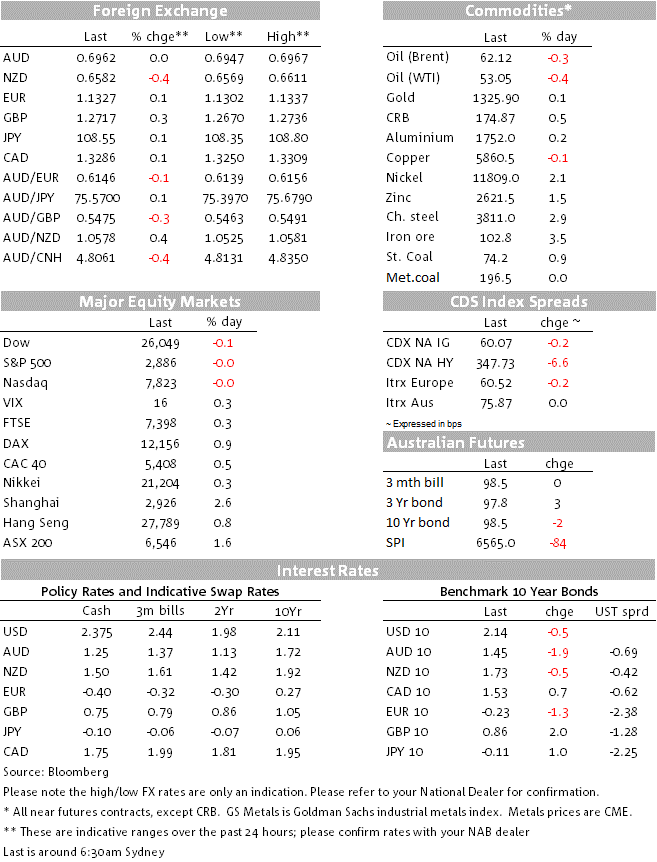 For further FX, Interest rate and Commodities information visit nab.com.au/nabfinancialmarkets