Markets Today: Confidence vs COVID – the battle continues
Markets are split between the confidence things might be getting better versus the realisation that in the US southern states infection rates (and fatalities) are getting worse.
Today's podcast
Overview: (Get your kicks on) Route 66
Risk sentiment sours ahead of Q2 US earnings season; S&P -0.6% but NASDAQ still flying high
NZD hits 0.66 for first time January, AUD kisses 0.70, both then sharply retreat
US jobless claims fall a little more than expected, but PUA claims rising
Light calendar into the weekend
Financials and energy stocks
Both down more than 2%, have led a 0.6% decline in the S&P, weakness seemingly compounded by fears for the economic impact of the ongoing spread of the coronavirus in Sun Belt states and where record deaths have been reported in Florida, California and Texas in the last 24 hours. Bond yield are lower alongside stocks, aided too by a strong 30-year Treasury auction. The USD has received  a touch of safe-haven support, bringing AUD and NZD back from earlier tests of big figure levels.
Weakness in financial stocks, with the bank sub-index down 2.5%, comes ahead of next week's Q2 reporting season that sees JP Morgan, Citigroup and Wells Fargo all report next Tuesday and following that news that Wells Fargo is planning to cut 'thousands' of jobs starting later this year (pharmacy conglomerate Walgreens has also announced plans for 4,000 job cuts).
Energy stocks are down alongside falls in Brent and WTI crudes of more than a $1 each, with news of the restart of Libya's Messla oil field and a related refinery after technical problems cited as a part of the reason. Fears of weaker gasoline demand during the current US driving season given the worsening virus news is also being mentioned in dispatches.
We might also add into the equity mix here the beginning of focus on November's US election, where Democratic presidential nominee Joe Biden has been speaking in Pennsylvania, saying the 'Era of shareholder capitalism' must end and that "It's time corporate America pay their fair share of taxes," repeating his plan to raise the current corporate rate of 21% back up to 28%. Biden says he will next week outline his plans for  infrastructure spending and energy policy.
Also worth noting
Is that the U.S. Supreme Court has backed, by a 7-2 ruling, a New York grand jury's bid for President Donald Trump's financial records, though at the same time it has blocked, for now at least, House subpoenas that might have compelled the public release of Trump's records prior to the election.
While the S&P has finished 0.6% lower and the Dow -1.4%, the technology sector continues to do no wrong, the NASDAQ ending up 0.5% at yet another record high to now be up 7% month to date.
The main piece of economic news overnight
Was for weekly US jobless claims, which at 1,314k was a little lower than the 1,375k expected and down on 1,413k the week before. Continuing claims also fell back by a little more than expected, to 18,062k from 18,760k, though against this the number of new claims for Pandemic Unemployment Assistance – a form of unemployment benefit for those not normally eligible for regular unemployment benefit such as business owners and self-employed workers – is still on a rising trend (+42k to 1,038k last week).
Weaker US stocks
Ex NASDAQ, have been reflected in lower bond yields, though the latter also looks to have been aided by a strong 30-year Treasury auction which cleared 3bps though the 1pm When-Issued yield. The long bond yield is down 9bps on the day to 1.313% with 10s of 5bps to 0.614%. earlier, Bunds ended 2.2bps lower at 0.465% while gilts pulled back almost half of Wednesday's yield back up that followed the announcement of the latest UK government fiscal support measures, to be 2.3bps lower at 0.156%.
In FX
Its been a night (and day) of two halves, further modest slippage in the USD during our time zone Thursday giving way to renewed strength offshore where the DXY is ending the New York day +0.37%. the USD strengthen.  Oil price related weakness in CAD (and NOK) and a 0.4% drop in the EUR are the main contributors to the DXY gains.
AUD and NZ were both in the ascendency in APAC hours yesterday, the pull below 7.0 in the RMB an important driver here and which has been realised against an ongoing positive Chines stock market backdrop, higher government bond yield and related capital flows (less out, more in and which for now at least is not meeting much PBoC resistance via its so called counter-cyclical factor). These moves were extended offshore to see NZD hit 0.66 (high of 0.6601) for the first time since January 27 and AUD 0.70 (high of 0.7001)  for the first time since June 11.  The recoil has been sharp though, both currencies swiftly losing 0.5% and in doing so reinforcing the sanctity of prevailing ranges that we'd currently define as 0.64 -0.66 for the Kiwi and 0.6750 – 0.7050 for the Aussie.
Coming up
French and Italian May industrial production (expected +15.4% and 24.0% respectively)
Canada June labour market (employment median forecast +700k, unemployment 12.1% down from 13.7%)
US PPI core, expected 0.1% m/m for +0.4% yr/yr vs. +0.3% in May
Market prices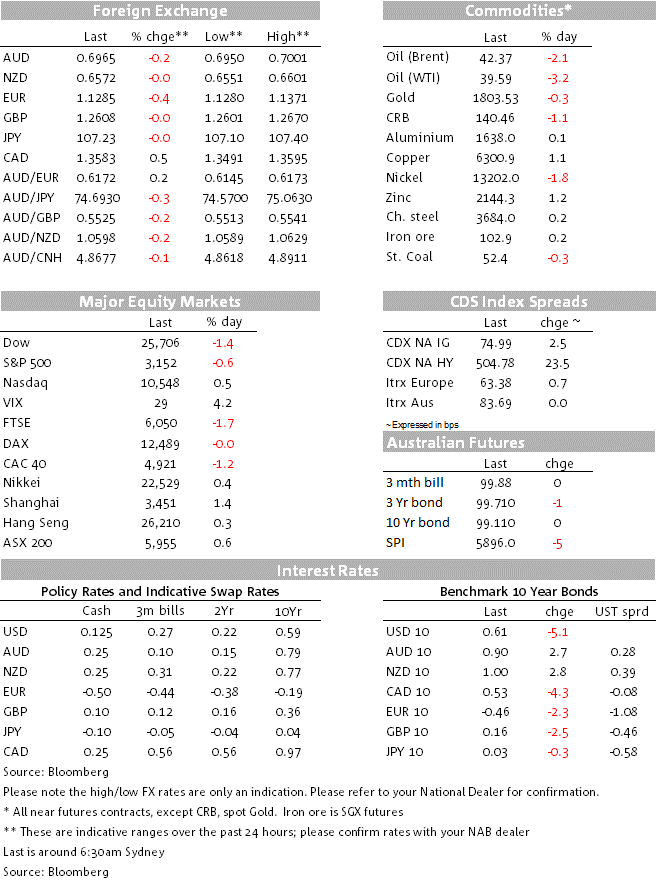 For further FX, Interest rate and Commodities information visit nab.com.au/nabfinancialmarkets
More from NAB