Markets Today: Credit where credit is due
The OECD suggests China's stimulus measures may only offer short term benefits but the markets are happy to ignore the long term impacts.
Today's podcast
Overview: On to the next one
Positive Asia lead sees European equities close higher, but US equities lose momentum amid mixed earnings reports
UST yields advance with the 10y tenor now back to pre FOMC levels
AUD recovers all of its RBA Minutes induced losses
NZ CPI early focus ahead of the all-important  China data deluge
I'm on to the next one, On to the next – Jaz Z
European equities embraced the positive lead from Asia, but US equities lose momentum amid  mixed earnings reports. US yields move higher with the 10y tenor now trading at 2.59%, culminating a full reversal of its post FOMC decline. The USD is a bit stronger manly reflecting GBP and CHF weakness while the AUD fully unwinds its RBA Minutes induced losses helped by a Terry McCrann article. NZ CPI out this morning as the market awaits the all-important China data splash.
Asian equities closed higher yesterday with China's main equity indices leading the charge. House prices in the 70 biggest Chinese cities rose by 10.6% yoy in March, the fastest rise since April 2017. Ahead of China's Q1 GDP print and activity readings for March today, the housing data was interpreted as yet another signal that the China's policy stimuli are beginning to show a positive effect on the economy. Although the market is looking for a soft Q1 GDP print (6.3% vs 6.4% prev.) all activity readings for March are expected to print stronger ( IP 5.9%y/y vs 5.7%y/y prev., Retail Sales8.4%y/y vs 8.2y/y prev. and FIA 6.3% y/y vs 6.1%)
European equities embraced the positive lead from Asia with the Stoxx 600 index closing 0.3% higher, reaching its highest level since August last year. Main US equities managed to close in positive territory, but there was a clear loss of momentum amid mixed company earnings reports.  BlackRock Inc.'s results offset weakness at Bank of America , policy uncertainty was evident in the United Health Group report while Johnson & Johnson shares close 1.8% higher after reporting solid results.
In spite of mixed US data releases US Treasury yields drifted higher over the course of the overnight session with the 10y tenor leading the way. US home builder sentiment rose to a 6-month high, as expected, supporting the view that lower mortgage rates and strong income are driving improved demand, but Industrial Production was on the soft side, with a flat manufacturing sector amidst weaker global economic conditions. 10y UST yields ended the NY session at 2.59%
Meanwhile in currency land, the USD is a tad stronger with the DXY index (+0.1%) back above the 97 mark largely reflecting a bit of GBP, CHF and to a lesser extent EUR weakness. CAD (0.10%) is the outperformer helped by decent gains in oil prices (+1.5%) and the AUD has done a full reversal, unchanged over the past 24hrs, erasing all of the RBA minutes losses, largely aided by a Terry MCCrann article.
The AUD weakened yesterday after the RBA Minutes clearly identified an easing bias. Yesterday the currency started the day around 0.7175, it traded down to 0.7140 post the Minutes and now trades again at 0.7175. The Minutes were interpreted as dovish with the Board openly discussing the conditions under which it could cut rates. Nevertheless, the Board remains in wait and see mode to see how the divergence between weak growth and an improving labour is resolved. The other changes worth noting were a subtle shift in the degree of confidence in the labour market and softer tones on the housing market. NAB still looks for the RBA to cut pencilling a move in July, but based on our current forecasts we do not expect a move in May unless there is a marked undershoot of inflation (next week) and unemployment (tomorrow). A big part of the AUD turnaround overnight came after a report from RBA-watcher Terry McCrann at the Herald-Sun where he noted that 'Despite headlines, a rate cut is not imminent'.
GBP has been on the soft side, down 0.4% to 1.3048. The Guardian reported that talks between PM May and Labour's Corbyn have stalled.  Labour is in favour of a custom union, but the Conservatives remain against this proposal as it shuts off the possibility of doing other trade deals. UK labour market data were in line with expectations, with strong jobs growth keeping the unemployment rate at 3.9%, its lowest rate since 1975, and real wages growth remaining strong. If not for the uncertainty around Brexit, the Bank of England would likely be ramping up interest rates.
EUR is also a touch weaker (-0.2% and now trading at 1.1281).  Reuters reported that a 'significant minority' of ECB policymakers have doubts about Europe's ability to rebound. Reportedly they think there are shifting consumption habits such as a move away from diesel cars, weak Chinese demand and that trade wars now look "to be the norm" rather than the exception. Some think the ECB's forecasting methodology may need to be reviewed since projections are persistently too optimistic and are regularly cut quarter after quarter.  Overall, this is a pretty weak assessment of a minority at the ECB. Bloomberg reported that ECB officials lack enthusiasm for the tiering of its deposit rate tool and some doubt it will actually happen, seeing little merit in the proposal.
The focus today turns to NZ Q1 CPI data this morning, following the RBNZ's recent pivot to an easing bias.  The balance of risk is that headline inflation comes in higher than the RBNZ's February MPS estimate of 0.2% q/q and 1.6% y/y. Non-tradeables inflation could also come in stronger than the RBNZ's 2.8% y/y and is likely to hit a 5-year high.
Overnight data releases
UK: Unemployment rate (%), Feb: 3.9 vs. 3.9 exp.
UK: Weekly earnings x bonus (y/y%), Feb: 3.4 vs. 3.4%
GE: ZEW survey expectations, Apr: 3.1 vs. 0.5 exp.
NZ: GDT auction dairy price index: +0.5%
US: Industrial production (m/m%), Mar: -0.1 vs. 0.2 exp.
US: NAHB housing market index, Apr: 63 vs. 63 exp.
Coming up
NZ CPI 1Q
JN Trade Balance (Mar), Industrial Production (Feb final)
CH Fixed Assets Ex Rural, Industrial Production, Retail Sales , Property Investment  ( all for March), GDP 1Q
UK CPI, RPI ( all for March)
EC Trade Balance (Feb), CPI (Mar F), BOE's Carney, BOF's Villeroy de Galhau Speak in Paris
US MBA Mortgage Applications, Trade Balance (Feb), Wholesale Inventories (Feb), Fed Beige Book, Fed's Harker and Bullard on speaking duties
CA CPI Mar
Market prices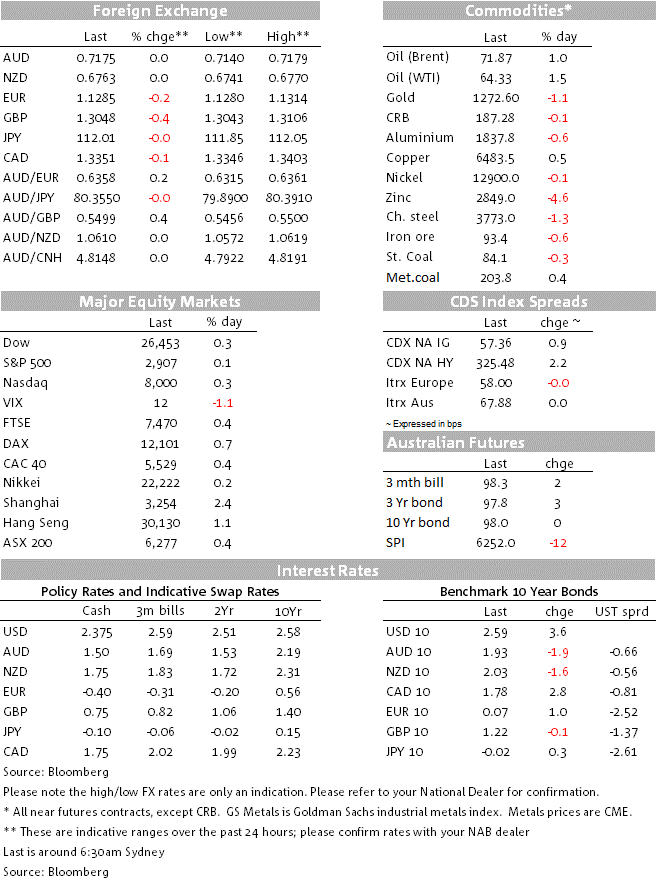 For further FX, Interest rate and Commodities information visit nab.com.au/nabfinancialmarkets