Markets Today: Equities rise as Europe's curves flatten
Optimism is being driven by the infection and fatality curves for COVID-19 in Europe and the US.
Today's podcast
Overview: Up around the bend
US equities fall away into the close but Monday's strong gains by and large maintained
'Curve flattening' the buzz, in the real not financial world (AU rates curve steeper)
AUD/USD again tests (and so far fails) to break clean above 0.62 for a third time in a week
Oil  prices give back more ground, but industrial metals – and dairy prices – firmer
There's a place up ahead and I'm goin', Just as fast as my feet can fly. Come away, come away if you're goin', leave the sinkin' ship behind. Come on the risin' wind, we're goin' up around the bend – Creedence Clearwater Revival
Lead singer John Fogherty penned this upbeat CCR song in 1970, with the intent of hinting that as bad as things were (economically) in the 1970s, there might be some hope for the future. This has certainly been the (market) story of the week to date, where all manner of COVID-19 related curves have been bending, or look like they are starting to bend, in the right direction. This includes Italy's infection curve now flatlining, similarly in Spain; a slowdown in the rate of increase in new infections in the UK, plus news that PM Johnson, though in an ICU is not on a ventilator; and, indications that a complete overwhelming of the New York healthcare system may have been averted, with the number of new hospitalisations falling sharply since the end of last week. Estimates of the number of hospital bed that may be required in NYC has halved, from over 100,000 last week.
US equity indices have just closed in slightly negative territory having been up by around 3% earlier in the session, but only by between 0.1% and 0.3% which, after Monday's 7%+ gains, is not a bad result and meaning that Monday's rally can't (yet at least) be deemed a proverbial dead cat bounce.
Within stock sectors
The energy is up 2%, surprising in so far as crude oil prices have given back another $1-2 of their rally amid ongoing scepticism that this week's meetings will agree a meaningful reduction in global crude output. Incidentally, crude oil stocks as collated by API have just been reported on the newswires as having risen by 11.9 million barrels last week.
Weaker oil has not been reflected in other commodity prices, where industrial metals including aluminium and copper are firmer (the LMEX index is up over 2%) while the latest Global Dairy Trade auction overnight yielded a 1.2% rise in average prices against our resident BNZ cow whisperer colleague Doug Steel's expectation that they might fall by as much as 4%.
The only data point worth noting overnight is the NFIB survey (small business optimism) for March, which fell to 96.4 from 104.5. This takes it back to about where it was just prior to Donald Trump's election as President (since when optimism has been consistently strong, a majority of small business owners regarded as Trump supporters).  JOLTS (job openings) fell by less than expected in February, to 6.882mn from a revised 7.012mn in January, but this will be a whole different story in March. Similarly German industrial production which unexpectedly rise by 0.3% in February.
In currencies
Movements have been pretty much the mirror image of the post-weekend improvement in risk sentiment, with the US dollar off about 1% in the last 24 hours. All G10 currencies have gained against the USD, with the AUD and NOK both on the winners podium up 1.4% and 1.35% respectively. So the AUD has built on yesterday's local session gains to hit a high of 0.6205. It has fallen away a little in late New York trade (~0.6175 now).  The 0.62 area is now re-enforced as a significant resistance area, having been tested both last Tuesday and the Friday before that. Some might choose to call that a 'triple top' in technical parlance, but I'll leave that to the experts.
Yesterday, the Reserve Bank kept its conventional and unconventional monetary policy unchanged out of its April meeting. The bank reaffirmed its 0.25% targets for both the cash rate and the 3-year government bond yield. The bank also maintained its forward guidance of: (1) retaining the 3-year yield target until "progress is being made towards the goals for full employment and inflation"; and (2) not raising the cash rate until "progress is being made towards full employment and it is confident that inflation will be sustainably within the 2–3 per cent target band".
The surprise from the RBA was the comment that 'If conditions improve, smaller and less frequent purchases of bonds will be required'.  This elicited a sharp sell-off in 10 year bonds given the suggestion that the main buyer could soon be stepping back somewhat, the implied yield on the futures contract rising by more than 10bps. This curve steepening (the 3 year bond remained firmly anchored near 0.25%) has been a supportive influence on the AUD.
Finally
The video conference of EU Finance Ministers that has been running into the European night to discuss, et al, the potential creation of a 'coronabonds' market, threatens to be derailed – or agreement at least delayed – by division within the bloc. Bloomberg has just reported that finance chiefs have struggled to reconcile their contrasting visions, with countries led by France and Europe's hardest-hit south pushing for a firm commitment to a recovery fund financed by jointly issued bonds, a proposal anathema to nations like Germany and the Netherlands, which have strict red lines regarding the mutualisation of debt.
Coming up
Not much to see on the scheduled events calendar.
Japan machinery orders and balance of payments data are both for February, though the 'Economy Watchers' March survey (essentially a consumer sentiment reading) is out this afternoon and of some interest.
Details of Australian home loans are out this morning, for February, so again a largely 'pre-crisis' statistic.
Market prices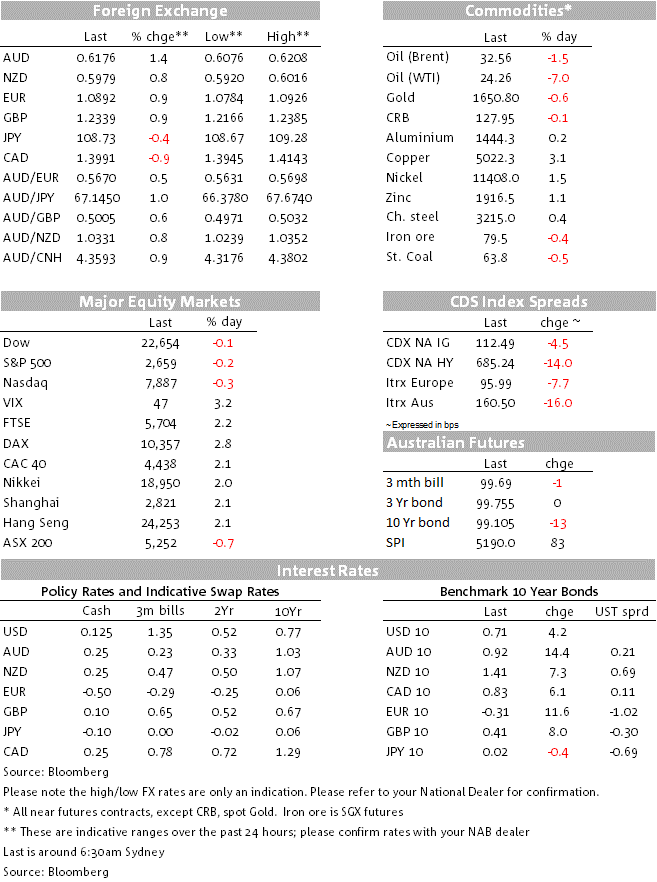 For further FX, Interest rate and Commodities information visit nab.com.au/nabfinancialmarkets
More from NAB