Markets Today: Fed easing, trade hopes rising, Brexit stalling
A rate cut is anticipated by the Fed and there's further hope a phase one deal will be signed by the US and China.
Today's podcast
Overview: (All) Black cloud
Positive 'Phase-One' US China trade vibes drive up stocks, bond yields AND the big dollar on Friday
Brexit uncertainty back; GBP slips as Labour continues to frustrates PM Johnson's December 12th election ambitions
Big weak ahead with US GDP, FOMC, US Payrolls and Manufacturing ISM; AU CPI and Lowe speech; China PMIs; BoJ and BoC
It's a holiday in New Zealand today – officially Labour Day but in reality a day of mourning – otherwise I'd have had to think twice about today's (Morrisey) song title
Positive vibes with respect to the US and China getting closer to agreement on the so-called 'Phase-One' trade talks drove up US stocks, Treasury yields and the big dollar on Friday. This was after a spokesperson for the US Trade Representative said "They made headway on specific issues and the two sides are close to finalizing some sections of the agreement". Even trade hawk Peter Navarro said the trade talks were excellent, while President Trump tweeted that China wanted to make a trade deal very badly. This vibe should be maintained at the start  of what is going to be a very busy week data and events wise, after China's Commerce Ministry on Saturday said parts of the text for the first phase of a trade deal with the U.S. are "basically completed" as the two sides reached a consensus in areas including standards used by agricultural regulators.
What's not yet clear yet is if both sides have agreed that even if the planned December 15th tariff increases won't go ahead if Phase-One is agreed, whether there will be any wind back of the higher tariffs imposed on September 1st, something China was said to be demanding toward the end of last week but we doubt the US is ready to concede on. This will be important as far as how the RMB would be expected to behave post-any deal and with that AUD and NZD (i.e. more chance of it actually appreciating rather than merely stabilising, if some existing tariffs are removed).
The trade news contributed much to an up day for US stocks Friday, the S&P +0.4% with defensive sectors including estate in the red but all other in the green, the Dow +0.6% and the NASDAQ +0.7%
US bond yields were also higher
2-year Treasuries +4bps and 10s +3bps; on the week 2s were up 4.5bps and 10s by 4bps. With rising hopes for an interim trade agreement/truce, an obvious line of thinking here is that it becomes less likely that the FOMC, assuming they deliver a quarter-point rate cut on Wednesday (early Thursday month AEDT) will see the need to follow this up with another at their last meeting of the year on December 10/11th?  In this respect pricing for the terminal Fed funds rate is now around 1.2%, having been below 1% little more than a month ago.
This (Fed policy) thought process also looks to have been responsible for the firmer USD on Friday (DXY +0.14%) in contrast to recent weeks when positive outbreaks of risk sentiment, linked to trade or other things (e.g. Brexit deal optimism) have been associated with a weaker not stronger dollar.  Perhaps it's just a 'sum of the parts' story, With both GBP and EUR softer on Friday, but the if US yields and yield differentials are going to remain heavily stacked in the US dollar's favour if a trade truce is struck and US growth is set to remain superior to most of the rest of the world, we shouldn't be rushing to write off the dollar just yet. Certainly in the absence of an agreement to wind  back at least some existing tariffs, this Phase-One deal doesn't do much if anything to brighten the outlook for growth elsewhere in the world.
GBP slipped back a little further on Friday to now be about 1.75% back from its 21st October recent highs, after the opposition Labour party showed no signs of yielding to PM Boris Johnson's demand for a December 12th General Election in the absence of a cast iron commitment from the government there will not be a 'no deal' Brexit, something Johnson continues to refuse.  The motion to agree a Dec 12th election is supposed to come before the House today, and the EU are prevaricating over how long an Article 50 extension they will grant the UK until they know whether and when there will be an election (though the FT has just reported that the EU is close to agreeing a Brexit extension until January).
It's hard to see how this renewed level of uncertainty can be anything other than negative for Sterling given the size of recent gains, against which there is the no small matter of a rugby world cup final on Saturday morning UK time, which might just be enough to hold up animal spirits and provide at least a partial distraction from the seemingly interminable Brexit saga.
AUD was little changed Friday after trading a very narrow (less than 20-pip) range; in contrast NZD lost another 0.5% to put the AUD/NZD comfortably back above 1.07 (1.0744). A US bank report may or may have a hand in this, suggesting the RBNZ may cut interest rates to 0%, deploy state-contingent forward guidance followed by interest-rate targeting via receiving of rate swaps.
Incoming economic data didn't have a  big influence on markets Friday where the highlights were the German IFO (Business Climate  unchanged at 94.6, expectations 91.5 from 90.9) and final University of Michigan Consumer Sentiment (revised to 95.5 from the preliminary 96.0).
Over the weekend
China's industrial profits were reported at -5.3% YoY in September, down from -2.0% in August, so further evidence of the pain being felt from the trade war.
In Australia
Weekend auction data  courtesy of CoreLogic on Sunday revealed the biggest auction week of the year so far (2,610, up a third on last weekend) with a preliminary clearance rate of 75.3% (last weekend's preliminary was 75.6% and final 72.1%).  Sydney recorded a preliminary clearance rate of 79.7% (final was 79.2% for the prior weekend) and Melbourne a preliminary 77.1% vs. a final 73.3%.
Coming up
NZ is on holiday today and it's a very quiet start to the week elsewhere in front of an action packed rest of week.
Domestically, this include a speech from RBA Governor Lowe tomorrow evening and Q3 CPI on Wednesday morning.
Internationally, we have US Q3 GDP on Wednesday just in front of the FOMC's latest meeting outcome, China PMIs and monetary policy decisions from the BoJ and BoC
Market prices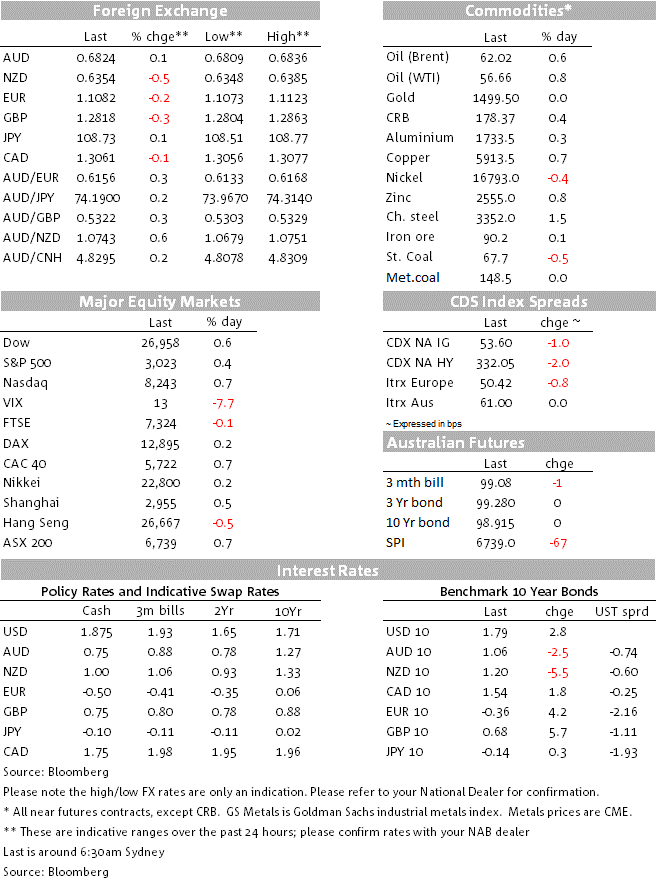 For further FX, Interest rate and Commodities information visit nab.com.au/nabfinancialmarkets