Markets Today: High hopes and higher equities
There's continued optimism in the markets with equities reaching new highs again.
Today's podcast
Overview: I'm goin' to Jackson
Another day, another fresh high for US equities. MSCI World index joins the record party
Positive market vibes persist despite rising US-China military tensions
USD broadly softer with NZD leading the charge. AUD back above 72c
UST yields little changed ahead of Jackson Hole tonight
Laura upgraded to category 4 and expected to smash the Texas-Louisiana border
AU Capex today, US Jobless claims ahead of Fed Chair Powell speech tonight
We've been talkin' 'bout Jackson, ever since the fire went out
I'm goin' to Jackson, I'm gonna mess around,
Yeah, I'm goin' to Jackson, Look out Jackson town – Johnny Cash and June Carter Cash ( Billy Edd Wheeler original)
Equity markets have extended their recent gains, making new record highs notwithstanding an increase in military tensions in the South China Sea. The risk positive environment has kept the USD on the back foot with the NZD regaining some of its mojo, the AUD has also done well and is back above 72c. UST yields are little changed as the market braces for Fed Chair Powell speech at the virtual Jackson Hole symposium. Oil prices have also been steady in spite of Hurricane Laura upgrade to category four.
Well for now it seems that nothing can stop the move up in equities with overnight news of an increase in US -China military tensions in the South China only proving to be a momentary setback for investors. China launched two medium-range missiles into the South China Sea on Wednesday, including an "aircraft-carrier killer", the South China Morning Post reported. It wasn't immediately clear if there were US ships in the area, but the move came a day after Beijing protested a flyover by a US spy plane earlier this week. Meanwhile the US Dept of Commerce added 24 Chinese companies to a list of entities facing trade and visa restrictions for helping build outposts in the region.
So with US-China tensions seemingly not a major concern, the deluge of fiscal and monetary support remains the overriding tail wind for risk assets with large cap the main beneficiaries. The S&P 500 and NASDAQ have made new record highs overnight for a fourth straight trading session with the MSCI All-Country World Index also joining the record making party. Notably, however, US small caps were not invited with the Russell 2000 down 0.71%.
US data also played a supporting role overnight
With yet another extension to the solid run of better than expected data releases, US durable goods orders jumped 11.2%, well above the consensus, 4.5%. The biggest single contribution to the headline came from surging auto production, which boosted orders by $11.5bn, or 21.9%, to an all-time high of $64.2bn. Still, while positive, the big jump in auto production also reflects the low starting point after the COVID induced shut down, the cumulative shortfall in auto orders in the past five months, compared to the prior trend, is around $81bn.
Fiscal stimulus was one big supporting theme in Europe with all major regional indices closing in the green. The Stoxx Europe 600 Index gained 0.9% while Germany's DAX index was the outperformer, up 0.98% following news that Kurzabeit will be extended until the end of 2021. After a government meeting yesterday, German FinMin Olaf Scholz announced that the Government was extending the short working hours income support scheme through the end of 2021, allocating another circa 10bn, funded out of next year's Budget.
Moving onto currencies
The risk positive backdrop sees the USD lose ground against most currency pairs, although there is a bit a European underperformance theme with the Euro (1.1832) and CHF (0.9082) the underperformers, both down around 0.15% ( DXY is -0.05% and BBDX is -0.10%).
NZD has been the strongest performer
Up almost 1% since yesterday's close and breaking up through 0.66. Month-to-date and year-to-date the NZD has been the worst-performing of the major currencies we follow and there might be some profit taking from short positions as we head into month-end. Meanwhile the AUD's gains, up 0.6% to 0.7236 do seem to have valid drivers. The Australian economy is seemingly performing a bit better than expected and even at current suppressed yields, there is solid demand for AU government bonds.
Yesterday
We learned that AU total construction work done fell by 0.7% in Q2, much better than the large 7% fall forecast by both NAB and the market. This outcome suggests the initial impact of the pandemic and related restrictions on construction activity was not as severe as expected; however, with the dwindling pipeline of projects and easing approvals for both residential and non-residential projects, activity is likely to deteriorate in the medium term. Also yesterday, Australia sold A$21bn in a new Nov-2031 sovereign bond, its third record-breaking sale this year. The new 2031 bond priced with a yield of 1.055% with more than A$66bn of bids received, which was also a record.
Moving on to global bond rates
Core European 10-year rates closed  between 1-4bps higher and Australia's 10y future moved up 6.5bps. Meanwhile and ahead of Fed Chair Powell's Jackson Hole speech (more below), UST yields are little changed. The US 10-year Treasury yield edged up to the top of its two-month trading range, hitting 0.72%, but has since pushed down to 0.69%, barely higher for the day.
Somewhat surprising movements in oil prices have also been subdued. This, notwithstanding news that Hurricane Laura has been upgraded into a powerful Category 4 storm. According to Bloomberg with peak winds forecast to reach 145m/h, the storm could be the strongest to hit Louisiana in more than 160 years. The storm is expected to smash the Texas-Louisiana border, flash floods and destructive winds could inflict as much as $25bn in damage while more than 80% of oil output in the Gulf of Mexico and nearly 3 m b/d of refining capacity has been shut ahead of the storm's landfall. On a slightly positive angle, US government data revealed crude inventories fell nearly 5m barrels last week for a fifth straight week of declines, so albeit from a very low leve, US oil demand continues to rise.
Coming up  
This morning Australia gets Private Capital Expenditure for Q2 and the All Industry Activity index for June is out in Japan. The US releases its second Q2 GDP estimate along with weekly jobless claims figures. The Fed Jackson Hole Symposium begins tonight with Fed Chair Powell scheduled to speak at 23.10 AEST, BoC Governor Macklem speaks early tomorrow morning (1.15am). President Trump will give one more  speech on the final day of the Republican National Convention.
Our economists are forecasting a 12% fall in AU capex in Q2. More importantly, machinery and equipment investment, which feeds into GDP, is forecast to collapse by 18%. This would take 0.7pp from Q2 GDP.
Further
We forecast capex expectations for FY21 to have fallen sharply to $85bn, from $90.9bn in Q2. This forecast assumes a 25% fall in non-mining investment expectations, compared to last year. Over the same period, we think mining investment intentions pulled back by 15%.
This year's Jackson Hole Symposium is going to be a virtual event with many speaker stranded at home due to the pandemic. The theme for this year's cybernetic congregation is "Navigating the Decade Ahead: Implications for Monetary Policy". Fed Chair Powell will be giving a speech on the much awaited monetary policy framework review. The review has been focused on the Fed's inflation-targeting strategy, where the Fed could announce a more flexible approach, targeting an average inflation rate of 2%.
Market prices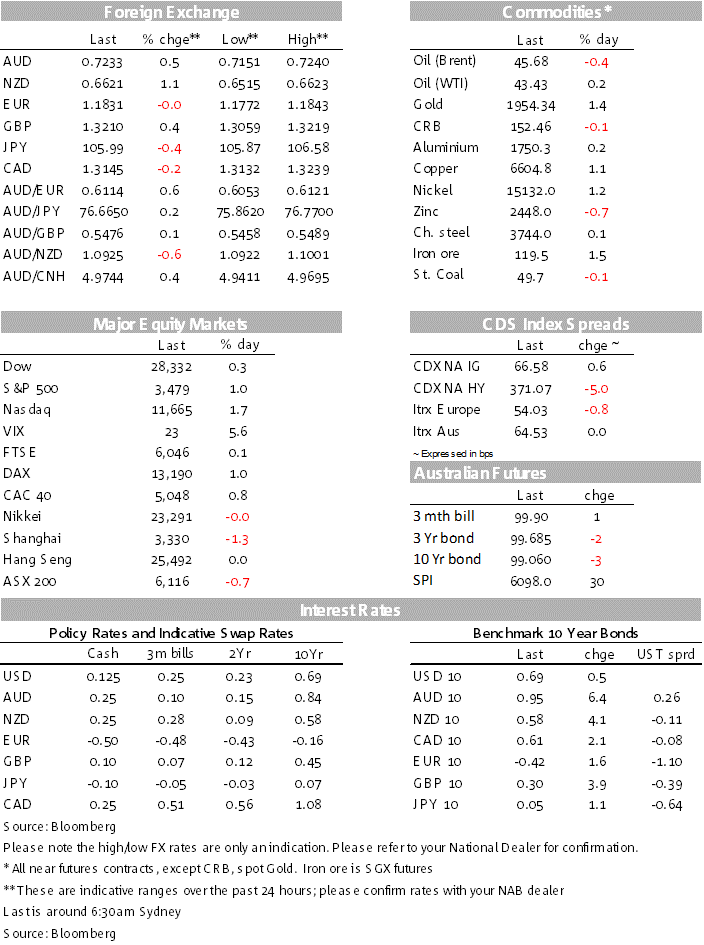 For further FX, Interest rate and Commodities information visit nab.com.au/nabfinancialmarkets