Markets Today: Huawei on hold & Lowe goes lower
US equities have been boosted by a brief reprieve on Huawei trading restrictions.
Today's podcast
Overview: All for one
Tech-led US equity rebound on Huawei 90-day reprieve for US firms
Lowe speech/RBA Minutes suggest June rate cut a done deal
APRA changes potentially add to potency of easing
Post-election AUD bounce now fully undone
GBP 'round trips' up and down on (sham?) 2nd Referendum offer
AU Construction work done; Draghi speaks; FOMC Minutes   
AUD/USD made a low of 0.6866 after the Sydney market went home last night, just one pip shy of last week's – pre-election – low of 0.6865. So in effect the surprise election result honeymoon for the Aussie has lasted less than 36 hours, with RBA Governor Philip Lowe full responsible for removing the punchbowl from the post-election party.
Dr. Lowe came as close to pre-announcing a June rate cut as it's possible for a central banker to get yesterday, stating that, "at our meeting in two weeks' time, we will consider the case for lower interest rates".  Lowe discussed the evolution in the RBA's view on policy, with increasing evidence of a weaker economy underpinning its shift to an easing bias, clarifying that lower unemployment had been needed for the Board to stay on hold.  Lowe went on to repeat the message from the minutes that the RBA's forecasts already built in two 25 bp rate cuts, without which "the forecast for unemployment would have been higher". All this supports our view that the RBA will cut the cash rate by 25bp to 1.25% in June, whereupon we expect a follow-up cut to 1% in August.
This is now close to consensus, with several local and international banks revising their forecasts on the back of Lowe's speech to also now expect cuts in June and August.  That said, money markets don't yet have a 1% cash rate full priced before November 2019. This suggest a little more downside risk for the AUD if cuts are delivered in June and August, though in truth US-China trade developments will be far more influential in coming weeks that RBA policy and where we continue to note AUD/USD is already trading on the cheap side of fair value after incorporating a 1% Cash Rate assumption as priced into the 1-year OIS rate.
Prior to the RBA Minutes and Lowe speech, AUD was buoyed by news that APRA was removing its guidance that Australian mortgage lenders assess whether borrowers can afford their repayment obligations using a minimum interest rate of at least 7% or 2% above the prevailing borrowing rate – whichever is the highest – to be replaced by a rule that serviceability should be assessed against a rate 2.5% above the prevailing rate.
While there was some (fleeting) though this might reduce the prospect of near term RBA cut(s) there was also some support for the currency on the view that this rule changes were likely to add to the efficacy of any forthcoming easing, with banks better able to expand their lending books in response to increased demand, the latter potentially driven by the increased borrowing capacity of existing and potential customers.  Dr Lowe downplayed the significance of the APRA changes but did agree at least that they complemented the RBA's easing bias.
Elsewhere in currencies, slippage in the AUD post the RBA Minutes and Lowe speech have been surpassed by the NZD and JPY. Pricing for a follow-up cut in the RBNZ's OCR following the May reduction to 1.5% arced up after the RBA move, markets now ascribing a better-than-event chance of another cut in August.  The NZD low of 0.6501, down 0.4% on Monday's NY close, marks a near year-to-date low (it was last sub-0.65 in mid-October last year). The last dairy auction saw Fonterra Global Dairy Trade index down by 1.2%, falling for the first time in 12 auctions, though the intra-night lows on NZD came in front of this
USD/JPY has benefited from a reversal in Monday's weak global equity performance, slightly higher Treasury yields and generally firmer USD to be, along with NZD, the biggest G10 mover of the past 24 hours (+0.4% to ¥110.48 now and an intra-day high of ¥110.67).
GBP was initially buoyed by red headlines that "Cabinet discussed giving MPs a free vote on 2nd Brexit referendum", but once it became clear that this would be conditional on Parliament first approving PM May's Withdrawal Agreement (WA), gains were quickly reversed.  The opposition Labour party has already been out saying it will vote against it, while Jacob Rees-Mogg, the leader of the 'hard Brexit' ERG group, has said her latest proposals are worse than the original.  Incidentally, the vote on the WA has been pushed back a week, now to the second week of June, given that The Donald is in the UK the first week. European parliamentary elections on Thursday are the next litmus test for all things GBP.
US equities have close with gains of ±1%, the technology sector leading the gains (NASDAQ +1.1%) with the Philadelphia semi-conductor index +2.1%. This is on the news that the US commerce department has granted US mobile phone and broadband providers a 90-day temporary licence to do business with Huawei.   As a result, Google will be allowed to send out software updates to Huawei phones that use its Android operating system.   Huawei has been the recent focus on the deterioration in US-China relations, and the market saw the move as a positive development, possibly keeping the window open for a resumption in trade talks between the two sides (none of which are currently scheduled).  Recall Trump scaled back similar restrictions on ZTE, another Chinese telecommunications firm, last year at the request of President Xi, as a goodwill gesture in the trade negotiations.
US Treasury yields are 1.1bps higher at 10 years (2.426%) with little reaction to yesterday's comments from Fed chair Jay Powell during our time zone or overnight comments from regional Fed Presidents Evans and Rosengren.  Rosengren noted that the trade war was a "prominent downside risk".
Coming up
Australia Q1 Construction work done data is likely to reinforce the view that the downturn in residential construction will be a significant drag on the economy. We forecast a fall of 2.2% for overall work done. Residential building work done, which feeds directly into GDP, is forecast to fall 4.5%, exceeding the fall in Q4 given the sharp decline in approvals. We expect broadly no change in the level of private non-residential and public engineering construction and another modest decline in private engineering of 2% (note that non-residential building and engineering are used to compile GDP, but not public investment).
Also due are skilled vacancies for April (-1.5% in March and also down in both January and February).
Before this, NZ has the Q1 real Retail Trade report, expected to register moderate growth of 0.5% after a 1.7% spike in Q4. The market is looking for a gain of 0.6%.
Japan trade data will be of passing interest (last month's weaker than expected result took a small bite out of the Yen)
Offshore tonight we'll get FOMC Minutes (4:00am AEST Thursday) speeches from the ECB President Draghi and chief economist Peter Praet and UK CPI.
Market prices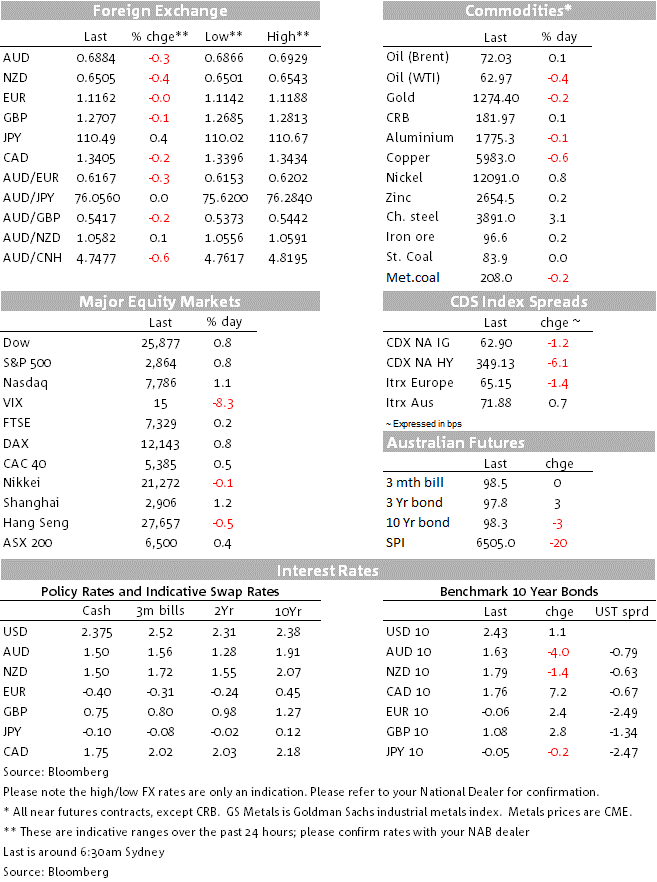 For further FX, Interest rate and Commodities information visit nab.com.au/nabfinancialmarkets