Markets Today: Is gold indestructible?
Gold has broken the $2,000/ounce mark, so is it making a run for it?
Today's podcast
Overview: Fairweather friends
Hopes on US Stimulus, vaccine news and data support  risk sentiment
EU and
 US equities continue their positive run – S&P 500 nearing record high
Friendless USD under pressure for a second day. AUD and NZD gains ease into the close
Meanwhile gold keeps finding new friends
BoE and US Claims are today's highlights
Is there anyone out there? Or am I walking alone?
When I turned around and found that you'd gone before, The first rain could fall – Queens of the Stone Age
Equity markets continue to see the bright side of life with EU and US equities extending recent gains. Hopes on a new US stimulus, vaccine news and solid US data support risk sentiment. US Treasuries have moved up from their lows, but this has been no help for the friendless USD. AUD and NZD edged a bit higher, but lose momentum before the close. Gold continue to find more fairweather friends.
Another day another dollar
The S&P 500 has closed the day up 0.58%, its fourth consecutive day of gains while the NASDAQ ended +0.40%, its sixth successive positive day. Meanwhile in Europe, the Stoxx Europe 600 Index advanced 0.5%, up for a second day in a row. Payment processor Square and Walt Disney were the US performers after better than forecast earnings. Novavax also had a good day, following positive initial results from its experimental COVID -1vaccine for Covid-19.
While nothing concrete
US political soundbites continue to suggest Democrats and Republicans are encouragingly working their way through their differences. "While we have started to generate some forward momentum, we need our partners in the White House to go much further on a number of issues," Senate Democratic leader Chuck Schumer said Wednesday. Senate Majority Leader Mitch McConnell sounded less optimistic, noting Democrats "continue to push their $3 trn dollar wish-list that even their own Democratic colleagues brushed off as absurd.". For now our sense is that no politician in the US wants to be blame for a failure to delivery a new round of stimulus ahead of the elections in November. US Treasury Secretary Mnuchin remarked that while difference remain at least there was an agreement to set a timeline. So the story continues to be about when the deal will be agreed, rather than if.
US virus stats and virus treatment news have also been positive
The 7-day rolling average of reported COVID19 cases in the US is still trending lower and on the treatment side, a new US study showed that hospitalised patients who received blood transfusions rich with antibodies from recovered patients reduced their mortality rate by about 50%. Even if a vaccine is slow in coming, better treatment options should over time reduce the "fear" of COVID19 and therefore allow economic conditions to gradually normalise.
On the US data front
The US ISM services index rose to its highest level since early 2019 of 58.1 from 57.1 and against expectations for a drop towards 55.0. The jump in the headline number was aided by further gains in the business activity and new orders indexes, up 1.2 and 6.1 points respectively. The New Orders index is now at 67.7, but not so encouragingly the employment index remains depressed at 42.1. The contrast in these sub-indices suggests that while activity is picking up, from a very supressed level, for now business are able to meet the increase in demand while they are still shrinking their labour force.
Linked to the above
The ADP payrolls figure was much weaker than expected, coming in at 167K increase in July private payrolls, below the consensus of 1,200K. However, this indicator severely undershot the more closely watched non-farm payrolls indicator over the past couple of months, by some 5.9m in May and 2.4m in June. Non-farm payrolls is expected to print at 1.5m on Friday ( based on last week economist estimates ), but there is a very wide  4m range from the lowest to highest forecast.
After threatening to break the lower band of recent ranges
Longer dated UST yields have edged a little bit higher with the 10y Note and 30y bond up 3bps to 0.539% and 1.215% respectively. US treasury issuance is going to be huge next week with a record $112b of securities on offer and depending on where politician land on the new round of stimulus, issuance looks to increase even more over the coming quarters.
The USD recovery on Friday and Monday, has definitely come to an end with the USD now recording a second day of decline. DXY is down 0.55% and BDXY is – 0,50% over the past 24 hours, currently trading at 92.869 and 1173.74 respectively. EUR has led the charge, albeit found some resistance just above 1.19, as it did at the end of last week, it currently sits at 1.1864. After the break below key support levels in late July, technically both USD indices have plenty of room to extend recent declines before they can find some support around 1130 for BBDXY and 90 for DXY.
Overnight
The AUD traded to a high of 0.7241 and NZD touched  a high of 0.6674, but both antipodean currencies lost momentum after midnight and now trade at 0.7191 and 0.6647.  The AUD remains unbothered by the extended lockdown in Victoria and renewed interstate border restrictions. Like the RBA, the market its treating the containment measures as a temporary setback, not enough to offset the tailwinds from the broad USD weakness, improvement in risk appetite and buoyancy in commodity prices.
Finally on the commodity front
Steam coal and aluminium were the laggards while the rest of the commodity complex continues to edge higher.  Gold has extended it push above $2000, as it continues to new friends. Spot gold traded as high as $2055 overnight, while the active future (Dec-20) traded up to $2070.
Coming up
This morning NZ gets inflation expectations for Q3, then later today Construc. tion PMIs are out in both Germany and the UK. The BoE has its policy meeting and tonight the US publishes weekly initials jobless claims and continuing claims.
The consensus view is for the BoE to leave all its policy levers unchanged. But there is still a bit of uncertainty around whether the Bank will eventually move the policy rate into negative territory. Pricing expectations are at 0.05% (current rate at 0.1%), so some in the market are betting on a move. The Bank's review on the effective lower bound remains ongoing, but our expectations are for the MPC to eventually conclude that the costs from negative rates outweigh the benefits. If the Bank makes further easing is needed, we expect that to be in the form of more QE, but not at this meeting ( current target is for £750bn Gilts purchases by year end).
The market is looking for US weekly claims to print at 1400k, slightly below the 1434k printed last week. Continuing claims are expected at 16900k vs 1701k last week.
Market prices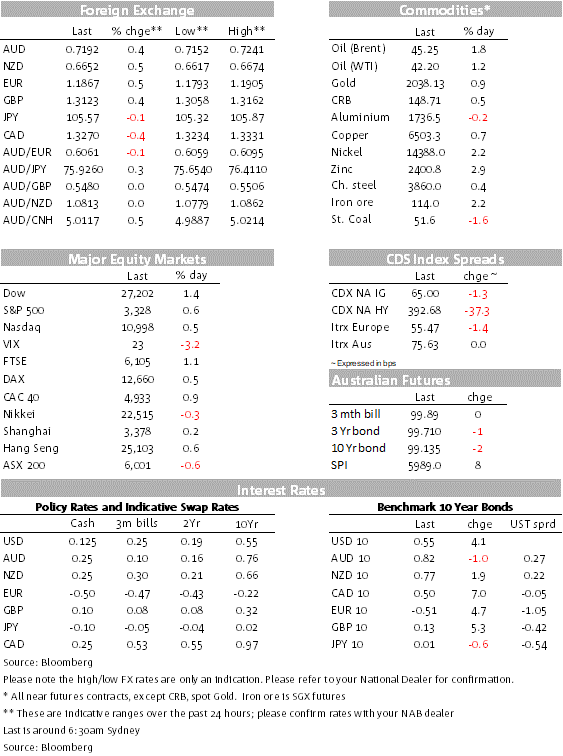 For further FX, Interest rate and Commodities information visit nab.com.au/nabfinancialmarkets