Markets Today: Lane's credit concerns
The ECB's Philip Lane expressed concern about the tightening of credit standards which could impede the European recovery.
Today's podcast
Overview:  It's oh so quiet
Equity markets tread water amid light Thanksgiving trading
Covid-19 infections print new records in Germany, California and Texas
AstraZeneca under pressure as experts questioned initial efficacy findings
Core yields a tad lower and 10y UST futures edge higher
USD slightly higher. Ease in oil prices weigh on NOK
Poland and Hungary increase their opposition to the rule of law
NZ consumer Confidence and China industrial profits out today
It's oh so quiet, Shh shh, It's oh so still
Shh shh, You're all alone, Shh shh
And so peaceful until…. – Björk
It's been a relatively quiet market session overnight with the US out celebrating Thanksgiving.
Regional European equity indices closed marginally in the red while US equity futures are mixed, S&P 500 mini down 0.26% while the NASDAQ 100 mini is up a couple of bps.
COVID-19 infections print a new record in Germany and continue to rise in the US while AstraZeneca comes under pressure after acknowledging errors in initial trials.
US Treasury futures and the USD are slightly higher with NOK the big underperformer in G10, following the move lower in oil prices.
There has been a bit of focus on COVID-19 news with Germany making undesired headlines after surpassing 1 million COVID-19 cases since the start of the pandemic. Infections have tripled since the start of October and, as a result, the number of people with the disease in intensive care has climbed to record levels. Merkel also called on Europe's ski resorts to close this winter to halt the spread of the illness.
Meanwhile in the US
Bloomberg reports California and Texas broke daily infection records, while an outbreak is accelerating in the Southwest and Rocky Mountain regions. An estimated 50m Americans are travelling around the States during a pandemic that has seen an explosive rise in daily case numbers of COVID19 over the past couple of months.
With that in mind it is hard to see the current wave of new case numbers moderating anytime soon, and the bigger risk is that in a couple of weeks reported figures deteriorate from the current run-rate of 1.25 million per week in the country.
AstraZeneca has come under pressure as experts criticised the lack of detail on the clinical trial results and the Company's acknowledgement that the group with 90% effectiveness came as a result of patients accidentally given a lower dose than intended. The head of the US vaccine program said the group showing the higher level of effectiveness was tested in a younger population. The lower rate of effectiveness (62%) when the vaccine was applied with two full doses was achieved in a group included participants aged over 55. None of this information was disclose in AstraZeneca's original statement.
Markets have so far taken that COVID-19 related news in its stride
S&P500 futures are only down slightly for the day and the Euro Stoxx 600 index only fell by 0.12%. Astra Zeneca's share price in London fell just 0.7%. US 10-year Treasury futures are slightly higher.
Moving onto the FX markets
The USD has edged a little bit higher in index terms with the DXY reversing yesterday's small loses to be unchanged at 92.018 while BBDXY is marginally higher at 1143 (+0.08%).
Looking at G10
NOK is once again the big mover retaining it high level of sensitivity to the decline in oil prices, Brent and WTI are down around 1.6%, although prices are still up just over 7% over the past 5 days. NOK is down 0.5% and now trades at 9.8788.
Playing with softness in oil prices
The market is starting to wonder about OPEC's next move.
Bloomberg reports Iraq's deputy leader this week criticized OPEC, saying the economic and political conditions of member countries should be considered before they are asked to withhold production. OPEC's president said Thursday the group must remain cautious, with internal data pointing to the risk of a new oil surplus early next year.
GBP is also on the soft side, down 0.2% to 1.3350
UK-EU trade negotiations remain tortuous and the latest suggestions are that agreement is unlikely before the end of the weekend and more likely sometime next week, continuing the ever-shifting "deadlines".
My BNZ colleague, Jason Wong, noted a headline in his daily "Thousands of sheep stuck in limbo over Brexit regulations", which illustrates a familiar theme applying to other goods, even with a skinny trade deal. This is the cost of the UK leaving the EU.
The AUD and NZD are unchanged over the past 24 hours currently trading at 0.7365 and 07007 respectively.
Both antipodean currencies have essentially consolidated their recent gains, NZD is up 1.26% over the past 5 days while the AUD is up 1.04%.
After trading to an overnight high of 1.1940
The euro has eased to 1.1916.
Virus news, specially from Germany have certainly not helped. But development surrounding the ratification of the EU Recovery Fund and Budget are also a consideration. Poland and Hungary have stepped up their opposition to the linkage of budget finances and the rule of law.
In a joint statement
PM Orban and Moraweicki said "The proposed conditionality circumvents the Treaty, applies vague definitions and ambiguous terms without clear criteria on which sanctions can be based and contains no meaningful procedural guarantees," Orban and Moraweicki also reiterated their readiness to veto the fund and budget in their current form.
EU government envoys in Brussels will debate the deadlock over a non-public meeting on Friday, where the impasse in Brexit talks will also be discussed. If Poland and Hungary don't yield, the EU could adopt the rule-of-law conditions for the EU budget by a qualified majority, effectively bypassing Hungary and Poland's opposition while also excluding them from much needed funding.
Coming up
We have a busy economic calendar today, but at least on paper none of the data releases today are expected to be market moving. NZ Consumer confidence is the first cab off the rank followed by Tokyo's CPI figures for November, Japan's deflationary theme remains well entrenched with the market expecting Tokyo figures to print in negative territory (CPI ex Fresh Food -0.6%yoy). China's Industrial profit for October are also out today and in September the yoy figure printed at 10%, down 9% from August.
Moving onto Europe, France releases Preliminary CPI figures for November, Germany gets Retail Sales for October and the Eurozone releases Economic Confidence for October. Nationwide House Prices are published in the UK.
Market prices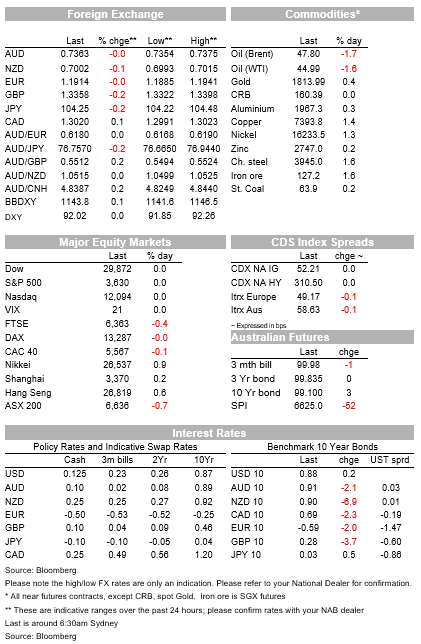 For further FX, Interest rate and Commodities information visit com.au/nabfinancialmarkets