Markets Today: lifeboats for Hong Kong; vaccine for COVID
The overnight session started on a sour note over increasing concerns about Hong Kong.
Today's podcast
Overview: Cars
US Manufacturing ISM and positive vaccine news propel NASDAQ to another record high
FOMC Minutes showing limited support for YCC at this stage
USD weaker with improved risk sentiment, supporting AUD and NZD
US June employment tonight
Struggling for a song title this morning and apropos of either nothing or something very profound, Tesla overtook Toyota last night to become the world's most valuable car company. Its share price has risen by 336% since the start of 2019 while Toyota's is up 4% (see Chart of the Day below). Just wait till Elon Musk's electric planes start rolling down the runway….
It's been a risk positive start to the new quarter, starting as the old one went out, with more positive data surprises out of the US and encouraging news regarding potential coronavirus vaccine development offering the fundamental pretexts for the runups. The S&P has closed in New York up 0.5% and the NASDAQ 1%, the latter to a new record high. The DJIA has lagged, ending 0.3% lower, dragged down by the energy sector (Exon Mobile in particular) and Boeing, with their bigger weights in the Dow than the S&P. Energy shares are down despite a positive night for oil prices, where WTI and Brent crudes are currently up either side of 50 cents.
The vaccine news that has buoyed sentiment is that a coronavirus vaccine from Germany's BioNTech has yielded positive trial results, generating immune defences in participants that were stronger than those of the average recovered Covid-19 patient, according to preliminary data released by the company. In a clinical study run with pharmaceuticals group Pfizer in the US, 24 people between the ages of 18 and 55 who received two doses of the vaccine had "significantly elevated" antibodies within four weeks of their first injection (FT reporting).
The positive economic news
Came from the US manufacturing ISM survey, the index rising to 52.6 from 43.1, above the 49.8 expected and to its highest level in more than a year. The rise was led by the New Orders sub-component, jumping to 56.4 from 31.8 (51.9 expected).  As always, being a diffusion indices ISM/PMI surveys need to be interpreted with caution being a 'rate of change' metric that says nothing directly about levels of activity. We also need to be on guard for the recent stalling or even reversal of social distancing restrictions in many US states prompting set-backs in some of these readings in coming months to upset what has been a sting of positive economic surprises in recent weeks.  In this regard, California has just ordered many bars and restaurants to close as virus cases surge. This after ne that new York has postponed plans for the  re-opening of indoor dining.
Largely ignored given last month's report underestimated US non-farm payrolls by 5.6 million, the ADP Employment report, which reported a 2.37 million increase in private payrolls, below the consensus 2.9 million. Also ignored was the 2.1% fall in May Construction Spending, below the 1.0% rise expected. Earlier, German retail sales were very much stronger than expected, rising by 13.9% in May against the 3.5% expected (more evidence that Germany will be bouncing back fastest in Europe for the COVID-10 related slump.
The key message from the June 1 FOMC meeting Minutes was that the Committee appears agreed on the need for strengthened forward guidance regarding the longevity of its ultra-easy policy settings, be that in the form of state-based or (probably less likely) date based guidance. The committee doesn't not look to have moved any further forward regarding support for adopting some form of Yield Curve Control that it was at its prior, late April, meeting.  The Minuets also reveal continuing support for more stimulus actions from Congress, explicitly mentioning public infrastructure as well as noting that current fiscal support measures in place for households, businesses, and state and local governments "might prove to be insufficient." Whether or not Congers dos approve a major infrastructure spending bill this side of the November 4 elections is likely to be an important factor for equity market sentiment.
The positive night for risk has meant that bond yields are higher. The sell-off in rates has been led by Bunds and Gilts where price action is being put down to safe-haven unwinds. Weighing on the Gilt market was a drop off in demand at the 30 year auction, while the FOMC Minutes look to have added a bit of downward pressure to treasury prices in so far as they are sent oi have downplayed the risk of any early move to YCC. 10 year Treasuries are ending the NY session 2bps higher at 0.676%
In FX
The USD has been subjected to risk-positive headwinds, the DXY index off by a quarter of a percent and the broader BBDXY by 0.3%. After the NOK (+1.2%) GBP is the best G10 performer, recouping the prior days underperformance (both moves for no obvious rhyme nor reasons). AUD and NZD gained 0.4% and 0.2% respectively relative to Tuesday's New York close, AUD still very much home of the range between 0.68 and 0.70.
Coming up
Tonight sees the US June employment report, brought forward by a day because of tomorrow's pre-July 4 public holiday. The consensus sees a more than 3m gain in employment and a fall in the unemployment rate to 12.5%. However, the range of estimates is wide – some 0.5m to 9m – which is understandable after the 10m forecast error in May. Maybe almost as important will be weekly jobless claims, seen dropping to 1.35million after 1.48 million last week, the latter a smaller decline than had been hoped for.
We also get EU unemployment tonight and locally the May trade figures, seen showing a surplus of A$9b after $8.8b in April.
Chart of the day – Tesla vs. Toyota
Market prices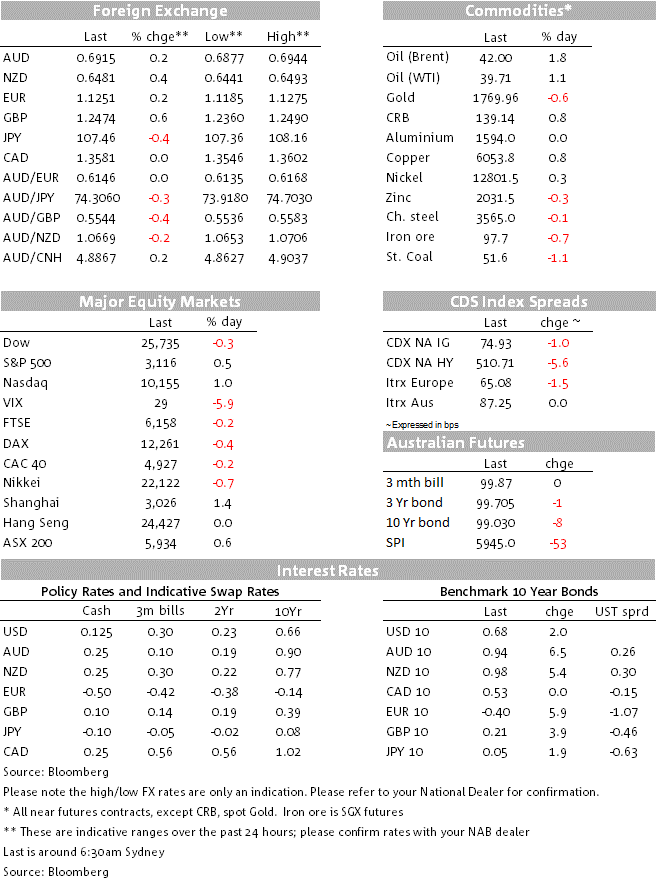 For further FX, Interest rate and Commodities information visit nab.com.au/nabfinancialmarkets
More from NAB