Markets Today: Look who's talking (x2)
Today's podcast
Overview: Eternal flame
Pre-election US stimulus hopes still alive, as too (mid-November) EU-UK trade deal hopes
US stock markets slip into the red in late day trade; USD smartly lower, boosting AUD and NZD. GBP outperforms
WTI crude down $1.70 on big gasoline inventory build
RBA's Debelle speaks this morning, but on global FX code not MonPol
Do you understand? Do you feel the same, Am I only dreaming, Is this burning an eternal flame – The Bangles
It seems that only when the calendar ticks over to 4 November, the day after the US elections and no fiscal stimulus has been agreed, will market finally give up hope for a pre-election support package. Likewise, until the clock strikes midnight on 31 December regarding hopes for a UK-EU post-Brexit trade agreement. Fresh optimism for deals on both matters before these deadlines saw equities holding firm before dipping into the close and the USD smartly lower boosting AUD and NZD, but both by less than GBP.
Tuesday's self-impose deadline for House speaker Nancy Pelosi for agreement on a pre-election fiscal deal came and went without fanfare. Overnight, Pelosi said that agreement – now by the weekend – would allow a bill to be passed ahead of election day. In a TV interview she said she was pretty happy about the state of relief talks and there will be a stimulus bill, the question was one of timing.
Also
This time  yesterday, Senate leader Mitch McConnell had said that if presented with a bill agreed by House Democrats and the White House, he would out it up in the Senate (a significant concession from prior rhetoric and Republican Senators declared intent to pass a much smaller ($500bn) bill.
An hour or so ago
The White House's Mark Meadows has been out saying that he's 'optimistic that we're making progress' but that Pelosi today made only 'small concessions' and that the 'Senate GOP has concerns about aid money and policy'. A spokesman for Pelosi has in the last few minutes been out on Twitter saying the two sides are 'closer to being able to put pen to paper to write legislation' and that the two sides will speak again on Thursday.
So, who knows where we land on this, but risk markets continue to give the politicians the benefit of the doubt. What could possibly go wrong? US equities have just closed with the S&P -0.2% and NASDAQ -0.3%, having been (just) in the green for most of the session.
This follows a poor day for European stocks where indices were mostly down by between 1.5% and 2.0% amid continuing grim infection statistics and extension of geographical areas subject to lockdowns.
In bond markets
We witnessed a sizeable lift in US Treasury yields during out time zone yesterday (10-year Treasury yields up though 0.8% for the first time since June and to a high of 0.84%, consistent with pre-election fiscal deal optimism. The breach of 0.8% has held in New York but the yield is down 2.8bps to 0.813% at present.
This follows across-the board falls in European bond yields, led by a 5.5bps fall in 10-yar gilt yields, fed in part by comments on Tuesday from the BoE's Andy Haldane encouraging thoughts of an eventual move to negative Bank Rate. Haldane is speaking again today, as is the Governor, Andrew Bailey.
UK CPI overnight showed a lift in inflation in September (to 07% from 0.5% in headline terms and from 0.9% to 1.3% on the core measure). The ending of the Eat Out to Help Out – or as better described by one economic commentator, 'Eat Out to help Out (and catch C-19)' – meal subsidy program reduced restaurant and hotel deflation from -2.8% in August to -0.7% in Sep.
Any pressure on GBP from negative rate thoughts has been more than countered by revived EU-UK trade deal hopes. After talks had been suspended last week, EU Chief negotiator Barnier said Wednesday that a post-Brexit trade deal with the UK was "within reach if we are on both sides prepared to work constructively and in a spirit of compromise".
This followed with the UK agreeing to resume "intensive" talks from tonight, which are expected to last for about three weeks, with the goal of reaching a deal by mid-November (meaning another deadline, of 'the first few days if November' has just been erased). We continue to believe that a deal of sorts will more likely than not be agreed in time to be ratified by 31 December.
Trade deal optimism has seen GBP outperform all other major currencies
GBP/USD currently up 1.5% on Tuesday's New York close. Gains here do need to be seen in the context of generalised USD weakness where the DXY and BBDXY indices are both down by 0.5%.
NZD and AUD are the two big winners from this after GBP, AUD/USD up 1% to 0.7118 (down from an overnight high of 0.7137) an NZD up a bigger 1.2% to 0.6660 (and a high of 0.6665).
The G10 FX laggard, and holding back USD indices somewhat, has been CAD, which is flat on the night, underperformance attributed to a sharp fall in oil prices, WTI crude off $1.70 or 4% and Brent a lesser $1.46.
This followed EIA inventory data showed the largest increase in US gasoline inventories since May (+1.9 million barrels versus an expected draw of 1.6 million barrels), indicative of lower consumption amidst the spread of COVID19 across Europe and the US. Canada CPI inflation data were in line with expectations, but retail sales were softer than the preliminary data indicated for August.
Oil price weakens is a commodity market outlier, with metals mostly higher, including copper +1.5% and gold up just shy of 1% or $18, consistent with the softer USD.
Coming up
RBA Deputy Governor Guy Debelle gives a speech and participates in panel, on 'The Future of Global Code' at FX Week Australia 2020 (9:30 AEDT). This will not be a forum for any further enlightenment regarding upcoming RBA policy actions. NAB would ordinarily have been releasing its Q3 Business Survey this morning but note this has been pushed out a week to the 29th.
Offshore
We get weekly US jobless claims and Existing Home Sales. Claims are seen at 870k down from 898k last week (and now equally  important, continuing claims, seen at 9.625mn down from 10.018mn. These have been falling faster than people have been getting back into jobs, since the 6-month statute of limitations on receiving unemployment benefits has been running out for those made redundant early on in the virus crisis, meaning they've no longer had an incentive to claim).
Existing Home sales are expected to be up 5% on the month.
Market prices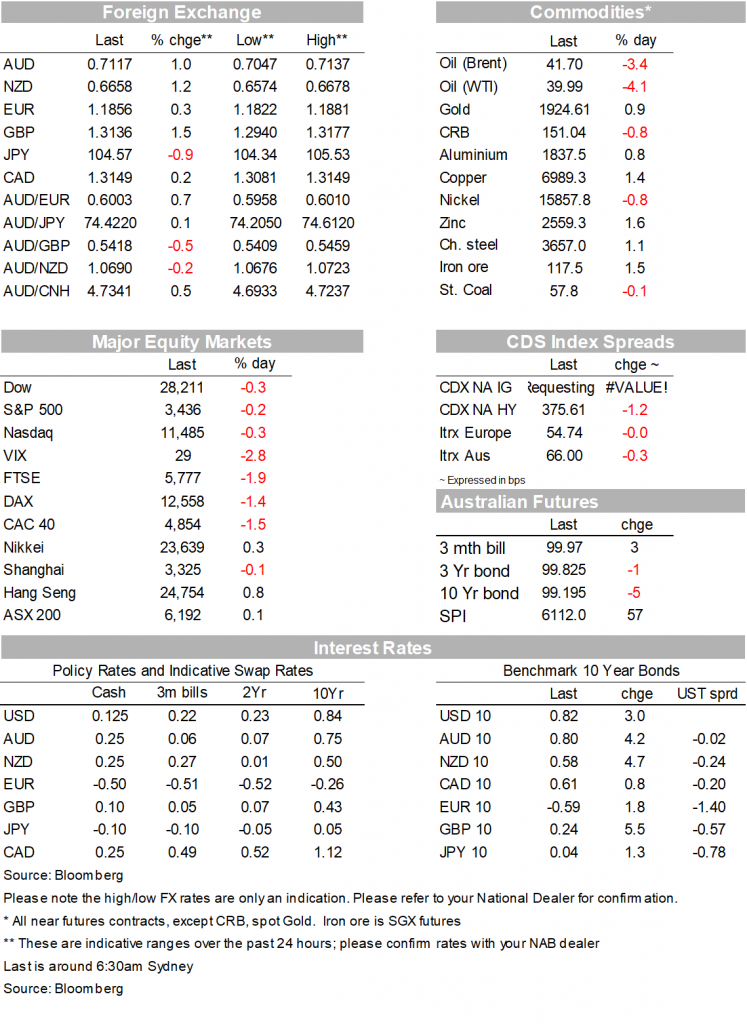 For further FX, Interest rate and Commodities information visit nab.com.au/nabfinancialmarkets
More from NAB