Markets Today: Markets injected with vaccine furore
The markets have scarcely had time to respond to the news that Joe Biden is the next President of the United States than we're it with the (potentially bigger) news that Pfizer have successfully completed stage three of their COVID-19 vaccine trials, with an astonishing 90% success rate.
Today's podcast
Pfizer BioNTech vaccine trial news sends stocks, global bond yields sharply higher
Reassessment of Fed policy prospects checks USD's fall for now
JPY and CHF sharply lower, growth-sensitive currencies all still higher of the day, including AUD
NAB Business Survey, China CPI, German ZEW today
Oh it's such a perfect day, I'm glad I spent it with you, Oh such a perfect day, You just keep me hanging on – Lou Reed.
Vaccine trial news
Market euphoria either side of the weekend on news of Joe Biden's apparent election victory but without the threat of higher taxes and regulation given the likelihood of Senate control remaining with Republicans – not yet confirmed of course – has, pardon the pun, been trumped overnight by positive vaccine trial news and which has seen stocks soar (led by Europe), 10-year Treasury yields up 14bps to now be knocking on the door of 1%, and cyclical/growth sensitive currencies all lower, albeit not by much.
My fellow market analysts at NAB and BNZ have often remarked that no-one wants to be short equities the day that a successful coronavirus vaccine is announced. Well, we may just have arrived at the day, after news overnight that Pfizer and BioNTech's experimental covid-19 vaccine is claimed to have a 90% success rate in preventing infection among a large (40,000+) trial group. The news has been described by US health expert Dr. Anthony Fauci as an "extraordinary" result, given that effectiveness for the first vaccines was previously expected to be in the range of 60-70% (and so well in excess of that required as a precondition for US FDA approval and where reports suggest emergency use authorisation could be applied for later this month). In the meantime, an alternative vaccine developed by Moderna, based on similar technology, is expected to reveal its first results in coming weeks. And yesterday, the Morrison government confirmed it had authorised the production in Australia of some 30 million doses of the experimental vaccine developed by Oxford University and AstraZeneca (let's hope it hasn't backed a wrong horse here, rather like my Melbourne Cup pick last week).
US equity markets
With still almost an hour of US trading to go, US equity markets are back from their intra-day highs but the Dow is still showing gains of 4.5%, the S&P 2.7% the NASDAQ a much lesser 0.2% – with the likes of Netflix down over 6%. Who needs Netflix – or rather as much as we thought we would – if you can soon go out to watch the footy? Earlier, European stocks ended up with even more impressive gains, the Eurostoxx 50 up 6.4% led by a 7.6% gain for France's CAC40 and 8.6% rise in Spain's Ibex35 – representing two of the European countries hardest hit by covid-19. European markets are also evidently breathing big sighs of relief that fears of further trade actions against European imports, had President Trump been re-elected, have now evaporated.
In bond markets
The response to the vaccine news has been even more electric. 10-year US Treasury yields are currently siting some 13bps up on the day at 0.95% (and have been as high as 0.97bps) following rises of 10-12bps in benchmark European yields. This is a pure vaccine news-related reaction (US 10s were sitting at 0.81% when the new broke). The logic here is that if a vaccine is going to widely available next year, and potentially in the first not second half, then the pressure could well come off central banks to be dreaming up ever more ingenious ways to further ease monetary conditions. The RBNZ is first cab off the rank in this respect (tomorrow) where its choice of words will be particularly closely scrutinised. Bond curve steepening is also the order of the day, so in the US Treasury market 2-year yields are up 3bps, 5s 8bps, 10s 13bps and the 30-year +14ps (as of 3pm New York time).
FX
The FX market reaction to the vaccine news has been more nuanced. Yes, the traditional safe-haven CHF and JPY are both sharply lower (-1.4% and -1.9% respectively) but the USD itself is firmer, DXY by 0.6% n BBDXY +0.3%. Obviously the weaker JPY and CHF are part of the story, but the growth sensitive/cyclical currencies such as AUD, NZD and CAD are not much changed from where they were pre-the vaccine trial news, having initially all spiked (AUD/USD to a high of 0.7340, versus 0.7293 now). Here, we'd judge that a reassessment of Fed policy prospects and the extent of the run-up in US bond yields (and in real not just nominal terms) has offered the pretext for at least partial profit-taking on short USD positions.
Commodities
Finally in commodities the vaccine trial news is showing up most drastically in oil where WTI and Brent benchmark are both up by over $3 or +/-8%, while gold is of a cool 4% or more than $80.
Coming Up
Plenty of data and events on the calendar yet how market moving any of it will prove is debatable (read 'unlikely'). Locally, it's the NAB October Business Survey, which last month saw Business Conditions rise to 0 from -6 and Confidence to -4 from -8.
China October CPI/PPI is out at 12:30 AEDT, where another deeply negative PPI print (-1.9% expected from -2.1%) will serve as a reminder of global deflationary winds still blowing from China, while CPI is seen falling to 0.8% from 1.7% in September, reflecting moderating food price inflation alongside ongoing soft core (ex food and energy) price pressures.
Offshore this evening, we hear from ECB President Christine Lagarde (20:25 AEDT) while the data highlights include October UK labour market figures, German November ZEW survey, French and Italian industrial production for September and US September JOLTS (job openings).
Market Prices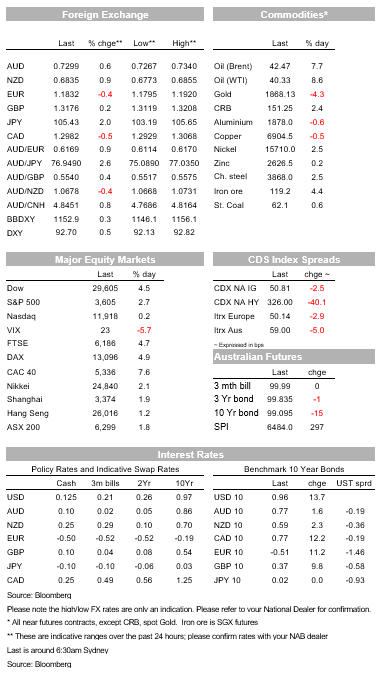 For further FX, Interest rate and Commodities information visit nab.com.au/nabfinancialmarkets