Markets Today: No more heroes anymore
Despite a big jump in confidence in the Conference Board numbers for the US, there's not much optimism in the markets today.
Today's podcast
Overview: Dear Mr. President
US stocks cede some of Friday and Monday's ground ahead of Presidential debate
Despite which AUD is best performing G10 currency of last 24 hours, back above 0.71
Surge in Conference Board US Consumer Confidence, record US goods trade deficit as imports rebound
Biden-Trump first TV debate at 11:00 AEST; China official PMIs also 11:00, Caixin Manufacturing at 11:45
RBA August private credit, August Building approvals
Dear Mr. President, Come take a walk with me, Let's pretend we're just two people and, You're not better than me, I'd like to ask you some questions if we can speak honestly – Pink
Ahead of the first of three scheduled Biden-Trump TV debates at starting at 11:00 AEST this morning
US stocks have traded with a more cautious tone following two days of gains either side of the weekend.
The Dow and S&P 500 have both finished down 0.5% and the NASDAQ 0.3% lower. The S&P loss puts the month to date change at -4.7%, which from an AUD FX perspective could – though may well not – mean some AUD supply tonight and tomorrow due to  hedge-related rebalancing from asset managers finding  themselves slightly over-hedged on their US equity holdings.
The softer equity tone notwithstanding
The USD is modestly softer (e.g. the BBDXY index -0.22% and the narrower DXY -0.42%) showing the negative correlation between US equity performance and FX – on a day to-day basis at least – not to be completely perfect. Indeed the normally highly risk sensitive AUD is the best performing G10 currency of the last 24 hours, currently +0.8% on this time yesterday at around 0.7130.
The market technicians among us will have a keen eye on tonight's month-end closes among other indicators, and where a close nearer to 0.7150 would temper some of the otherwise outright bearishness that this month's price action has instilled.
Elsewhere in FX
The Scandinavia currencies have done almost as well as AUD, the NOK despite a drop of as much as 4% in crude oil prices, seemingly on demand concerns after major independent traders noted at a conference that would it take 18-24 months to get demand back to pre-COVID levels.
On the US economic and policy front
Yesterday's tabling of a $2.2tn fiscal support package hasn't drawn any favourable response as yet from the Republican side even though House speaker Nancy Pelosi and US Treasury secretary Steve Mnuchin are said to still be talking. Trump's economic advisor Kudlow said that the true cost of the Democrat's package is more like $2.6 trillion and about one-third of it looks like not being strictly tied to the pandemic. Talks are expected to continue but confidence in a deal before the pre-election Congressional recess is not running high.
Economic data releases have been interesting, but not market moving
US consumer confidence rose by the most in 17 years, blasting up well above market expectations to reach 101.8 on the Conference Board measure, seemingly reflecting the impact of the pre-September surge in stock prices and bigger than expected drop in the unemployment rate last month. Confidence remains well below pre-COVID levels and while the jobs hard-to-get versus jobs-plentiful spread nudged higher, this labour market indicator remained consistent with a sluggish recovery.
The US trade deficit looks set to reach a record high in August
With the advanced release on the goods side rising to a record $82.9b, driven by higher imports. To a large extent this reflects payback for the sharp drop in imports on supply chain disruptions during the early months of the pandemic, but is hardly a good look in terms of the 'success' of the US tariff actions against China in reducing US trade deficits. Let's see if that comes up in the debate this morning.
Elsewhere overnight
Euro-area economic confidence rose for a fifth consecutive month and by more than expected, albeit remaining well below pre-COVID levels. German CPI fell by 0.4% y/y, the lowest rate in more than five-years, boosting the case for further monetary and fiscal stimulus. This failed to harm the EUR however, up 0.7% and one of the better performing g10 currencies.
GBP has slightly extended beginning week gains on optimism a EU-UK trade deal can be struck in time, at the same time Bank of England Governor Bailey has kept the market guessing on whether a negative rates policy will be adopted.  He noted the groundwork currently being done, but continued to indicate that it would just be another possible tool in the toolbox. He said he can't easily put a date on the end of the negative rate review – it depends on technical factors to work through regarding implementation – which gives the impression that the tool wouldn't be ready for some time yet.
As for the trade talks
The UK has reportedly submitted draft legal text to the EU on five areas (fisheries, level playing field – which includes state aid, law enforcement, energy/mobility and social security coordination). EU reaction to this is now awaited in coming days.
In the meantime, Irish Foreign Minister Simon Coveney said he saw a "good chance" of a trade deal, striking his most upbeat note over the prospects for an accord since a controversy erupted over Prime Minister Boris Johnson's plan to re-write the Brexit withdrawal agreement. "The obstacles are not insurmountable" to an agreement before the end of the year, Coveney said in an interview with Bloomberg Television on Tuesday. "Not agreeing a trade deal would be an enormous failure. The stakes are very high here."
Coming up              
The first  of three live televised debates between President Trump and Democrat contender Joe Biden commences at 11:00 AEST and runs for 90 minutes without commercial breaks. Beyond the sheer entertainment value, market significance will be judgment and then verification in coming days as to whether the current Biden poll leads over Trump is set to narrow or widen.
China official PMIs are due at the same time, with manufacturing seen 51.3 from 51.0 in August and non-manufacturing 54.7 from 55.2 – the sorts of numbers that would confirm China recovery, from being 'first in to first out' of the pandemic, is proceeding apace. The Caixin non-manufacturing series is due 45 minutes later and expected flat at 51.3.
For RBA Credit in August we see some stabilisation and expect growth to be flat after its -0.1% decline last month. Housing finance approvals have shown a sharp pick-up in owner-occupier activity which should help stabilise credit growth. Housing finance approvals also show many borrowers are now choosing to refinance and lock-in record low interest rates and we expect this trend to continue.
Building approvals, also for August, will likely be torn between a continued pick-up in activity in states outside of Victoria, while activity in Victoria has likely come to a stall. We pencil in a 3.0% m/m rise, building on last month's 12% rise.
Offshore, there will be keen interest in a speech from ECB President Christine Lagarde. Data highlights include German unemployment and ADP employment (ahead of Friday's US payrolls)
Market prices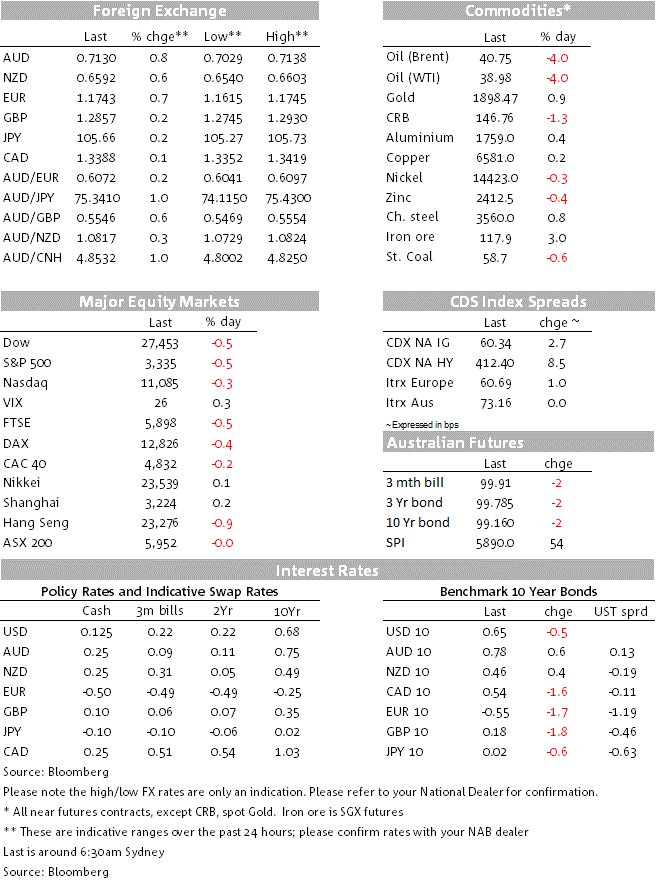 For further FX, Interest rate and Commodities information visit nab.com.au/nabfinancialmarkets