Markets Today: Powell's 'average' address
Jerome Powell used his virtual address to the Jackson Hole Symposium to announce the Fed's strategy of targeting an 'average' 2% inflation rate
Today's podcast
Overview:  Hot hot hot
New Fed framework stresses shortfalls in employment as well as shift to average inflation targeting
As/more dovish than expected; US stocks 'bought the rumour', US yield curve steeper
..but not (so far) adding to downward pressure on the USD
AUD/USD nevertheless makes its highest level since 5 Dec 2018 @ 0.7290
Ole-Ole-Ole, Ole, Ole-Ole-Ole-Ole, Feelin' Hot Hot Hot, Feelin' Hot Hot Hot – Arrow
Fed chair Jay Powell's keenly awaited address to the Kansas City Fed's Jackson Hole symposium didn't disappoint, in fact it has driven home the Fed's intent to run the economy hot in an even more forceful fashion than had been generally anticipated. This is because as well as confirming the formal shift to a symmetric or average inflation targeting regime over time (while retaining the 2% target) it has also changed the description of the employment component of its dual mandate.
Thus on the labour market
Powell says the Fed's policy decision will be informed by its "assessments of the shortfalls of employment from its maximum level" rather than by "deviations from its maximum level" as in the  previous statement.  Powell says "the change to "shortfalls" clarifies that, going forward, employment can run at or above real-time estimates of its maximum level without causing concern, unless accompanied by signs of unwanted increases in inflation or the emergence of other risks that could impede the attainment of our goals".
This change is in effect an acknowledgement of the much flatter Phillips curve (representing the trade-off between inflation and unemployment) than has been observed historically, and as such acknowledging that the economy can be allowed to run hotter for longer – as far as the labour market is concerned at least – without necessarily imposing a threat to inflation.
On the inflation mandate itself
Powell says "…we will seek to achieve inflation that averages 2 percent over time. Therefore, following periods when inflation has been running below 2 percent, appropriate monetary policy will likely aim to achieve inflation moderately above 2 percent for some time".
All this adds up to a view that the Fed Funds rate  is going nowhere at least until the Fed can look 2%+ inflation in the whites of its eyes. Rates have barely budged at the shorter end of the yield curve, the money market not priced for a first Fed Funds rate rise until about four years from now. But the curve has steepened a fair bit, the 10-year Treasury yield up 6.5bps to 0.75% (its highest since mid-June) and the 30-year up 9.5bps to 1.51% (highest since 24 June). 10-year breakevens (market implied inflation expectations) are just under 2bps higher at 1.7485% to leave real 10-year yields higher on the day at -0.99%  up from yesterday's -1.03%.
For US equity markets
It looks to have been a case of 'buy the rumour, sell the fact', the S&P 500 making its day highs of 3,501 just in front of Powell's address and losing 30 points in the ensuing 60 minutes. It did subsequently recover though, to finish at 3,485, up 0.17% on the day (a new record high of course). The NASDAQ ended -0.34% (its first down day of the week).
Also speaking to the Jackson Hole symposium
The BOC's Macklem says a lot of people don't feel like we have falling inflation and that there's a bit of a disconnect between measured inflation and inflation views.  ECB chief Economist Philip Lane called out the importance of high quality, coordinated fiscal policy as the key for recovery. Lane said the ECB stands ready to adjust all instruments as needed and that lessons from the pandemic response will feed into its current policy framework review. Nothing market moving in either of these speeches.
No signs of movement toward agreement on a virus related fiscal support package, House Speaker Nancy Pelosi issuing a statement saying that she is sticking to her demand for a stimulus package costing approximately $2.2 trillion. "When they are ready to do that, we will be ready to negotiate and discuss the particulars" Pelosi told reporters after a phone call with White House Chief of Staff Mark Meadows (their first since 7 August).
On the US economic data front
Q2 US GDP was revised to -31.7% from -32.9% (cold comfort indeed) against an expected -32.5%. Weekly Initial Jobless Claims came in at 1.006mn, just above the 1.0mn expected and versus a revised 1.04mn last week with Continuing Claims also a bit higher than the 14.4mn expected at 14.535mn, down from a revised 14.785mn last week. Pending Home Sales rose by 5.9% against an expected 2.0%, making it a trifecta of upside surprises for Existing, New and Pending home sales in the past week. Finally, the Kansas City Fed's August Manufacturing Activity index rose to 14 from 3 in July (meaning we've now had two rises and three falls for the five regional manufacturing PMIs, ahead of next week's Manufacturing ISM report).
Yesterday
Australia Q2 Capex came in at -5.9%, better than the -8.2% expected. Equipment investment has fallen 7.6% q/q, taking off 0.3pp from GDP, against our expectation of a sharp 18% collapse. Capex expectations held up too, at $98.6bn against mkt: $93.5bn,
In combo with yesterday's construction work done figures, these data point to a hit to Q2 GDP of 0.4pp from business activity, a much better outcome than we had forecast. It says that the direct hit to business activity from the pandemic is not as bad as first feared and that government support clearly helped.
FX Markets haven't shown any strong reactions to Powell's speech
DXY flat on the day while BBDXY is actually a touch stronger (+0.17%) in large part due to JPY weakness (-0.5%) fully consistent with the aforementioned rise in longer dated US Treasury yields out of the Powell speech.   
Against the positive risk backdrop
AUD/USD has been the best performing G10 currency of the past 24 hours, up 0.35% to a high of 0.7290, it best since 5 December 2018 and just pipping the NZD, latter up to a high of 0.6675 – its best level for three weeks. Both have eased back from their intraday highs (to 0.7258 and 0.6641 as I type) with AUD/NZD currently sitting at 1.0930.
Coming up
Tokyo August CPI at 9:30 AEST seen steady at 0.6% y/y in headline terms and 0.3% down from 0.4% in core (ex-fresh food) terms.
July US personal income (-0.4%E) Spending (1.5%E) and Deflators (0.4%E headline, 0.5%E core)
BoE Governor Andrew Bailey speaks to the virtual Jackson Hole symposium at 14:05 BST
Market prices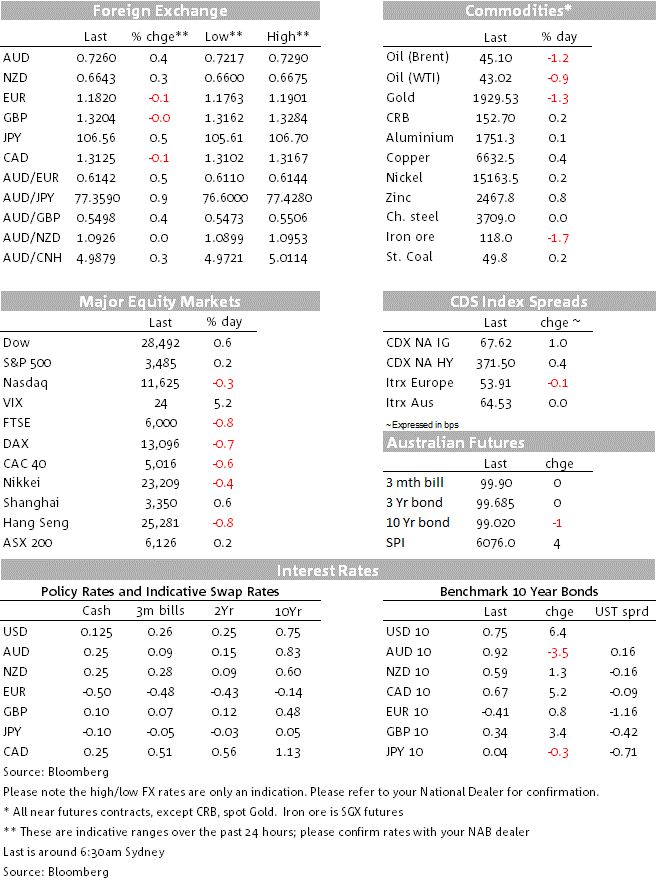 For further FX, Interest rate and Commodities information visit nab.com.au/nabfinancialmarkets