Markets Today: Powell's "tough situation" yet equities push higher again
"We're in a tough situation" – that was the response from Jerome Powell to one question during the FOMC press conference this morning.
Today's podcast
Overview: When you say nothing at all
Fed dovish enough with no surprises in either the Statement or Powell's press conference
No progress yet on the US fiscal package, White House now pushing for a short-term fix
USD falls (DXY -0.4%) amid a broad European FX rally (EUR +0.5% and USD/CHF -0.5%)
Yields slightly lower and the US 5yr breaks through 0.25% for the first time (currently 0.2516%)
Equities rally (S&P500 +1.2%) with tech leading ahead of key tech earnings later today
Coming up: AU Building Approvals, German GDP, US GDP, Earnings (Facebook, Amazon, Alphabet, Apple)
Bottom line
Positive mood overall with the Fed dovish enough (albeit with no surprises) and tech stocks rallying ahead of key earnings reports (Thursday sees Alphabet, Amazon, Apple and Facebook). We are no closer on a US fiscal package, though the White House is now pushing for a short-term fix of extending benefits and kicking the rest down the road – Pelosi so far resisting. The S&P500 rose 1.2%, bonds were steady (US 10yr -0.3bps to 0.58%), while the USD fell (DXY -0.4%) with European FX outperforming (EUR +0.5%; USD/CHF -0.5%) and the AUD also rose (+0.3% to 0.7182). Coming up today is Australian Building Approvals and the AOFM's CEO Nicholl, and then over to Germany and the US for Q2 GDP figures and Jobless Claims. Good luck.
"It's amazing how you; Can speak right to my heart; Without saying a word; You can light up the dark; Try as I may I could never explain; What I hear when you don't say a thing", Keith Whitely 1988 (made famous to non-country listeners by Ronan Keating in 1999)
"When you say nothing at all" has been a hit song for three different performers since 1988, but is probably best known for helping launch Ronan Keating's solo career. So it was overnight from the FOMC with both the Statement and Press Conference having little in the way of new news. Equities though did extend gains a little after the announcement (S&P500 +1.2%). Gains were led by tech stocks ahead of key earnings reports later tonight (Facebook, Amazon, Alphabet and Apple) with the NASDAQ up 1.4%. Companies that have reported so far (just over a third of S&P500 names) have seen 78% beat forecasts (albeit those same companies have seen a 38% decline in earning from last year) according to FactSet.
The USD fell (DXY -0.4%), having already trended lower into the FOMC and extending moves after the announcement. The biggest FX movers were European with USD/NOK ‑0.9% (in a volatile 24 hour period), USD/CHF -0.5% and EUR -0.5%. The decline in the USD overnight now puts the DXY at its lowest level since May 2018 and is seeing many pairs test key levels including EUR 1.18 (+0.5% to 1.1795), GBP 1.30 (+0.3% to 1.2988) and the AUD 0.72 (+0.3% to 0.7185). As for the outperformance of NOK, oil also lifted overnight with Brent +1.3% with US EIA data showing oil inventories fell -10.1m against expectations of a rise of 0.45m and the biggest decline since December.
Yields in contrast were steady to slightly lower with US 10yr yields -0.3bps to 0.58%. The two notable moves were the US 5yr yield briefly breaking through 0.25% for the first time (currently 0.2516%) and the underperformance from the ultra-long end  though reversing moves to be currently 0.2516%.
As for the FOMC meeting itself
The policy statement was little changed from June, opening with the same language "The Federal Reserve is committed to using its full range of tools to support the U.S. economy in this challenging time, thereby promoting its maximum employment and price stability goals." Policy settings remained unchanged, with the Fed continuing with its current pace of asset purchases. The economic outlook message remained downbeat and "the path of the economy will depend significantly on the course of the virus". In the Press Conference there may have been slight disappointment of the Fed showing no indication of willingness to increase bond purchases, stating that the rate of purchases will continue "at least at the current pace". The focus now turns to the September meeting where the expectation is the Fed will provide more forward guidance. At some point the Fed may also look to increase the rate of bond purchases to offset any increase in issuance on the back of increased fiscal spending and focus will remain on the prospects of the Fed to adopt yield curve control at some point in the future.
US data overnight took a back seat and was mostly partial data ahead of today's Q2 GDP figures. The Advanced June Trade Deficit narrowed more than expected to -70.6bn against the ‑75.4bn consensus. In contrast, Inventories declined more than expected with Wholesale -2.0% m/m and Retail -2.6%. Neither of the figures significantly altered the Atlanta Fed's GDP Now estimate for Q2 at -32.1% annualised. US pending home sales were also out and were very strong, recovering further in June and now well above pre-COVID levels (up 12.7% yoy), reflecting record low mortgage rates, some increased activity as households adjust to the working-from-home environment, and the economic recovery. Also out overnight was the Household Pulse Survey, with the decline in employment since mid-June remaining, though recovering a little in the latest week (see Chart below).
On the US fiscal front
We are no closer to a deal but the White House is now advocating for a short-term interim fix (see Politico for details). So far Pelosi has pushed back on the notion, but talks continue.
Finally in Australia
Yesterday's Q2 CPI came and went without much market reaction. Headline CPI fell 1.9% q/q broadly matching NAB's forecast and the consensus (-2%), but a little stronger than the RBA's implied forecast for a 2.5% fall. Free childcare (-95%), falling petrol prices (-19%), preschool subsidies (-16%) and a fall in rents (-1.3%) drove the outcome. We expect prices to bounce back in Q3, as free childcare ends and petrol prices rise, returning to positive, but weak, inflation. The RBA's preferred trimmed mean CPI fell 0.1% in Q2 (mkt+0.1%, NAB: 0%), dragging annual core inflation down to 1.2% y/y. Excluding imputed items due to the pandemic, trimmed mean inflation rose slightly by 0.1% q/q. Looking ahead, core inflation is likely to remain weak for some time.
Coming up today
JN: Retail Sales (8.50am local, 9.50am AEST): June retail sales are expected to bounce 8.0% m/m, in line with the bounce in retail globally.
NZ: ANZ Business Survey (1.00pm local, 11.00am AEST): A final read on the ANZ Business Survey for July is unlikely to be market moving. Note Building Permits for June are also out earlier in the day – also unlikely to be market moving.
AU: Building Approvals (11.30am AEST): Unlikely to be market moving. Consensus looks for a -2.8% m/m decline in June, though there may be upside risk here given most councils would have re-started processing after having been in lockdown and there could be some little catch up (NAB +10%). Regardless of the outcome, building approvals will continue to trend lower given headwinds such as lower population growth due to closed international borders and elevated rental vacancies in Sydney and Melbourne.
AU: AOFM CEO Nicholl (1.30pm AEST): The head of the government's debt issuer (AOFM) is speaking to the Australian Business Economists. His speech is potentially interesting to fixed income markets and he will be talking about "a step-change in the financing task".
GE: German Q2 GDP and July CPI (from 10am local, 6.00pm AEST): The first major Q2 GDP figure for the Eurozone with the consensus for Germany at -9% q/q and -11.5% y/y. Austria, Belgium and Lithuania also report GDP figures ahead of the wider Eurozone, though no consensus is available. Note the wider Eurozone measure is out on Friday.
US: Q2 GDP and Jobless Claims (8.30am local, 10.30pm AEST): Consensus looks for a -34.8% quarterly annualised print after Q1's -5.0%. The consensus looks like its ballpark with the Atlanta Feds GDP Now a similar 32.1% quarterly annualised. Jobless Claims may actually steal the day given the deterioration in the labour market as picked up in the Household Pulse Survey (see chart below) and after the rise last week which some attributed to seasonal adjustment difficulties – upside risks are likely.
Earnings: Facebook, Amazon, Alphabet, Apple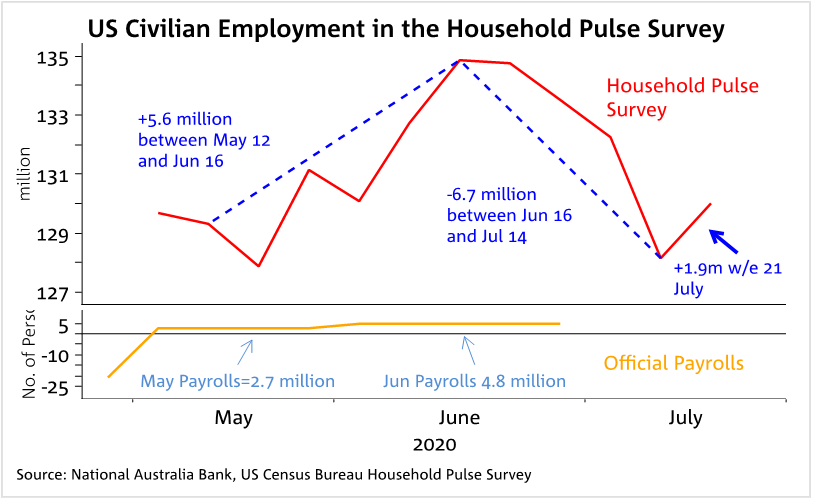 Market prices
For further FX, Interest rate and Commodities information visit nab.com.au/nabfinancialmarkets