Markets Today: QE is back at the ECB
The ECB is to reintroduce quantitative easing.
Today's podcast
Overview: All cried out
ECB cuts rates 10bp to -50bp, 'tiers' negative Deposit Rate and restarts a €20b p/m QE programme
Markets conclude 'That's all folks'; QE 'split', ECB plea for fiscal help, suggests they are right
Hints of freeze or even wind back of US-China tariffs keeps the risk fires burning
US core CPI a 'low' 0.3% vs 0.2% expected; jobless claims remain ultra-low
US retail sales, consumer sentiment, tonight's main draw
If you glanced at the tick charts of EUR/USD and Eurozone bond yields upon waking up this morning and didn't know the ECB had met overnight, you'd be forgiven for thinking there had been another mini-flash crash, or just some dirty data that took the vendors a couple of hours to fix up.  The Euro is higher, as are benchmark Eurozone bond yields, in the wake of the ECB delivering an easing package that fell just marginally short of consensus market expectations running into the meeting. Meanwhile US core CPI printed at 0.3% against 0.2% expected – to 2.4% yr/yr – further challenging the notion the Fed needs to step up its easing simply because it is missing on its inflation mandate. Above all this, risk appetite has been further bolstered by a Bloomberg report suggesting US officials are considering a freeze and even a partial wind-back of China tariffs heading into the next round of trade talks in early October.
The much anticipated ECB Governing Council meeting ended up delivering a 10bp cut to the Deposit Rate, to -50bps from -40bps, accompanied by a 'tiering' whereby banks will be exempt from being charged the Deposit Rate on a portion of their reserves held at the ECB, a move designed at not further undermining banks' profitability and hence willingness to extend new credit.  Market participants were somewhat divided on whether a rate cut would be 10 or 20bps.
Alongside, the Council announced more generous terms for its Targeted Long Term Refinancing Operations (TLTROs) by lowering the rate and extending the duration from two to three years, and is to restart an open-ended QE bond buying programme at a rate of €20b per month commencing November 1st.  ECB President Draghi says its new largesse will continue until inflation "robustly converges to a level sufficiently close to, but below 2%." With new lower CPI forecasts of 1.2% in 2019, 1% in 2020 and 1.4% in 2021, that's not happening any time soon. Incidentally, to put the ECB's new 'QE-infinity' policy in context, Japan's current vintage of QE commits it buying ¥80tn of bonds a year (in practise much less) which is almost four times smaller than the ECB's planned run-rate of €240bn a year (albeit the Eurozone economy is almost three times bigger than Japan's).
While the Euro and benchmark Eurozone bond yields initially fell on the ECB announcement, EUR/USD by about a cent to a low of 1.0927 and 10-year Bunds by some 6bps to  -0.645%, both fully recovered their losses, and then some, within two hours,.  Two things to note here. One was a Bloomberg report indicating a severe split on the Council over whether QE should be re-started, naming the central banks governors of France, Germany, the Netherlands, Estonia and Austria together with two Executive Broad members (Sabine Lautenschlaeger and Benoit Coeure) as arguing against QE at this stage, wanting instead to keep it in reserve in the event of a more severe Eurozone economic downturn.  The other was reflection on what President Draghi said in his opening press conference remarks, namely that "First of all one thing …There was unanimity … that fiscal policy should become the main policy instrument…"   Both play to the view that the ECB is now 'All Cried Out', or as NAB's Gavin Friend quips in his ECB write-up ' That's All Folks'.  EUR/USD is about 40 pips higher (to ~1.1065) and 10-year Bund yields some 6.5bps higher, than prior to the ECB announcements.
As, and arguably more important, in explaining the abrupt reversal of the knee-jerk responses to the ECB, was a Bloomberg report published just before 1am AEST saying Trump administration officials have discussed offering a limited trade agreement to China that would delay and even roll back some U.S. tariffs for the first time in exchange for Chinese commitments on intellectual property and agricultural purchases, according to 'five people familiar with the matter'.  Some of President Donald Trump's top trade advisers in recent days have discussed the plan in preparation for two rounds of face-to-face negotiations with Chinese officials in Washington, due to take place in coming weeks, the people said.  The discussions are preliminary and Trump has yet to sign off on it, Bloomberg notes.
US data was also of some importance last night and also had a hand in the reversal in bond yields. August CPI printed 0.1% as expected by the more important core measure came in at 0.3% versus 0.2% expected (albeit 0.26% unrounded so a 'low' 0.3%) to be 2.4% up on a year ago from 2.2% previously.  It was last higher than this in September 2008.  Used car prices and hospital service cost were the main culprits driving the higher than expected outcome. Also of note, weeks jobless claims fell to 204k from 219k, the lowest level since mid-April this year (and second lowest since 1969!)
US stock markets have closed with gains of between 0.2% and 0.3% for the main board indices, the 0.3% gain for the S&P500 led by a 0.7% rise for the materials sub-sector.
Bond markets have ended the New York day with 10-year Treasuries 3.3bps higher at 1.772% (so now 35bps up from their beginning of September lows) and 2-year yields +4.5bps at 1.719%. 10-year Bund yields finished 14.6bps up on the day at -0.52%.
FX moves have been dominated by the post-ECB recovery in EUR/USD (+0.5% on the day, matched by the SEK and DKK). Also to note USD/JPY has further improved, on the back of higher UST yields but also positive risk sentiment, up another 0.25% to ¥108.08, the first time above ¥108 since August 1st (just prior to Trump's announcement of further tariffs on China).  AUD/USD currently stands little changed on this time yesterday at 0.6866, having reached an overnight high of 0.6895
Finally GBP is little moved with no fresh political or Brexit related developments overnight, though one news story than caught my eye this morning is a Bloomberg report saying the European Union fears Boris Johnson is plotting to persuade Hungary to veto a Brexit delay, in a move that would dramatically raise the risk that Britain will fall out of the European Union without a deal.
Coming up
Nothing due from Australia today though New Zealand has its manufacturing PMI at 08:30 AEST
Offshore tonight US retail sales and the preliminary University of Michigan consumer sentiment reading are both of interest.
Market prices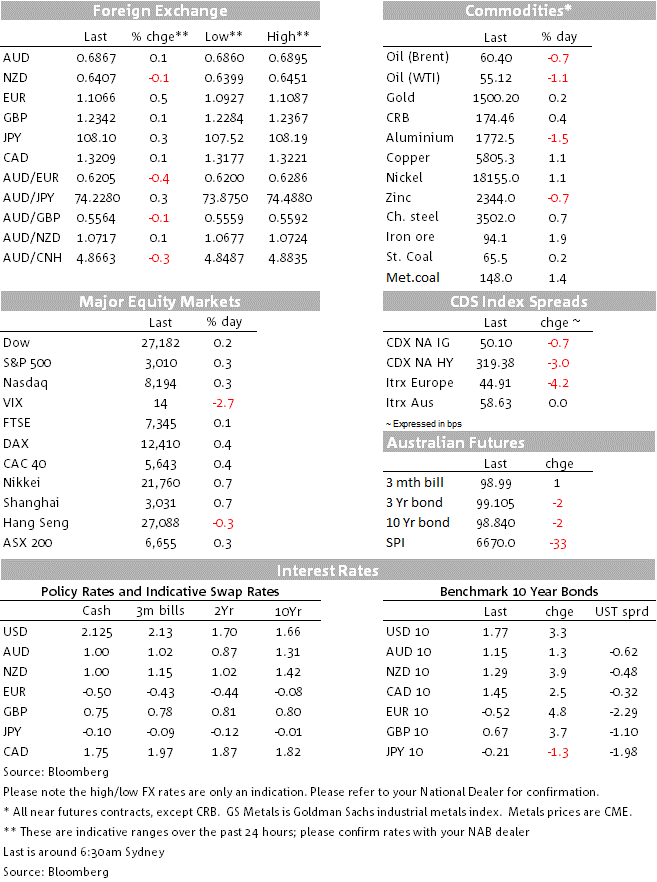 For further FX, Interest rate and Commodities information visit nab.com.au/nabfinancialmarkets