Markets Today: rising inflation doesn't budge Powell
Fed Chair Jerome Powell didn't alter his stance despite signs of inflation picking up in the US.
Today's podcast
Overview:
Strong US CPI and a weak 30y bond auction see longer-dated yields higher (10yr yield +7.5ps and 30yr +8.2bps)
US rate cut expectations largely unchanged (31bps priced for July), keeping shorter-dated yields anchored
ECB Minutes reinforce likely easing ahead with "broad agreement" on being "ready and prepared to ease…monetary policy"
Trump rails against China: "China is letting us down" with no end in sight to the US/China Trade Spat
Equities lift again to record highs underpinned by rate cut expectations
Coming up: China Trade, EZ Industrial Production, BoE's Vlieghe, US PPI
Higher than expected US CPI and a weak 30y bond auction have seen longer-dated yields explode higher with the yield curve continuing its recent steepening (2/10s +4.3bps to 27.9bps; 2/30s +4.9bps to 79.8bps). The move in rates has likely been exacerbated by long positioning and has been concentrated in the long end of the curve (note the BoAML fund manager survey for June had long US Treasuries as the most crowded trade). Reflecting that US 10yr yields were +7.5bps to 2.1378% and US 30yr yields added +8.2bps to 2.6593%. Equities largely ignored the move in rates, continuing to be supported by rate cut expectations with the Dow Jones hitting a new record high, +0.8% to 27,088. FX was also little affected, with the USD (DXY) little changed. There was also little movement in major pairs with the AUD +0.1% +0.6975, USD/Yen +0.0% to 108.46 and EUR -0.0% to 1.1254.
The US debt auction was seen as weak with a tail of 2.5bps and a bid-to-cover ratio coming in at 2.13%, below the 12m average of 2.27%. Indirect bidders, taken as a proxy for foreign buyers, took the smallest percentage since February 2015. Whether this represents are more general investor resistance to the low level of rates remains to be seen, though the underlying message remains that foreigners are not increasing net Treasury holdings (see chart below).
As for US Core CPI, it was +0.3% m/m against the 0.2% consensus with the annual rate of inflation now 2.1% (vs. 2.0% expected). Driving the rise was a sharp rebound in 'used cars and trucks' (+1.6% m/m) and 'apparel' (+1.1% m/m) which together added around 0.08 percentage points to the overall core monthly print – so fully accounting for the higher than expected reading. Other components though continue to point to a mixed inflation outlook with strength in rental inflation given low vacancy rates, largely being countered by weakness in recreation, airfares and personal care prices. For the near-term inflation outlook the biggest unknown is the impact of tariffs – for now these have been isolated to only a few components of the CPI basket given tariffs to date largely exclude consumer goods. Here the Fed has also made it clear it would look through any tariff impact, with the greater effect likely being to hamper growth through uncertainty for businesses' hiring and investment decisions.
US rate cut expectations are largely unchanged with around 31bps of cuts priced for July (compared to 33bps yesterday) and 2.7 cuts are priced by the end of the year. Fed talk continues to support pricing for a July rate cut. The Fed's Williams (voter) was out overnight, seemingly having been persuaded to the dovish camp, stating: "If anything, relative to earlier in the year, the conditions, the arguments, for adding policy accommodation have strengthened over time," with the mixed "the headline data mask[ing] a more nuanced economic picture". On the likely magnitude of a near-term cut, it appears the regional Feds are arguing more for a 25bps move – Barkin and Bostic (non-voters) both expressed scepticism on the need to a cut ("hard to make the case for stepping on the gas"; and business "haven't stopped, they've just slowed"), while Bullard a few days ago said a 25bp cut was enough for an "insurance cut". Chair Powell also had his day 2 of testimony, this time to the Senate with the same dovish tone as to Congress.
The ECB Minutes reinforce likely easing ahead, though given this has been well flagged it had little market reaction. Officials noted "there was broad agreement" that the ECB "needed to be ready and prepared to ease the monetary policy stance further by adjusting all of its instruments, as appropriate". The Minutes also flagged that potential measures included the possibility of extending forward guidance, resuming QE and cutting rates further into negative. According to BBG WIRP there is a 33% chance of a deposit rate cut at the July meeting, while 15bps of cuts are priced by the end of the year.
Equities continue to be buoyed on rate cut expectations, brushing off an earlier tweet by Trump on China – Trump tweeted "Mexico is doing great at the Border, but China is letting us down in that they have not been buying the agricultural products from our great Farmers that they said they would. Hopefully they will start soon!". The Dow Jones hit another record high, up +0.8% to 27,088 while the S&P was up a more modest +0.2% to 2,999. Key for the outlook for stocks will be earnings with the earnings season kicking off next week.
There was little in the way of Australian data released in the past 24 hours. May Home Loan approvals were -0.1% m/m in number, though subsequent industry reports suggest a small bounce in June. RBA Governor Lowe also met Treasury Frydenberg in Melbourne, urging again a fast-track of infrastructure investment. However, the Treasurer also stated "it is important that we stick to our effort to deliver a surplus"
Coming up
Datawise, China takes the box seat with the Trade Balance (consensus $45bn, $41.7bn last). Also under focus will be the Imports series as a proxy for domestic demand in China and whether recent stimulus measures are acting to support growth (imports -4.6% y/y expected, -8.5% prior). New Zealand also has the Manufacturing PMI and REINZ House Sales, while Japan has the final-version of Industrial Production for May.
Europe is likely to be fairly quiet with only Industrial Production for May (-1.5% y/y expected; -0.4% prior) and a few Eurosystem speakers including the ECB's Visco, while the UK sees the BoE's Vlieghe speak.
In the US we get PPI along with the Fed's Evans who is speaking on "Trade and the heartland: from agriculture to manufacturing" in Chicago.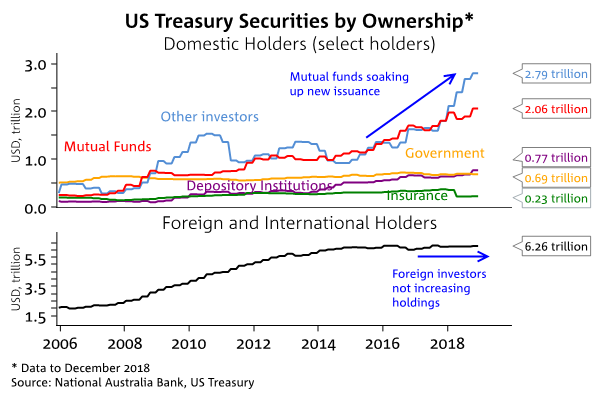 Market prices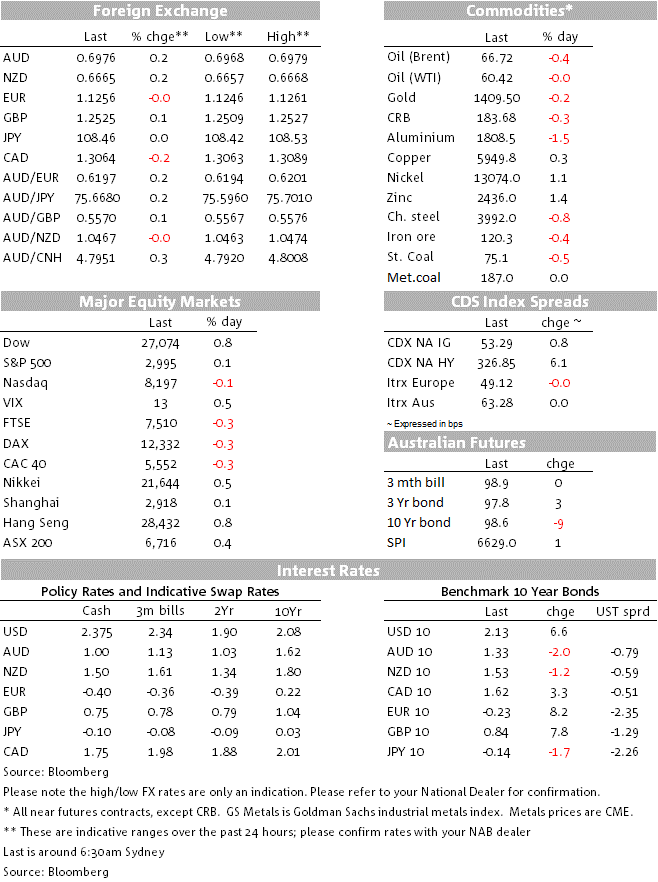 For further FX, Interest rate and Commodities information visit nab.com.au/nabfinancialmarkets