Markets Today: Still wishing and hoping on stimulus deal
Equities are higher in the US today.
Today's podcast:
Overview: November Rain
US stimulus hopes back after Pelosi states she is "optimistic", we'll know more after today
Vaccine news also net positive with Moderna saying December possible for emergency use
S&P500 +0.8%, US 10yr +2.9bps to 0.79%, USD (DXY) -0.4%, Gold +0.0%, Brent Oil +1.0%
AUD (-0.5%) and NZD (-0.6%) underperform as RBA and RBNZ easing expectations extend
Coming up today: AU Retail Sales, UK CPI, ECB's Lagarde, Fed's Beige Book
"And when your fears subside; And shadows still remain, oh yeah; I know that you can love me; When there's no one left to blame; So never mind the darkness; We still can find a way", Guns N' Roses 1991.
November Rain at 8 minutes and 57 seconds is the longest song in the history of the Billboard Hot 100. A fitting tribute perhaps to protracted US stimulus talks, where hope was again lifted overnight after House Leader Pelosi said she was "optimistic" about a deal ("hopefully by the end of the day, we'll know where we all are"). The S&P500 is up 0.8% after yesterday's sharp fall of -1.6%. Vaccine news also added to the positive tone at the open with Moderna stating their vaccine could be available for emergency use in December, while AstraZeneca's US phase-3 trial could resume this week. Netflix which reported after the close was the first FAANG to report earnings with shares down 6% in afterhours trading. A US Justice Department filing against Google related to its dominance in search and advertising had little impact with Alphabet up on the day.
The positive risk tone saw the USD on the backfoot with the DXY -0.4% to 93.085, led by gains in EUR (+0.4%), USD/CAD (-0.3%) and USD/SEK (‑0.8%). Meanwhile RBA and RBNZ easing expectations have seen both the AUD (-0.4% to 0.7061) and NZD (-0.6% to 0.6589) underperform. US 10yr yields continued their mild ascent, up 2.9bps to 0.80%, both on stimulus hopes and on US housing data which showed significant strength (single family permits are now the highest since March 2007).
First to stimulus hopes
House Leader Pelosi said she was "optimistic" that a deal could be struck and that Tuesday was not as a firm deadline as many first believed ("It isn't that this day was a day that we would have a deal, it was a day that we would have our terms on the table to be able to go to the next step."). We should know more by the end of the day with both Pelosi and Mnuchin set to meet again. Republican Senate Majority Leader Mitch McConnell said the Senate would take up a stimulus package if agreement is found and it passes the House. Even if a deal is not agreed to before November, there are high hopes there will be a package after the election. Polling still suggests Biden is set to get the presidency (FiveThirtyEight put the probability at 87%), while Democrats are close to flipping the Senate and which is crucial for the thesis of a large fiscal ramp following the election. RealClearPolitics has Democrats and Republicans at 46 seats each with 8 undecided so it is going to be very close.
Vaccine news continues to offset worries over rising COVID-19 infections
Moderna said its COVID-19 vaccine could be available for emergency use in December if it gets positive results from its trials in November, though gave no indications of the likelihood. Initial trials did show it induced an immune response and was generally safe. COVID-19 cases continue to rise around the world, though the market at this stage seems resilient so long as there is not a full economy wide lockdown as what happened globally back in March and April.
US Housing Data
US Housing Data was very strong and emphasising the housing market is one area that is showing strength amid COVID-19. September Housing Permits were permits 5.2% m/m v 3.0% expected, with singles permits at 1.12m the strongest since Mar 2007. The detached housing boom fits neatly into the narrative of people moving to the suburbs and away from inner city areas due to the virus. In contrast, multi-family permits peaked at 575k in Nov 2019 and are currently at 434k.
The AUD
RBA easing expectations extended following the October Minutes, driving the AUD lower, down -0.5% overnight. While there was no explicit steer to the timing of further policy easing, the Minutes suggest the RBA has already concluded that further policy easing is warranted, and that a cut to the cash rate and the 3yr YCC would be beneficial, as well as buying government bonds further out the curve in a purer QE move than the current YCC and TFF policies (also NAB's view). Recent speeches by Debelle and Lowe suggest implementation at the November Board meeting is very likely as the reopening of the economy sets the scene for these policies to gain the further traction the RBA has been waiting for. The Minutes also elaborated on the change to forward guidance which emphasises the full employment goal under the RBA Act as well as the inflation target. Given uncertainties over the inflation process, "the Board [has also] agreed to place more weight on actual not forecast inflation in its decision making". The latter is a recognition by the RBA of the uncertainties over where full employment lies and we will only know where full employment is, when actual inflation moves to sustainably within the 2-3% target. Accordingly the unemployment rate is arguably becoming an even more important yardstick to judge whether the RBA needs to do more, while a sustained increase in actual inflation is the yardstick for whether rates would need to rise.
Across the Ditch
RBNZ's Orr also re-iterated the RBNZ is set to ease policy next year, helping drive the NZD lower, down -0.6%. Orr talked up the merits of negative interest rates, saying they "can be highly effective and highly efficient". And while NZ and the world economy were recovering after the big hits seen earlier this year, the RBNZ "still needs to operate with a medium-term focus". It all points to more forthcoming policy stimulus with the Bank preferring to deal with "more inflation than battle deflation". Orr also kept alive the chance of a rate cut as soon as February by saying that the OCR would remain at 0.25% until February-March. OIS rates through the next year fell by 1-3bps, dragging the 2-year swap rate down 2bps to 0.02%. Other bond and swap rates were down 1-2bps across the curve,.
Also in central bank news
The BoE seem to be leaning again to negative rates. The BoE's Vlieghe said the risks to the economic outlook are on the downside ("skewed towards a longer period of labour market slack with weak inflationary pressure") and joins Saunders and Haskel in the dovish camp. Markets expect the BoE to add stimulus via QE on November 5, though Vlieghe did note QE was likely less potent now than in March. Accordingly the BoE may need to look to negative rates: "My own view is that the risk that negative rates end up being counterproductive to the aims of monetary policy is low," "Given how low short-term and long-term interest rates already are, headroom for monetary policy is limited, and we must consider ways to extend that headroom."
On the other side of the Pond
The Fed's Evans noted there is not a lot of appetite for negative rates at the Fed. Evans also noted that with average inflation targeting, he would not be bothered if inflation was 2.5-2.75% for a year. Reinforcing for some on the FOMC, they want to run the economy hot and that they only know where NAIRU is once you see a sustained rise in inflation.
Finally in rates news, the EU social bonds received high demand with bods of almost €233bn for issue tenders of 10bn in 10yr and 7bn in 20 yr. The 10-year yield ended up going at ‑0.26%.
Coming up today
A mostly quiet data wise with only a flash measure of retail sales for Australia. It's also quiet offshore with only a smattering of data including ECB speakers, UK and Canada CPI, and the US Fed's Beige Book and the Fed's Mester. For more details, please see below:
AU: Flash Retail Sales – September: A preliminary measure of Retail Sales for September is unlikely to be market moving. The data though should reflect the sharp divergence between Victoria (which was in lockdown in the month) and the rest of the Australia which continued to ease restrictions. There is no consensus available.
NZ: Credit Card Spending – September: Unlikely to be market moving and there is no consensus available. Expect a sharp rise.
EZ: ECB Speakers: Four ECB speakers are scheduled, including President Lagarde and Chief Economist Lane.
UK: CPI – September: Consensus looks for core at 1.3% y/y, up from 0.9% previously.
US: Beige Book:
Market Prices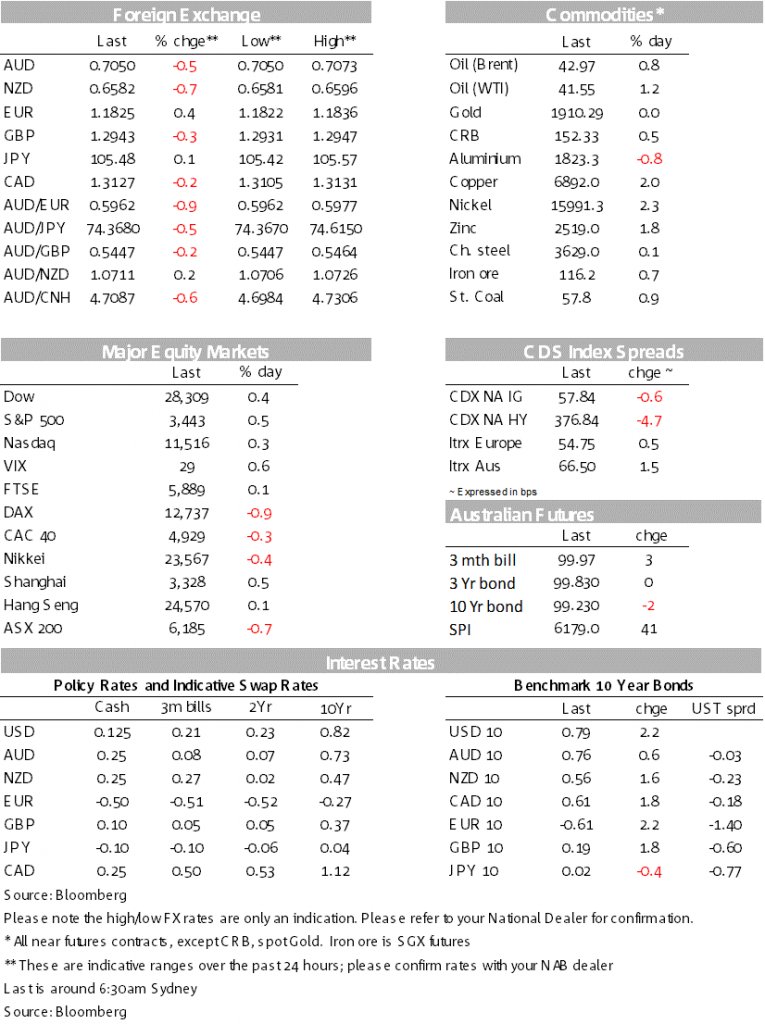 For further FX, Interest rate and Commodities information visit nab.com.au/nabfinancialmarkets