Markets Today: Tariff deadline hours away
The imposition of tariffs by the US on Chinese imports is just hours away.
Today's podcast
Overview: The impossible dream
Markets remain on risk off mode as US-China trade talks are about to resume
Trump says a deal this week is possible, but news soundbites suggest otherwise
Rocket man is at it again, not helping the mood – N. Korea fires 2nd missile test this week
The USD is broadly weaker and UST yields are lower across the curve. The 3m-10y UST curve flirts with a move sub-zero
Although still down on the day, Trump's comments help equities rebound
Other risk assets also recover a little bit – AUD now at 0.6990, after trading down to 0.6965
China's VP Liu He to dine with US negotiators ahead of scheduled lift in tariffs at 2.01pm Sydney time
Calendar highlights – RBA SoMP this morning, US CPI tonight. BUT US-China Trade talks the main focus
To dream the impossible dream.. To reach the unreachable star
The equity screen board is a sea of red as investors damp risk assets ahead of a resumption in US-China trade talks. News soundbites over the past 24 hours suggest an impasse looks like the more likely outcome, but early this morning comments by President Trump insisting a trade deal was still possible helped sentiment ahead of the NY close. If you are a soccer fun, then after the two incredible Champions league semi-finals this week, which ended with two English teams performing incredible comebacks, then like Trump you have to believe anything is possible!
Risk asset have continued to struggle over the past 24 hours. Yesterday President Trump used a Florida rally to ramp up the rhetoric against China insisting China's leaders "broke the deal." Overnight a China Commerce Ministry spokesman said "there have been various commitments made for us… China is credible and honours its word and that has never changed." China's editor of the Global Times said that one Chinese source told him there was a "zero" chance of reaching a deal this week. Bloomberg reported that US trade negotiator Lighthizer was calling members of Congress ahead of discussions to warn that a deal this week is unlikely.
So ahead of the scheduled plan for a lift in tariffs on $200bn exports from China from 10% to 25%, understandably investors have been de-risking their exposures. All European equities indices closed in negative territory with the Stoxx 600 index down 1.65%.US equities gapped lower at the open with the S&P 500 down 1.50% after a couple of hours of trading. Early this morning, however, hopes improved when President Trump said that he had received a "beautiful letter" from President Xi and that he'll probably speak to him by phone. Speaking at an event in Washington, the President also insisted that a trade deal with China was still possible this week. These remarks, helped risk assets recover with the S&P 500 closing the day down just 0.30%.
As we are about to press the send button, US-China trade talks should be resuming and a few hours later China's Vice Premier Liu is expected to have dinner with US Trade Representative Robert Lighthizer along with other China and US officials. This cordial arrangement plays to the view that a deal can still be reached, ahead of the scheduled plan to lift China tariffs at 2.01pm Sydney time, the market will be on the lookout for any soundbites coming out from the meetings and dinner.
Yesterday, the FT reported comments from a US trade official that any higher tariffs on Chinese goods would apply to products exported from China starting on Friday and not goods that are already in transit. "This clarification from the Trump administration offers US and Chinese negotiators a window of two to four extra weeks to reach a deal before the bulk of the pain from the higher tariffs directly hits US consumers and businesses, based on shipping times between the countries.".
So albeit with high degree of uncertainty, our senses is that there is a good chance tariffs will be impose later today (a big risk negative ), but watch out for the details. If, for one US and China negotiators keep talking and two the FT report is right, a delay on the impact from a lift in tariffs should open a window for negotiators to find a solution over the coming weeks, so this could be seen as an offsetting positive force.
Looking at currency markets action overnight. The USD traded with a soft tone with DXY hitting a low of 97.239 just before midnight as headline hit the screen noting China's Global Times quote that a Chinese  official thought there zero chance of a deal been reached before Friday. The USD recovered into the close with DXY currently trading at 97.457.
The CHF, Euro and to a lesser JPY benefited the most from the Global Times quote reflecting these currencies safe haven attributes as well as their appeal for funding carry trades, given their negative cash rates. The de risking activity ahead of today's risk events has seen an unwind EM trades with BRL, TRY, KRW and CLP all down on the day. The Euro now trades at 1.1214 after trading to an overnight high of 1.1251. USD/JPY trades at ¥109.75, after trading to a low of ¥109.48.
The down and up pattern was also evident on the AUD/USD with the pair trading down to 0.6965 and then recovering to be now at 0.6990. This morning the RBA releases its Statement on Monetary Policy where more details will be revealed on the rationale and risks to the Bank's forecasts. These details will be important for the AUD as they will help shape rate cut expectations. Our sense is that risks to the outlook will help reinforce the view the RBA has an easing bias, this should be AUD negative but market focus will be on US-China trade talks.
The risk off move was also evident on the move lower in UST yields.The 10-year rate is down 4bps to 2.44% and  the US yield curve went negative again (a recession barometer), with the yield on 10-year Treasury notes falling below the 3-month bill yield for the first time since March. The curve no trades at 2.5bps.
Overnight data releases
The US trade deficit in March was in line with expectations.  Within the mix, the trade deficit with China decreased to its narrowest in nearly three years.  Overall trade with China has plunged, with imports down 13.6% y/y in Q1 and exports down 17.6% y/y.
US PPI inflation remained soft but the detail showed a significant jump in portfolio management prices, an area noted by Fed Chair Powell that had recently depressed the CPI
Coming up
NZ Card spending retail (Apr)
AU RBA Statement on Monetary Policy
UK GDP Q1, Industrial production (Mar), Construction output (Mar),Trade balance
US CPI (Apr)
NAB expects an on consensus print of 0.4% m/m in April for the headline CPI, which annualises to 2.1% y/y up from 1.9% in March. We also expect the core reading to print in line with consensus at +0.2% m/m (2.1% yoy). The (later) timing of Easter in April this year points to upside risk on inflation in April. For the Fed and markets the US inflation theme is a slow moving beast, so barring any major surprises focus over the coming months will be on trend direction and whether or not we see an ease in  "disinflationary transitory forces".
CA Unemployment rate (Apr), Hrly wages perm. (Apr)
Market prices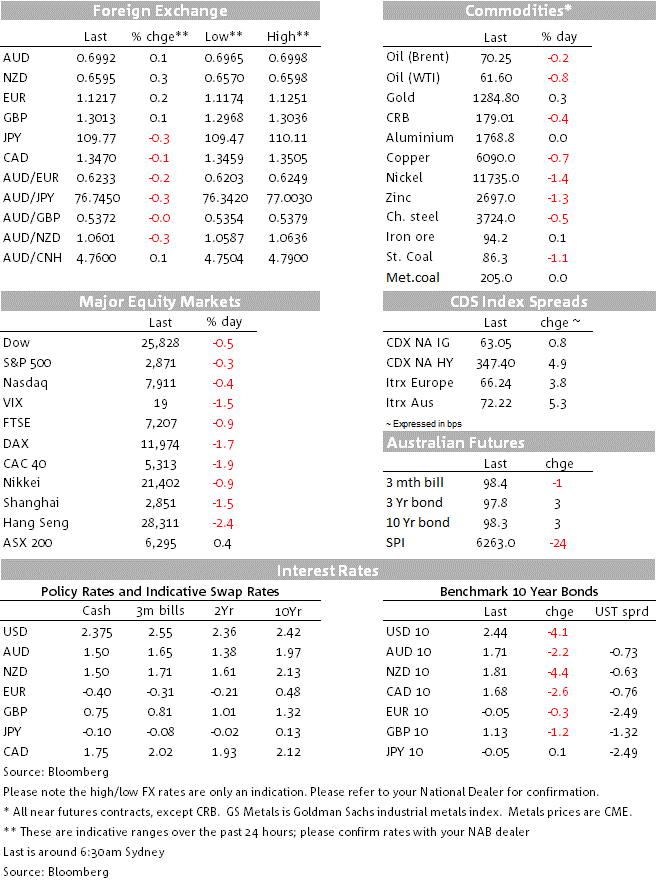 For further FX, Interest rate and Commodities information visit nab.com.au/nabfinancialmarkets