Markets Today: the world waits for the Fed
It's less than a day before the FOMC meets and Jerome Powell talks to the press.
Today's podcast
Overview: Walk away
US equities struggle to stay in the green amid mixed earnings and data releases
Apple beat expectations after the bell
USD broadly weaker. Month end favouring GBP while solid data boost the Euro
NZD a tad stronger and AUD is unchanged reversing post China PMIs declines
White House ramps up trade talk pressure – Ready to walk away
President Trump goes for the Fed again – Eeconomy would go "up like a rocket" if Fed eased
NZ Labour data focus todat ahead of ISM and FOMC tonight
I said, "never", but I'm doing it again, I wanna walk away, start over again – Walk Away by Tom Waits
US equities have struggled to stay in positive territory amid mixed US earnings reports and economic data releases. The USD is broadly softer with month end flows a factor at play while the Euro has also been boosted by better than expected data releases. AUD is back to pre-China PMI levels and NZD is a tad stronger ahead of its labour report this morning. The 5y tenor have led the decline in UST yields while oil prices are higher following news of unrest in Venezuela.
After being down almost 0.5% early in the session, the S&P 500 closed 0.1% higher while the NASDAQ ended the day 0.81% lower. Tech share struggled to perform following disappointing Alphabet results after the bell yesterday. Speculation that Apple would disappoint also weighed on the sector with Apple shares down close to 2%.But after the bell Apple surprised the market with a huge beat, not only in terms of sales ( iphone's in particular), but also in terms of revenue and guidance. Apple shares are up 4% in afterhours trading.
US data releases were mixed and probably didn't help sentiment either. The Chicago PMI (possibly impacted by issues at Boeing) was very soft but pending home sales and consumer confidence was stronger than expected ( see details below), .
US Treasury rates fell after the weak Chicago PMI, with the index indicating downside risk to the key US ISM manufacturing index tonight.  UST rates are down 2-3bps across the curve, taking the 10-year rate down to 2.50%.That said it is probably worth emphasising the better than expected consumer confidence reading, following the surge in personal spending in March the jump in consumer confidence in April suggests personal consumption is likely to be robust in Q2. Index extension is also likely to have been a factor behind the move lower in UST yields
In a similar vein the USD has been broadly weaker, with month-end flows seen to be one factor behind the move. This seems to be particularly relevant to GBP which has been the outperformer overnight on no major news or data releases. GBP is up 0.80% to 1.3032 and with the UK equity market underperforming other country markets ( in USD terms) in what was a broadly positive month for equities, suggest that some GBP buying was likely. Meanwhile on the Brexit front news reports suggest there is one last push on talks between the government and Labour Party to come to some form of agreement on Brexit. On the other hand, the UK Labour Party's ruling council agreed that it would support a second referendum on Brexit only as a last resort, conditional on the government not adopting Labour's plan for a customs union or if the government fails to call a general election.
Another factor helping GBP has come from EUR strength following better than expected economic data releases. The euro-area economic data were universally better than expected, with GDP improving to 0.4% q/q, higher than expected inflation in Germany and Spain confirming that the previous month's dip was related to the impact of the late-Easter, and the unemployment rate continuing to trend down, reaching its lowest level since the GFC. All this might hold off any need for the ECB to add further policy stimulus. The Euro is back above the 1.12 mark, up 0.31% over the past 24 hours.
Meanwhile the AUD is essentially unchanged and now trades at 0.7048.Yestrday the softer than expected China PMI prints weighed on the currency, taking the pair to an overnight low of 0.7031, but the better than expected euro area data as well as the broadly softer USD theme helped the currency later in the session.
The kiwi on the other hand has nudged up a bit further, but not much, to 0.6675, making it a full cent recovery from the ANZAC Day low. On Q1 labour market data this morning, our BNZ colleagues expect a better than consensus unemployment rate of 4.1% (vs an unchanged 4.3% consensus outcome) and downside risk to the LCI private sector wage data. Big misses in either direction could well have a bearing on whether the RBNZ cuts rates as soon as next week.
Lastly on the political/White House front, Mick Mulvaney, President Trump's acting chief of staff said ramp up the pressure on China trade negotiations noting that "At some point in any negotiation you go, 'we're close to getting something done so we're going to keep going.' On the other hand, at some point you throw up your hands and say 'this is never going anywhere.'"
And…ahead of the FOMC meeting early tomorrow, President Trump could not resist having another go at the Fed tweeting the  economy would go "up like a rocket"…"if we did some lowering of rates, like one point, and some quantitative easing. Yes, we are doing very well at 3.2% GDP, but with our wonderfully low inflation, we could be setting major records &, at the same time, make our National Debt start to look small!"
Overnight data releases
GE: Unemployment rate (%), Apr: 4.9 vs. 4.9 exp.
EC: Unemployment rate (%), Mar: 7.7 vs. 7.8 exp.
EC: GDP (q/q%), Q1: 0.4 vs. 0.3 exp.
GE: CPI EU harmonised (y/y%), Apr: 2.1 vs. 1.7 exp.
US: Employment cost index (q/q%), Q1: 0.7 vs. 0.7 exp.
CA: GDP (m/m%), Feb: -0.1 vs. 0.0 exp.
US: Chicago PMI, Apr: 52.6 vs. 58.5 exp.
US: Pending home sales (m/m%), Mar: 3.8 vs. 1.5 exp.
US: Conf. Board cons. confid., Apr: 129.2 vs. 126.8 exp.
NZ: QV house prices (y/y%), Apr: 2.7 vs. 2.6 prev.
Coming up
NZ QV House Prices Apr, Unemployment Rate, Employment Change and Private Labour Cost Index
Our BNZ colleagues are looking for a 0.5% quarterly (Market 0.5% and 2.3% y/y vs 2.1%y exp.) increase in the Household Labour Force Survey (HLFS) measure of employment and the unemployment rate heading back down to 4.1% in Q1-19 from the 4.3% in Q4-18( Market is unchanged at 4.3%).
AU AiG Perf of Mfg Index Apr, CoreLogic House Prices Apr
We suspect AU House prices look set to almost match last month's 0.7% decline for the five and eight capital city indexes. In addition to house vs units details, the monthly report will also provide more colour on the rental front as well as other market dynamics such as the rate of "vendor discounting" and "time on the market" that have been moving up in Sydney over the past 18 months, Melbourne's too if from a less-tight lows and less movement since.
JN Nikkei Japan PMI Mfg Apr F
UK Markit UK PMI Manufacturing Apr
US ADP Employment Change Apr (180k exp), Markit US Manufacturing PMI (Apr F), US ISM Manufacturing Apr, FOMC Rate Decision, Fed Chair Powell Press Conference.
For the ISM the regional reports suggest there is some downside risk to the market expectations of a 55 outcome after a 55.3 print in March.
The FOMC will no doubt note the soft core inflation outcome in recent months and acknowledge the relatively solid GDP growth performance. No rate change is expected but there is a good chance the IOER will be trimmed (5bps?) given the effective funds rate has once again sneaked above the mid-point of the target range. Meanwhile we expect forward guidance to still point at rates being on hold for some time with the Committee remaining patient as it carefully monitors data releases over coming months. That said any comments (concerns?) on inflation and inflation expectations will be important together with additional colour from Fed Chair Powell's press conference.
CA Markit Canada Manufacturing PMI Apr
Market Prices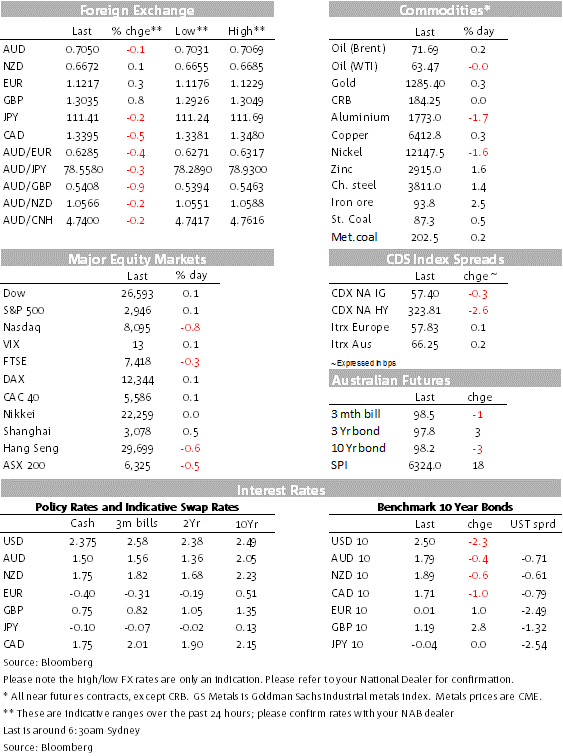 For further FX, Interest rate and Commodities information visit nab.com.au/nabfinancialmarkets