Markets Today: Trade hope sends stocks high
The hope that something will happen soon between the US and china has sent US equities to new highs.
Today's podcast
Overview: Science fiction
Equities like the US-China trade vibes, but FX and bonds far more circumspect
GBP back on the up following weekend poll news consistent with an outright Tory victory
RBA Governor Lowe speaks on 'Unconventional Monetary Policy: Some Lessons from Overseas" at 20:05 AEDT
RBA Deputy Governor Debelle speaks on "Employment and Wages" at 10:50 AEDT
"Quantitative easing I want to make a simple point about peace and love, but in a sexy way where it's not obvious, highlight dangers and send out hidden messages" – Arctic Monkeys, Science Fiction
Ahead of tonight's all-important speech from RBA Governor Phil Lowe, there's a prize this morning for anyone who can tell me any other (officially published) song referencing quantitative easing or unconventional monetary policy.  I'm pretty sure the dubious honour resides exclusively with the ever-inspirational Arctic Monkeys, but will happily be proved wrong.
Overnight
US equity markets have keyed positively off what snippets we've had on trade news since Friday (i.e., both sides suggesting an agreement is 'very close' and China announcing a strengthening of rules surrounding protection of intellectual property rights). FX and bonds markets are behaving with more circumspection, seemingly worn down playing trade headline ping-pong in recent weeks. CNH is little changed on where it ended last week and both AUD and NZD are slightly lower versus Friday's New York closing levels.
There hasn't been too much by way of economic news since we went home. The German IFO survey was the key release, and while tending to corroborate the evidence of PMIs and some other data that the economic situation in Germany is at least stabilizing, the green shoots of recovery remain hard to find.  The headline Business Climate index lifted to 95.0 from 94.6 – as expected. Expectations rose to 92.1 from 91.6 (below the 92.5 expected) and Current Conditions were little changed at 97.9 from 97.8, as expected. EUR/USD lost about 20 pips in the wake of the numbers and has only just been spared a visit below 1.10.
US data has been confined to the Chicago Fed's national Activity index (-0.71 from -0.45) and the Dallas Fed's manufacturing survey, up to -1.3 from -5.1. Neither were market moving.
ECB Governing council member Yves Merch and chief economist Philip Lane have been speaking in the last few hours. Of particular note, apropos RBA Governor Lowe's speech tonight, has been Lane's assertion that the Asset Purchase Programme (APP – the ECB's descriptor of QE) has been worth some 100bp by way of lowering the sovereign ten-year rate, and also that the slope of the Eurozone yields curve would be around 70bps higher in the absence of the APP.  Lane is saying this by ways of downplaying the significance of the curve as a reflection of the views of investors about future macroeconomic conditions and non-monetary factors influencing so-called term premia.
It's doubtful the RBA Governor will – or can – be as forthright this evening in quantifying the potential local yield curve effects were it to go down the QE route in so far as it hasn't yet conducted an APP, or at least not as a monetary policy as opposed to credit policy tool. We've attempted to address this in our research note published last week (see: "Australian Cross-Market Research – Analysing the potential impact of QE" and also yesterday's Australian Markets Weekly.)
With an hour still to go of US equity trading, the S&P 500 is up 0.6% and the NASDAQ 1.2%, so the IT sector leading the latest charge higher.  European stocks markets earlier ended with gains of between 0.5% and 1%.
The US bond market has a quiet session so far, 10 year Treasuries trading between 1.75% and 1.79% (1.76% now)
In FX
GBP is the only currency to show gains against the USD (well, ignoring a 0.05% rise in the Swiss Franc).  Its 0.5% gain versus the USD and 0.7% rise against the AUD is a response to weekend opinion polls showing the Conservatives pulling further ahead of Labour in front of the December 12 General Election, consistent with something like an 80-seat overall majority for the Tories. The JPY is the weakest of the majors after NOK, -0.3% and consistent with the risk-positive tone in equity markets, while losses for  AUD (-0.15%) and NZD (-0.1%) look to be more reflective of generalised if small-scale USD strength than anything else
Coming up
Fed chair Jay Powell is due to speak at 11:00 AEDT in Rhode Island – subject matter unknown and there is no Q&A.
Today's – or rather tonight's – highlight is undoubtedly RBA Governor Lowe speaking on "Unconventional Monetary Policy: Some Lessons from Overseas" at the annual ABE Dinner (speech expected to be released on the RBA Website at 20:05 AEDT).   Before Lowe, Deputy Governor Guy Debelle is speaking on "Employment and Wages" at 10:50 AEDT in Canberra.
As noted in yesterday's Markets Today, Dr Lowe's keynote speech will provide an opportunity to outline the RBA's view on various unconventional policy options and, perhaps, at what point the RBA thinks such a programme would be warranted. The RBA has previously said that international experience suggests unconventional policy is most effective when a package of measures is used. The Governor comments to date suggests his preference is for QE in the form of buying government bonds, and not – unlike what the RBNZ has said to date on the topic – negative rates, something described as being 'very unlikely'.
NZ Q3 Retail Trade this morning is anticipated by BNZ to have lifted by 1.0% in volume terms , after Q2's modest 0.2% increase. Today also see October's residential lending figures
Offshore tonight
US trade figures (expect to see yet more evidence that the US-China trade tariff war is making scant inroad into the overall trade deficit). The Conference Board's consumer confidence survey is expected at 127 from 125.9 and following on the heels of last week's final University of Michigan index, the final form of which last Friday showed a rise to 96.8 from 95.5 in October. We also get US New Home Sales.
Market prices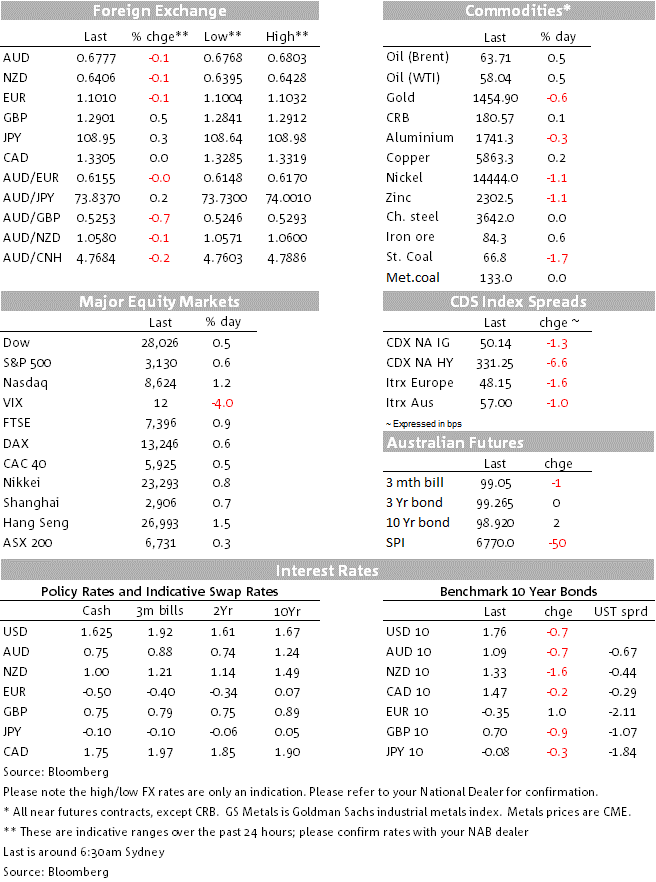 For further FX, Interest rate and Commodities information visit nab.com.au/nabfinancialmarkets
More from NAB