Markets Today: US – strong jobs numbers, $1.9 trillion injection almost there
The US senate has passed the $1.9 trillion stimulus package, so it will almost certainly become law this week.
Today's podcast
Overview: Stimulate
US Senate at w/end approves $1.9tn. covid relief bill on strictly party lines – passage of reconciled bill likely this week
US non-farm payrolls rise by 379k vs. 200k expected, initially lifting US yields to new YTD highs and hurting equities….
..but stocks roar back to finish  +2.0% (S&P) and +1.6% (NASDAQ); US 10s end the day flat at 1.565%
AUD/USD finds support beneath 0.7650 but still -0.5% down on day (though only 0.25% on the week)
Focus this week on US stimulus passage, Lowe speech (Wed), ECB (Thursday) and US inflation indicators
I'm only entertaining you why, Going to stimulate making you high, And take you and I, to a place that you can't see, But I believe you can fly – Eminem
Friday's US market was the proverbial game of two halves, 10-year US Treasury yields making a new year-to-date high immediately following the stronger than expected 379k jump in US non-farm payrolls, and this is turn hurting equities at the open and supporting the USD. Yet equities stages an impressive afternoon come-back, in conjunction with Treasury yield falling back to end the day little changed, the S&P 500 up 3% from intra-day low to high to finish +2.0% and the NASDAQ and even more impressive 4% intra-day swing to end +1.6%.  The BBDXY USD index gained 0.35% Friday to be up just under 1% on the week though AUD/USD ended the week down just 0.25% just below 0.77. The Senate at the weekend approved a $1.9tn covid relief bill after a marathon haggling session (primarily with Senator Joe Manchin) that now sees the supplemental pandemic unemployment benefit cut to $300 per week from $400 and eligibility for the (still $1,400) cash handout tapering sharply for individuals earnings over $75,000 . A reconciled bill should be agree and passed by both houses this week and signed into law by President Biden before the end of the week. Views on what it all means for the economy, inflation and with that markets, should dominate proceedings this week. A speech on Wednesday from RBA Governor Lowe will be a keen local focus.
Friday's US employment report was in most respects better than expected, the 379k rise in headline non-farm payrolls augmented by a 38k net upward revision to the prior two months. Private sector hiring rose by 465k, dominated by the hospitality sector (+355k).  The unemployment rate fell to 6.2% against expectations from an unchanged 6.3%, while average hourly earnings rose by 0.2% as expected to be 5.3% up on a year ago – a figure still grossly distorted by the fact it is mostly lower paid workers who have lost their jobs during the pandemic, the data not being mix-adjusted.
While the headline payroll number was taken at face value with markets initially responding accordingly, Treasury Secretary Janet Yellen was quick to remind us that taking into account that some 4 million people have dropped out of the labour force during the pandemic, the true unemployment rate is 10%.  The level of employment is now still some 9.5 million lower than before the pandemic struck. Yellen re-iterated that with passage of the $1.9tn proposed stimulus bill, the economy could be back at full employment next year (and stresses the need to go fast on this in order to limit scarring of the current ranks of the long term unemployed). She also repeated that she doesn't expect inflation to be a problem (meaning beyond the upcoming impact of base effects and pent-up demand).
The bigger news greeting APAC markets at the start of the new week is that 'American Rescue Act' COVID relief bill proposed by the Biden administration does now look very likely to have a final price tag of $1.9tn., the only key difference from the original bill being the disappearance of President Biden's $15 minimum wage proposal (presumably this will now be dropped from the House bill during reconciliation, having not made the cut in the Senate bill  – passed along strictly party lines on Saturday (50-49). The Senate bill includes a $1,400 cash handout to all adults earning less than $75,000 ($150,000 for couple) with quite sharp tapering for those earning above these thresholds  The supplemental pandemic unemployment assistance will be at $300 per week down from $400 at present and to run through to early September. The bill included $350bn for state and local governments, $130bn for getting kids back to school, $49bn for an expanded covid testing regime and $14bn for vaccine distribution. There is also a total of about $80bn for targeted assistance to sectors most affected by the pandemic, including restaurants and bars, airlines, airports, transit and even aerospace manufacturing. Senator Mitch McConnell's comment on the bill was that 'the Senate has never spent $2tn in a more haphazard way'.
Other weekend news includes China's January/February combined trade figures (separate monthly figures aren't published for the pre and post Lunar New Year period). These show export growth in January/February up a stunning 60% on Jan/Feb 2020, well above the 40% expected (exports collapsed in February 2020 recall, the first month the pandemic went truly global, but even so impressive numbers). Imports were also stronger than expected, 22.2% up on Jan/Feb last year, above the 16% expected. February China FX reserves were also reported yesterday, which fell by $5.7bn to $3.205tn, which we'd judge to be mostly just valuation effects.
Global Equities Friday and Weekly

So in equities, Friday's net gain of 2% for the S&P lifted it into positive territory for the week (+0.8%), almost matching the rise for the Eurostoxx 50 (+0.9%) though the latter will have catch up to play today given that the big intra-day turnaround came mostly after the European market had closed for the week. The NASDAQ's 1.6% gain Friday couldn't spare it a down week (-2.1% and the worse performance of any major global market, testament to the long duration characteristics of this market amid the back-up in US bond yields). The ASX finished the week +0.6% and should presumably feed positively off Wall Street's performance this morning.
US Treasuries Friday and weekly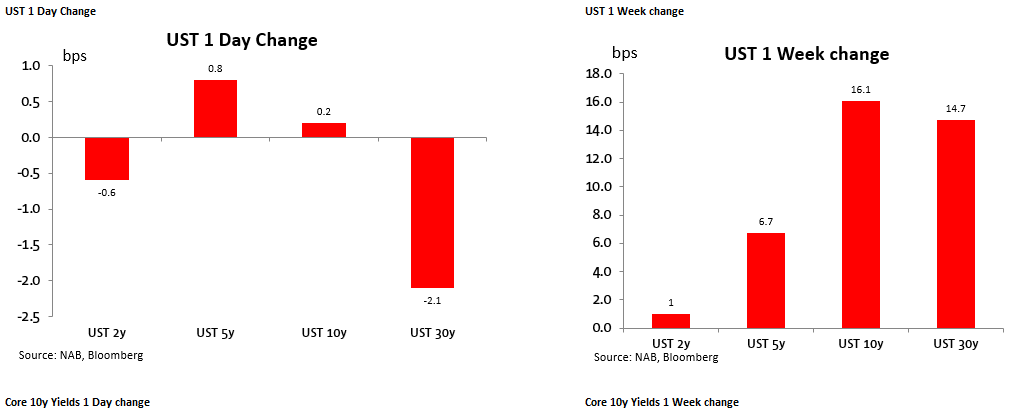 In bonds, an ultimately flat performance by 10-year Treasuries on Friday doesn't detract from what was a week of strong yield gains in both absolute terms and versus most other global benchmarks. 10s were up 16bps on the week (and the 30-year +15bps), versus a fall of 4bps for benchmark German Bunds. The 20bps rise in nominal yields spreads here was exceeded by the change in real terms of 24bps (German 10-year break-evens were up 12bps on the week to 1.19% versus 8.5bps in the US to 2.235%). The 10-year Australian cash yield spread over Treasuries reduced by a full 24bps, to 27bps.
FX Friday and weekly

In FX, the competition between the dollar-supportive influence of widening US yields spreads (or in the AUD's case, a reduction in Australia's advantage) and the dollar-negative influence of the improvement in risk sentiment – VIX was off 4 points Friday to end 2.3 points down on the week-  was just won by the former. BBDXY and DXY both added about a third of a percent Friday to be +1.2% and 0.9% up on the week respectively. AUDUSD looked like it was going to end the week pretty much where at started at almost exactly 77 cents, but drifted off a little in late day NY trade to finish at 0.7686, down 0.5% and among the worst performers on the day.  On the week though, it was one of the 'least bad', just 0.24% lower vs losses of 0.9% for NZD, 1.3% for the EUR, 1.6% for JPY and 2.3% for CHF. If risk sentiment proves it can stabilise or even pick up a bit this week, we'd expect AUD to do likewise. The alternative scenario is that bonds react negatively to the immediate prospect of the $1.9tn covid bill being passed in the US, pressuring risk sentiment again and undermining the AUD.
USD aside, the week's FX winners were the oil-sensitive NOK (1.3%) and CAD (0.6%) where oil prices put on another 3.5-4.0% Friday, Brent to now just shy of $70 ($69.23). A month ago it was sub-$60.  The OPEC+ agreement to roll production curbs into April continues to be the driving force here.  Elsewhere, base metals were mostly higher Friday with the LMEX index +0.6% though it is -2.3% on the week. Iron ore was down 1% but it was still (just) a positive week.
Commodities Friday and weekly

In local weekend news, mining billionaire Gina Rinehart plans to sell a portfolio of  seven cattle stations in Australia, looking to cash in on her investment in the properties amid strong global beef demand.  The portfolio covers nearly 1.9 million hectares (4.7 million acres) of land across Western Australia and the Northern Territory, with the cattle herd currently numbering around 108,500, Hancock Agriculture said in the statement. Hancock Agriculture, a unit of Rinehart's broader Hancock Prospecting Pty Ltd. empire, and joint venture partner S. Kidman & Co. are marketing the portfolio through rural real estate specialist Elders, and say they expect strong demand from domestic and international investors. Doubtless the FIRB will be showing a keen interest in developments.
Also, weekend auction clearance rates showed Melbourne clearing a preliminary 80.9% vs last week's final 79.3% on sharply reduced volumes given today's VIC public holiday, and Sydney 86.7% vs last weekend's final 85.3%. Final clearance rates will come in lower than these, but in Sydney likely to still well above 80%.
Coming Up
Nothing of note locally today, save Japan's January Balance of Payments and Eco-watchers survey. Germany has January industrial production (expected -0.4%) plus we get the Sentix Eurozone investor confidence survey (seen 1.4 from -0.2 last time).
On the week, the known local highlights would appear to be RBA Governor Lowe's speech on  Wednesday ('The Recovery, Investment and Monetary Policy'), the NAB Business Survey (Tuesday) and W-MI Consumer Confidence (Wed)
Internationally, passage of the COVID relief bill aside, US inflation indicators are the data highlights (CPI, Uni. Of Michigan inflation expectations) and in Europe, the ECB on Thursday.
Market Prices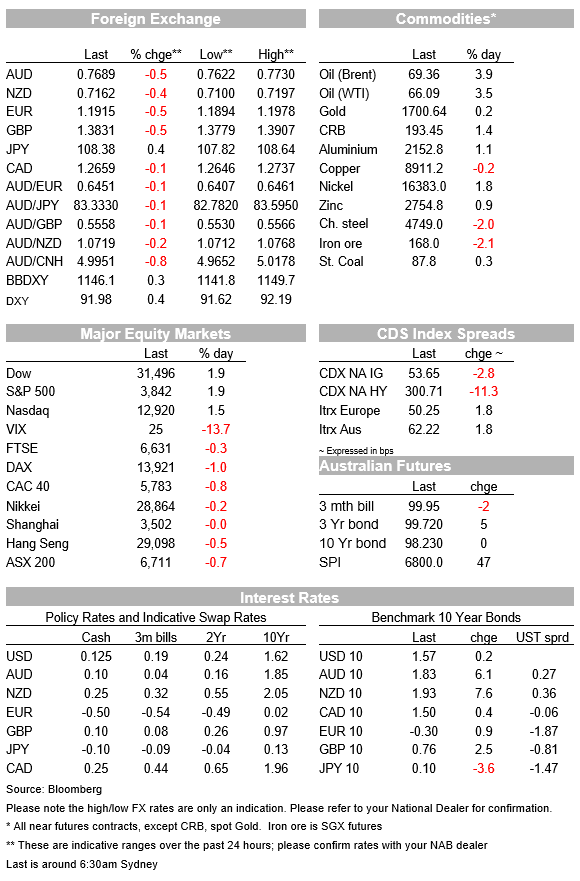 For further FX, Interest rate and Commodities information visit nab.com.au/nabfinancialmarkets