Markets Today: Vaccine rally continues but central banks more guarded
Even though the markets continue to respond positively to the hope of a vaccine, central bankers seem to be taking a more cautious tone.
Today's podcast
Overview: Back to Zero
Relatively quiet night given Veterans day but NASDAQ leading US equities higher
ECB's Lagarde signals more PEPP (QE) and TLTROs the way to go for further easing….
…after RBNZ sounds much less sure about efficacy of negative OCR
China credit numbers show slower growth – PBoC's heading for the (easing) exit?
Dr Fauci predicts Moderna's covid vaccine will very soon show positive results much like Pfizer-BioNTech
US CPI, UK Q3 GDP tonight's data highlights ahead of ECB Forum (Powell, Lagarde, Bailey speak)
We're going nowhere, Right now, right now, Back to zero, that's where we're heading, Back to Zero – the Rolling Stones
The Rolling Stones wrote this about the threat of nuclear war. Here it's in the context of central banks seemingly having more doubts about the efficacy of negative policy rates.
The RBNZ's Adrian Orr sounded much less sure about the desirability of negative rates yesterday – comments which pushed the NZD sharply higher – the RBA's Chris Kent was adamant earlier his week that the negatives outweighed the (one) potential positive (lower AUD) and ECB President Christine Lagarde last night made clear that more QE (Pandemic Emergency Purchase Programme or PEEP) and Targeted Long Term Refinancing Operations (TLTROs) were the way to go in terms of more easing (i.e., not even more negative rates).
And worth a reminder here than no-one who currently has negative rates has made them more negative since the pandemic began, and just before that (December 2019) one of the few central banks with negative rates – Sweden's Riksbank – moved them back to zero from negative (and after it didn't in fact get much love by way of a weaker currency when they were negative).
With the US out for Veteran's Day
It's been a relatively quiet night, though US stock markets are open and see indices in the green, led by a near 2% rise in the NASDAQ and where today's sentiment and flow is back favouring 'stay at home' stocks after the early-week euphoria and heavy tech-sector sell-off following the Pfizer-BioNTech vaccine trial news.
Comments a few hours ago from the venerable Dr Anthony Fauci at an FT conference that he'd be surprised if soon-to-be-published results from Moderna's experimental vaccine did not reveal 'a similar degree of efficacy' (given this is also one of the so-called mRNA platform drugs, the same as Pfizer BioNTech's) haven't changed this mood, the near-certainty of a horrible few months ahead for the United States (and Europe) given current infection, hospitalisation and death rates, is dominating sentiment just at the moment.
An hour ahead of the NYSE close
The NASDAQ is up 1.8%, the S&P 0.5% and the Dow -0.3%.  Earlier, the main European bourses finished with gains of between 0.4% (German Dax) and 1.4% (UK FTSE). US cash bond markets have been closed, but futures markets suggest a 1-2bps fall in the US 10-year since yesterday afternoon (and minus 2-3bps for Australian 10-year bond futures).
In FX markets
We've seen a small renaissance for the USD, the narrow DXY and broader BBDXY indices both up by about 0.3%, led by falls of 0.4% in EUR/USD and 0.5% in GBP/USD. The latter is despite what might be considered a positive sign on UK-EU trade talks, which was Bloomberg reporting that talks are looking like extending into next week (the negative being that anther informal deadline for completing talks (this weekend) will be missed.
On the EUR
ECB President Lagarde, speaking at the ECB's annual forum, said that emergency bond purchases and long-term loans will likely remain the main policy tools for adjusting monetary policy. She stressed that the duration of policy support matters as well as the level of financing conditions (we agree).
These comments come after the ECB signalled at its last meeting that more stimulus will be forthcoming in December. While the market has thought about the chance of the ECB taking the deposit rate deeper into negative territory, it would appear that this is the least preferred option of the ECB, not that this signalling has benefited the single currency.
The NZD is the only G10 currency to be up on the USD in the last 24 hours, following yesterday's RBNZ meeting where it kept the OCR at 25bps. While keeping the line in its statement about potential for negative rates, it lifted its 'unconstrained' OCR track by some 90bps, and in the subsequent press conference, Governor Orr said it's 'too early to tell' on whether negative rates will be forthcoming.  NZ money markets no longer price in negative rates for 2021 and yesterday our BNZ colleagues changed their OCR call to a steady 25bps from as far ahead as the eye can see, having previously forecasting a 50bps cut into negative territory next April).
AUD rose in the slipstream of the rising NZD yesterday to back above 0.7300, but in the contest of the mild USD revival overnight, is currently back to 0.7265 (still, along with JPY,  the second best preforming G0 currency after NZD).
The CAD is weaker (-0.3%) despite oil prices continuing on their recovery path, supported overnight by API data showing a large drop in US crude oil inventories. And in the last few minutes, current OPEC+ talk are said to be focussed on delaying a planned oil supply increase by 3-6 months.
Finally
China October credit and money supply data released last night show the broad Aggregate Social Financing measure up by Y1,420bn, just above the 1,420bn expected but well down on September's 3,477bn, led by a fall in the growth on New Yuan Loans to Y690bn versus 1,896bn. Annual growth in the M2 money supply measure has slipped to 10.5% from 10.9% (below the 10.9% expected).  The data follows hints from the PBoC's in recent days that the monetary policy easing cycle is over.
Coming up
Nothing much of note in our time zone (Japan machinery orders, UK RICS October House prices)
Offshore
The data highlights are US CPI and weekly jobless claims (core CPI seen +0.2%, jobless claims 732k after 751k last week). Events wise we have ECB's Lagarde, Fed's Powell and BoE's Bailey all speaking at the ECB Forum (Bloomberg shows this as scheduled for 03:45 AEDT on Friday the thirteenth be warned!)
Offshore we get the preliminary estimate of UK Q3 GDP (consensus +15.8% after -19.8% in Q2 which would leave the level of GDP 9.4% down on a year ago, up from -21.5% in Q2). The UK also has September trade data as well as industrial/manufacturing production (as does the Eurozone).
Market prices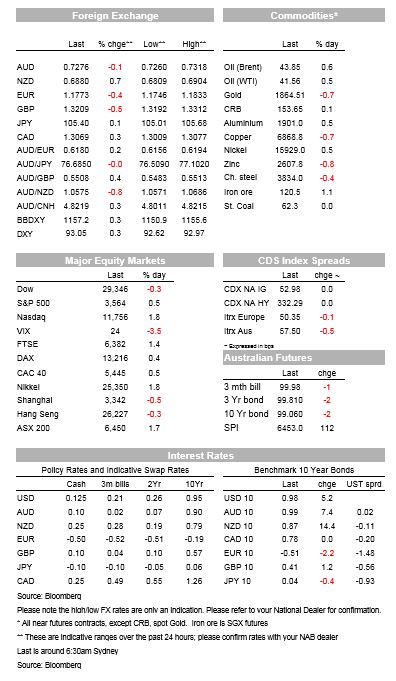 For further FX, Interest rate and Commodities information visit nab.com.au/nabfinancialmarkets