Markets Today: Virus contagion eases, stocks hit new highs
The markets are continuing to discount the impact of the coronavirus.
Today's podcast
Overview: Like a prayer
CoVID-19 fears lessen as the number of new deaths and cases seems to decelerate
Optimism back: equities up (S&P500 +0.5%); yields up (US 10yr +3.1bps); oil up (WTI +3.0%)
USD ascendency continues with DXY +0.2% and at a new 2020 high; EUR now at 2017 lows
NZD rocketed 1.0% yesterday; AUD caught in the slipstream with AUD/USD +0.3%
Coming up: RBA's Lowe, RBNZ's Orr, US CPI, Fed-nominee hearings, Fed's Williams
CoVID-19 fears are starting to lessen as the number of new deaths and cases decelerate. For markets, the development has come "like a little prayer" that has been answered and risk sentiment continues to improve. Equities are up with the S&P500 +0.5% to 3,378 and hitting a new record high. Yields have crept higher with US 10yr yields +3.1bps to 1.63%, though pricing for Fed rate cuts remains at around 1.4 rate cuts by the end of 2020. Commodities are also being buoyed with WTI +3.0% despite OPEC slashing forecast oil demand, while Iron Ore futures are up 2.6%.
In FX
Continued EUR weakness (-0.5%) has seen the Euro hit its lowest level since May 2017 with woeful industrial production figures not helping. The USD (DXY) in contrast reached a new 2020 high, up 0.2% to 99.028. The biggest G10 mover was the NZD yesterday after the RBNZ removed its easing bias, with NZD holding its gains overnight to be +1.0% to 0.6462. The AUD also rode the kiwi slipstream to be +0.3% and currently trading at 0.6735, though AUD/NZD did fall 0.5% to 1.0424. Consistent with a better risk tone, USD/JPY rose +0.2% to 110.08, while the Loonie appreciated (USD/CAD -0.2%) helped along by the higher oil price.
First to CoVID-19 headlines
Yesterday saw the number of new cases decelerate for the second time in a row, while in Hubei new cases have fallen for an eight day in a row. That could mean the virus is starting to peak in China with containment efforts working, though it is still very early and the WHO are urging "extreme caution". Also encouraging is that there appears to be little evidence of sustained virus transmission outside of China. China is also aiming to get back to work with more reports of extensive stimulus measures being lined up.
The NZD surged yesterday, +1.0% to 0.6461 after the RBNZ meeting which saw its easing bias removed. As my BNZ colleagues note, while rates were unchanged, the projected OCR path was raised by 20bps, while the Statement also noted "Employment is at or slightly above its maximum sustainable level" (a shift from November's "employment remains around its maximum sustainable level"). As for CoVID-19 fears, it was assumed to be of a short duration with containment by the end of February 2020 with travel disruption to ease from March. Market pricing for a rate cut by the end of 2020 was sharply pared to a 16% chance from 75%, while we continue to see the RBNZ on hold until the first quarter of 2022.
AUD rode the kiwi slipstream with AUD/USD +0.3% and opening trade at 0.6735. AUD/NZD though did decline, -0.5% to 1.0427. With little Australian data on the horizon, the AUD will continue to be buffeted by CoVID-19 headlines which are cautiously on the optimistic side. CNH also appears to be stabilising and holding below the "7 level" (currently 6.9731) with the thought that the Chinese authorities are at least wanting one stable anchor point given the uncertainties over the virus.    
European data flow continues its awful run with industrial production weaker than expected at -4.1% y/y against -2.5% expected. The market was already geared up for a bad number after the very soft readings from Germany and France earlier in the week. Importantly though the weakness was broad-based across most countries except for Greece (Greece was +2.5% m/m). The weak figures suggest that Q4 GDP will be revised down today to flat from an initial read of 0.1% q/q.
For the ECB
A dovish tilt is looking more likely at the March meeting and an MNI sources piece earlier in the week notes one official: "a few weeks ago, before the virus outbreak, I would have said that the policy outlook remained unchanged….but now the picture has changed. We just need to properly weigh up to what degree". Germany also is relatively more exposed to China with goods exports to China making up 2.7% of GDP compared to the US at 0.8%. Its no surprise to see EUR -0.5% to 1.0868 and is at its lowest level since May 2017.   
Finally
The Riksbank met overnight and in its first unanimous decision for a while kept rates on hold, while downgrading its 2020 inflation forecast. Importantly the forecast repo rate trajectory was unchanged from the prior meeting. The krona liked it with EURSEK -0.3% to 10.4812.
Coming up
Lots of focus on monetary policy with RBA Governor Lowe speaking on a panel and RBNZ Governor Orr speaking to Parliament. The central bank focus continues in the US with Fed-nominee hearings likely on the dovish side and the Fed's Kaplan and Williams also speak. Datawise the US CPI is the most market moving event, while Europe's latest forecasts may garner some attention.
AU: Inflation Expectations (11.00am AEDT): not market moving, though last month saw a substantial rise in inflation expectations.
AU: RBA Governor Lowe (11.15am AEDT): Governor Lowe is on a panel at the Australia-Canada Economic Leadership Forum.
AU: RBNZ Governor Orr (8.10am local, 1.00pm AEDT): Governor Orr speaks to Parliament on yesterday's RBNZ decision and the MPS.
GE: Final-CPI (8.00am local, 6.00pm AEDT): unlikely to be market moving, expected to be unrevised at 1.6% y/y.
EU: EC Forecasts (11.00am local, 9.00pm AEDT): unlikely to be market moving, EU-wide economic forecast are published by the European Commission.
US: CPI/Jobless Claims (8.30am local, 12.30am AEDT): core-CPI is expected to be 2.2% y/y.
US: Fed-nominee hearings (10.00am local, 2.00am AEDT): Trump's latest nominees Waller and Shelton appear before a Senate panel. Both are likely to be dovish. Speaking separately are also Kaplan and Williams.
Market prices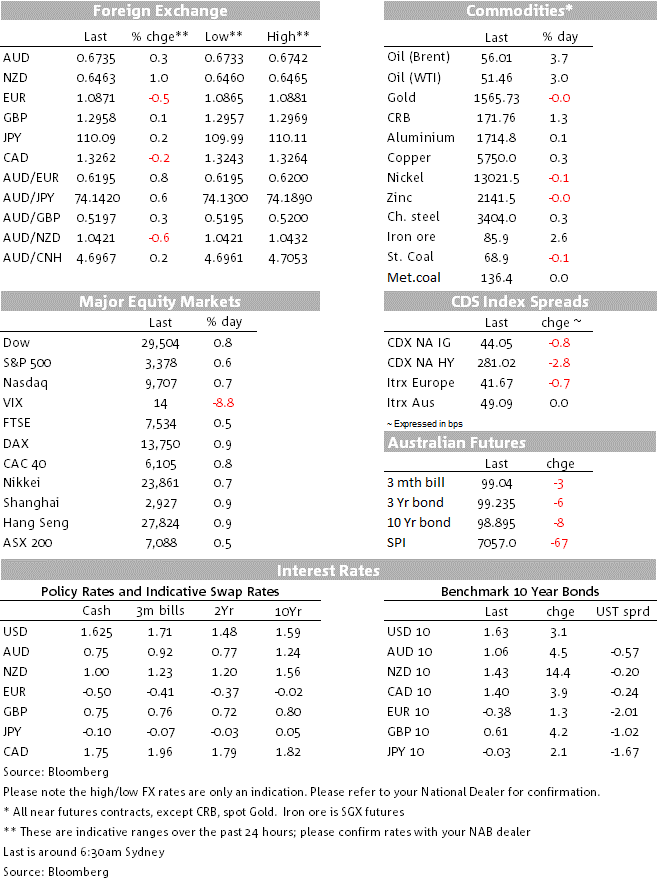 For further FX, Interest rate and Commodities information visit nab.com.au/nabfinancialmarkets
More from NAB