Markets Today: Will jobless numbers push the RBA to cut sooner?
There's rising expectation the RBA will cut interest rates at their next meeting.
Today's podcast
The Peter Lee surveys are now taking place. If you have appreciated NAB's research support please let your company's representative know
 Overview: New hope (for Brexit deal)
Markets move to price October RBA cut with 80% confidence after unemployment rise to 5.3%
GBP boosted by EU's Juncker's comments on Brexit
US stocks and bonds little changed in aftermath of FOMC; Fed again injects ($75bn) of money market liquidity
Little of note on Friday's calendar
I was a mere six numbers short in last night's Lotto of not needing to set the alarm clock this morning, so here we are again. Happy Friday.
The last 24 hours has seen a whole raft of central bank policy decisions (or whatever the collective noun is for central bankers – a shower maybe?) led by the Fed and followed by the Bank of Japan, Norway's Norges Bank, the Bank of England and Swiss National Bank.
Norges Bank has been the only one to follow the Fed with a policy change, but who raised not cut rates, to 1.5% from 1.25%, a move not expected by a (narrow) majority of analysts. This was not rewarded with a stronger currency, just as the Fed rate cut was not rewarded with a weaker US dollar (the latter is now flat to its pre-Fed level, having initially risen on what was rightly perceived as a 'hawkish' cut). NOK is the third weakest of the major currencies of the last 24 hours, after the NZD and AUD (more on this below).
The Bank of Japan left policy unchanged as expected but is starting to hint at the likelihood of some form of additional policy easing when they next convene on Halloween (and where a move into deeper negative policy rates will certainly scare the living daylights out of the banks if unaccompanied by measures to protect them from its ill-effects on profitability). In his post meeting press conference, BoJ Governor Kuroda said that the Bank was more inclined toward easing now than at its last meeting, that a steeper yield curve is desirable and that the BoJ may have more room for easing compared to the ECB. Despite these hints, JPY is among the strongest G10 currencies, following what looked like some fixing-related excess demand yesterday morning in Tokyo and then some evident disappointment that the BoJ left policy unchanged in its formal post-meeting announcement.
The SNB left its new post-Libor policy rate unchanged at minus 75bps but did offer some new relief for banks, despite which another of the major local banks (Credit Suisse) announced that it will be sending its wealthy customers a bill for the privilege of banking with them. CHF strengthened out of the decision, presumably because some were thinking the SNB might follow the ECB into deeper negative rates terrain.
In FX, GBP has been boosted in the last couple of hours by comments from the EU's Jean Claude Juncker that "we can have a (Brexit) deal" and "Brexit will happen", that a "No deal would be catastrophic' and that he was doing "everything to get a deal". Earlier the Bank of England left policy unchanged amid the ongoing fog of Brexit, saying that a smooth Brexit would likely lead to rate hikes, while the policy response to a no deal Brexit would not be automatic.
GBP/USD is some 0.4% higher on the Juncker comments and AUD/GBP down to around 0.5425, its lowest level since late May, aided too by the independent weakness in AUD following yesterday's reported rise in the unemployment rate to 5.3%. The latter has seen market pricing for an October 25-point RBA Cash Rate cut lift to around 80% from around 55% pre-data.
AUD/USD dropped to as low as 0.6780 post the employment data (back to 0.6793 now) with losses compounded by USD/CNY rising back above 7.10 for the first time since early last week.  NZD suffered some collateral damage on both counts, down 0.4% in the past 24 hours versus -0.5% for the AUD.
US stocks have been little moved Thursday, the S&P 500 closing flat, the NASDAQ +0.1% and the Dow down 0.2%.
US bond markets are similarly quiet with yields 1-2bps lower versus where they ended in New York on Wednesday.  In the money market, the Fed offered another liquidity injection for the third consecutive day and which saw the $75bn on offer oversubscribed.  Another repo operation has been pre-announced for Friday. Thursday's actions had the effect of bringing the (general collateral) rate on Treasury repos down to 1.80% and on MBS to 1.95%, both 15-20bps below the levels prevailing prior to the operations.
As for US data, existing home sales were stronger than expected (+1.3% continuing the streak of better than expected data coming from the housing market.  The Philly Fed headline index underwhelmed (12 down from 16.8) but this was a bit better than the 10.8 expected and the detail of the report was much stronger than the headline. Both these releases had little impact on the market.
Coming up
Very little of note on Friday's calendar, just Japan CPI in our time zone and Eurozone consumer confidence and Canadian retail sales offshore. The  Fed's Kaplan is due to speak, of interest insofar as we don't know if he was for or against Wednesday's FOMC decision.
Market prices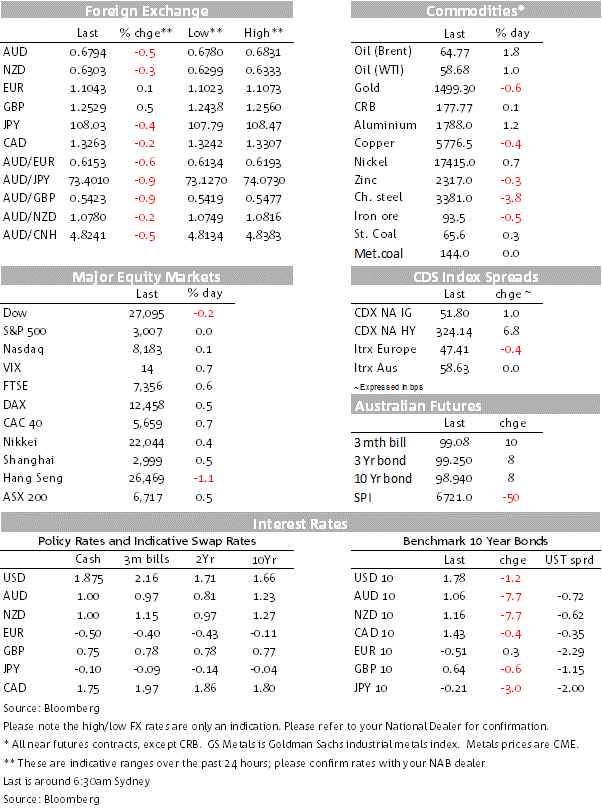 For further FX, Interest rate and Commodities information visit nab.com.au/nabfinancialmarkets