NAB ACRI Australia-China Business Index
The first-ever report comparing attitudes of Chinese and Australian business leaders towards bilateral engagement was conducted by NAB and the Australia-China Relations Institute (ACRI) at the University of Technology Sydney.

In late 2014, NAB released its first Australia-Asia Business Engagement Index (the Index), a unique measure of the size and intensity of business relationships of Australian firms trading with Asia. Australia's engagement was clearly strongest with China across all sizes of business.
NAB has updated the Index, this time focusing specifically on China and the level of engagement of Australian business with China.
To better understand the bilateral relationship, NAB has partnered with the Australia-China Relations Institute (ACRI) at the University of Technology Sydney, which polled Chinese business leaders on their attitudes towards Australia and the details of the engagement their businesses have with Australia.
Overall bilateral impressions are positive, but for Australia there are some concerns about doing business in China
Australian business, regardless of size, has a clear understanding of China's importance as an economic partner and its role in the Asia-Pacific region in general. But Australia is also taken very seriously as an economic partner by China, ranking second only to the US, and is also considered an important player in the Asia-Pacific region.
Chinese business has an overwhelmingly positive impression of Australia overall and these high opinions extend to the business realm. Chinese opinion was more positive towards Australia than many other countries, including the US, UK, Korea and New Zealand. Australian businesses also have a positive overall impression of China; however, there are some important concerns when it comes to doing business with China.
By industry, in Australia, wholesalers were the most positive. Fewer businesses in construction, hospitality, personal and other services had a positive impression. In China, all industry sectors had a positive impression of Australia with mining leading the way.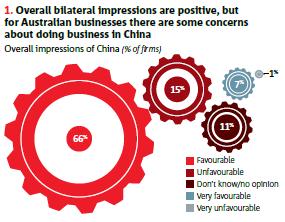 1 in 4 Australian firms are unsure about doing business with China.
In contrast, more than 94% of Chinese businesses were favourable about doing business with Australia. Some of this difference may reflect a general lack of awareness in Australia about China. The 2014 Lowy Poll found that 64% of Australians "didn't know/no view" of China's President, Xi Jinping, compared with 1% who said the same about US President, Barack Obama.
Business engagement is significant for both countries, but stronger for China.
Around 1 in 2 Australian firms report some type of business engagement with China, dominated by product imports (nearly 1 in 3 of all firms). Engagement intensity is lower across all other types but importantly, exports of services are the next largest form of engagement (1 in 10).
In comparison, around 9 out of 10 Chinese firms report some type of business engagement with Australia, led by exporting products (more than 1 in 2). This was closely followed by importing products (nearly 1 in 2) and importing services (nearly 1 in 3).

When Australian firms engage with China, the intensity of their engagement is reasonably strong, but it varies considerably by industry. For example, in the mining sector engagement is very strong for product exports (reflecting the dominant role of commodity exports in Australia's trade mix with China), whereas for retailers and wholesalers engagement is dominated by product imports. Services exports are highest among finance, business, property and recreation, hospitality and personal services firms.
Chinese firms report the intensity of their engagement with Australia to be strong across all engagement types and industries. Combining the type and intensity of engagement produces an overall engagement index. This reveals that Australian firms engage with China overwhelmingly through product imports. The next highest level of engagement is via services exports. The engagement of Chinese firms is more diverse, led by product exports, but also prominent are product imports, and services imports and exports.

Source: NAB ACRI Key bilateral insights from the inaugural Australia-China Business Engagement Index Synopsis. Pages 1 and 3
Read the full index findings here.