The 'experience' economy: less stuff, more fun
Big shifts in our buying habits are seeing Australians spend more on experiences – and that's forcing retailers to think outside the box.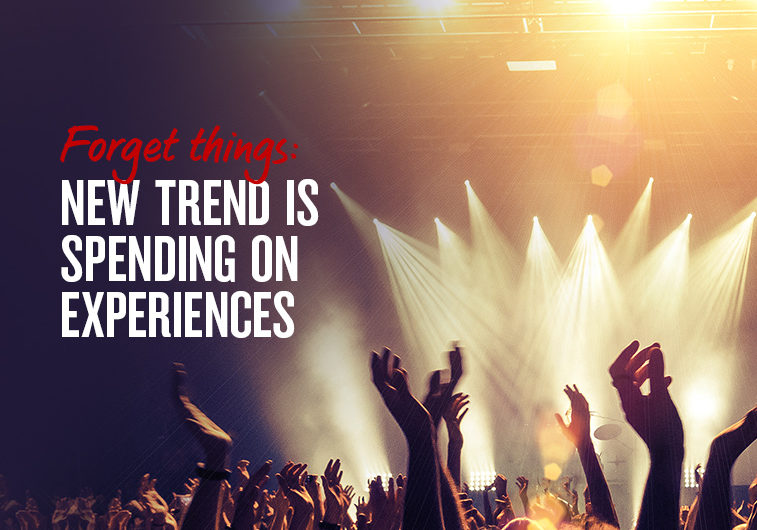 In the age of online shopping and TV shows about hoarding, you'd think we'd be wedded to product consumerism more than ever. Research from NAB, however, shows that consumer spending habits in Australia are becoming more about experiences than tangibles.
When IKEA's Head of Sustainability famously told a conference in 2016 that the world had hit 'peak stuff', he caused a bit of a stir. After all, it's not quite the party line you'd expect from the world's biggest furnishing retailer, which profits from the consumer flat-pack obsession.
But the desire – in Australia, at least – to spend on experiences rather than physical things is a growing trend many experts can't ignore. We can now shop 24/7 if we want, but online shopping carts are abandoned with regularity. At the same time, research shows Aussies are happy to throw money at intangibles we can share with others: restaurants, movies, holidays, festivals and concerts.
In a 2018 report, The 'Experience Economy': Which businesses are delivering in the eyes of consumers?, NAB Group Economics, which talked to 2,000 Australian consumers about their spending habits, found that we tend to rate experiences as the most positive way to spend our money. The numbers don't lie: 90 per cent of us spent money on eating out in the past year, while 70 per cent have seen a movie or gone on a holiday somewhere in Australia. Similarly, 50 per cent splashed out on an overseas holiday, sporting event, festival or live concert in the same time.
Why the shift?
Whether it's the need to downsize or the belief that experiences equal contentment, there are multiple reasons why the spending habits and expectations of Aussies are shifting, says Dean Pearson, NAB Head of Behavioural and Industry Economics and author of the aforementioned NAB Group Economics report.
"Psychologists would say there's a link to higher happiness levels if you embrace experiences over possessions, partly because we don't compare experiences in the same way as we compare a product," Pearson explains. "And this yearning we have [for happiness] is perhaps influencing our preference to spend more on experiences. But I'm not sure it's quite delivering yet. If it was, you'd expect to see it in our Wellbeing Index, where we have not seen any material increase in happiness levels among Australians in recent years. That said, it is true to say when people look back on an experience, particularly something like a family holiday, they are much more likely to remember it fondly than a material purchase for the same amount of money."
Social researcher and demographer Mark McCrindle believes the minimalism trend is also contributing – with many people wanting to focus on lifestyle rather than just possessions.
"We're starting to reflect a bit more on what we're buying," he tells Business View.
"This is partly generational – the more mobile millennials consider stuff a burden – but we're seeing it across the age groups, with baby boomers downsizing too."
Where social media comes in
The other shift, of course, is the never-ending social media cycle and the urge we feel to curate our lives on Instagram or Facebook. Posting images of stuff we've bought seems quite crude, Pearson says, compared to posting pictures of holidays or fun experiences enjoyed with others.
"That was one of the motivations to do this report," he adds, "because research shows people are able to, in their minds, quantify the quality of one experience over another. So, while the focus on delivering a truly great experience started off in the realm of entertainment and food and recreation, it's clearly moved into other areas like retail and banking. Everyone is looking to try and deliver that quality experience to customers – through simplicity, value, quality, entertainment, speed, or even a combination of all these."
Spending habits reshaping the economy
All of this is not to say we're not spending; we are. But goods and services are changing too, McCrindle says.
"The CDs we used to buy, or the shows we once bought on DVD – all of those have become services or subscriptions like Netflix or iTunes," he explains.
"These trends we're seeing are reshaping the economy. Millennials in particular aren't afraid to throw things out; we look at technology as a service and that mindset extends across other things as well. This generation is not afraid to spend money if it means saving time. If we don't have time to do something, we can pay someone else to (via sites such as Airtasker). If we don't want to stay in a mainstream hotel, we use the social economy and sites like Airbnb to find a more convenient place to stay. That spreads the spending, which helps the economy."
Opportunities for retailers
The shift in consumer expectations means experiential retail is on the rise. And that's inspiring retailers to reinvent themselves and look at solutions for consumers' pain points, Pearson says.
"Actually, more than 90 per cent of retail sales are still taking place in a physical store. People still want to see products, touch them, feel them – but they're demanding more from the experience," he explains.
Lower prices and loyalty discounts will always lure consumers but immersive experiences are valuable, too. The KITKAT Chocolatory at Melbourne Central, where customers can create their own bespoke chocolate bar, is one such example – and it incorporates a social aspect into shopping (who wouldn't want to share their chocolate creation on Instagram?).
Physical retailers can often provide a more immersive customer experience than online, prompting some online retailers to also have a physical presence. In the US, online mattress store Casper drove a 'napmobile' across the country complete with built-in beds, encouraging would-be buyers to try before they buy (to purchase, they had to go online). Casper now has physical stores in New York
Samsung is providing customer care and remote-working 'pods' within WeWork co-working spaces in three US cities – so you can have your device repaired and get some work done at the same time.
For IKEA, changes in spending habits have meant incorporating repair and recycle services into selected stores in an effort to help customers be more environmentally aware. They are even trialling a subscription service where customers can rent rather than buy.
The sharing economy also indicates a return to more traditional ways, McCrindle says.
"This shift is a positive thing. It's bringing us back to that need to connect with our community. Yes, we all need to look at business models as our changing spending habits are putting pressure on the traditional retail model. That said, I think it's creating a lot of opportunities, too – it's often about getting back to basics, looking at the needs of your customers and finding a way to meet those needs."