What is shared value and how can you incorporate it?
It's possible to make money and a difference, if your business incorporates shared value into its strategy.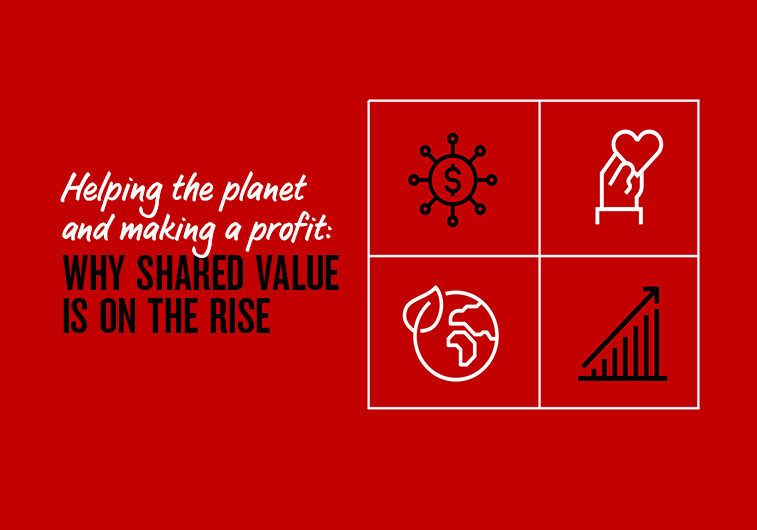 Shared valued is about doing something valuable for society or the planet while improving your bottom line at the same time. It's a clear win-win for all sorts of different businesses throughout Australia.
Developed in 2011 by Harvard Business School's Michael Porter and Mark Kramer, shared value – in simple terminology – is a chance to make money while doing good.
Essentially a business strategy, it can span any number of industries, from education to professional services and even agriculture. It differs from philanthropy in that it aims to expand the creation of both social and economic value, rather than redistributing economic value that's already been created. Consequently, the more resources a company devotes to shared-value programs, the more revenue it potentially stands to generate and the greater the impact it can have on critical environmental and social issues.
Though shared value isn't considered a replacement to philanthropy, it does enable companies to extend their impact beyond the limits of what they're prepared to give away.
A popular option
The number of shared value proponents is growing all the time and includes none other than former President of the United States Bill Clinton (via his Clinton Global Initiative). They see the potential for the concept to change the very heart of business, moving its role to that of actually solving social problems.
The question of just how you can identify an opportunity for shared value isn't cut and dried, however. Should you start with a social challenge and work out how to address it profitably? Or should you work backwards, starting with a business challenge and looking for a way to 'do good' that tackles it? The answer is that both can work, although the former would seem the most logical.
Either way, for an organisation to embrace shared value, it really needs to incorporate it into its corporate strategy, rather than simply treat it as an add-on. One way to do this, as 'corporate idealist' and shared value advocate Christine Bader suggests, is for businesses to focus on managing their impact rather than their reputation.
Addressing an unmet educational need while generating economic benefit is a great way for businesses to cultivate shared value in education, and there are many educational needs in regional Australian communities, including impoverished regions' lack of access to good facilities and resources, as well as web access issues and limited educational opportunities generally.
Globally, examples in this field abound. In Kenya, Arifu has negotiated the obstacle of vocational training in areas with a lack of internet access by providing an SMS-based training platform and educational content marketplace. Using mobile phone technology – and thus not having to rely on wifi (rare in impoverished areas) – users can access educational content covering a huge variety of subjects and industries.
The service is completely free for users, with no subscription fees, thanks to a business model providing profit through such substantial sponsoring partners as a major Kenyan bank and an agri-food giant. For their money, the partners are rewarded with increased demand for products or financing solutions after people have been educated on how to grow their businesses.
Similarly, in Brazil the issue of students struggling with entrance exams for university was tackled by Geekie, which has provided training in an online platform that adapts to students' needs and goals.
By improving study efficiency among the nation's youth, the platform is believed to have improved exam scores by as much as 30 per cent, with many of the beneficiaries residing in Brazil's poorest regions. The return for Geekie has been handsome – its strategy was to go into new and underserved markets where competitors weren't looking and, as a result, it's created a strong competitive advantage. Licensing and registration deals have been struck with governments across the country and estimated revenue in 2018 was US$32 million.
Offering one free state school licence for every private school licence purchased guaranteed huge exposure and, as long ago as 2016, the software was present in 4,000 public and 650 private schools. Consequently, the company has significantly enlarged its database (which is constantly updated with students' progress), which helps it capitalise on the exponential properties of the algorithms – the more data it's able to compile, the better product it has to offer.
Massive cost savings
Over in the US, global learning company Houghton Miffin Harcourt (HMH) produced a business idea that's on course to help significantly reduce the $50 billion spent each year on convicted prisoners reoffending after release. Its comprehensive Reentry Prerelease Program curriculum for prisoners about to re-enter society, originally based in the state of Louisiana, addressed a vast social need while opening the door to a whole new business opportunity for the provider – even a modest share of the country's nine million incarcerated individuals represents the chance for impressive annual growth. The modular curriculum is highly adaptable for a mobile prison population while offering valuable standardisation at the same time and governments are therefore enthusiastic about signing up.
STEM, the flow
Technology giant Intel, also in the US, spotted an opportunity in the country's need for improved science, technology, engineering and maths (STEM) disciplines. Facing a chronic shortage of talent in these subjects that constrained its own business growth, it embarked on an initiative to transform STEM education across the nation, an effort that helped boost its own talent pool at the same time as providing superior education programs for Americans across the country.
British supermarket chain Tesco, on the other hand, recognised a largely untapped talent source in disabled people – having a large proportion of disabled workers on its checkouts helps reduce the problem of unemployment in this group while simultaneously reducing its own staff turnover issues and encouraging staff and customer loyalty.
Of course, there's still plenty of room for corporate philanthropy – shared value isn't about eliminating the potential for companies to have a positive impact without profit as a motivator. But if there are opportunities for giving something back while also keeping shareholders happy, what's not to love? Keep an eye open for potential shared value initiatives and you could see your own bottom line – as well as your brand's reputation – reach unprecedented new heights.