Whatever next? The trends that could influence business in 2019
Wherever you look, the future is about technology – the way we invest, care for our health and even how we grow our food. We take a look at where technology might take us in 2019.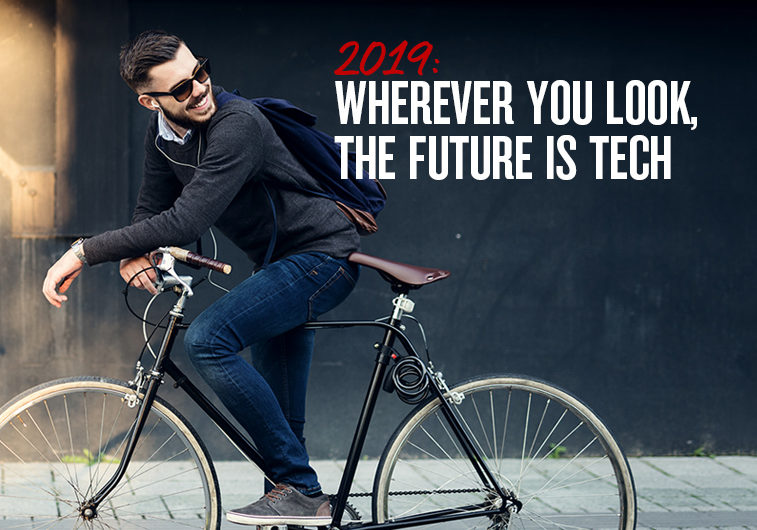 The pace of change is making the extraordinary seem ordinary. This year we've seen the first direct non-stop flight between Perth and London, the first cloned monkeys and the world's first US$1 trillion business – achievements that would have sounded like science fiction just a short time ago. So, what of next year?
We know that, regardless of how they play out, world trade and Brexit will affect financial markets. Every new Volvo car will have an electric motor. And hundreds of robots will descend on Sydney to compete for RoboCup trophies in the world's biggest annual robotic event.
Here, we take a look at what else might be in store for Australian businesses large and small, as well as the health sector, agriculture and wealth.
Business: AI helps workplace diversity
We've known for a long time that unconscious bias can have a powerful impact on recruitment but, precisely because they're unconscious, they can be difficult to override. Now, artificial intelligence (AI) is poised to help recruiters build a more diverse and capable workforce with an unbiased screening process based purely on data. New York City-based Pymetrics, which uses neuroscience and AI in its searches, plans to launch in Australia early next year, while home-grown start-up Sourcr has raised funds to take its AI-enabled online platform nationwide. Companies like these have the potential to use AI to sift through all relevant data to identify and shortlist the best possible candidates regardless of their appearance, gender, writing style or background.
We may also see:

Small business: affordable multichannel marketing
It's a well-known marketing principal that customers need to see your message seven times before they act. Cross-channel marketing makes that easier by spreading the word across multiple sites such as email, website, social media and digital advertising. Until recently, only big business could afford the cost and complexity of collecting, analysing and applying huge amounts of data but now cheaper, easy-to-use Software as a Service (SaaS) packages are bringing the technology within reach of small business. They, too, will be able to build their marketing strategies and budgeting decisions around how ads are performing, where consumers are looking and how users are behaving in different places. They could also have access to the advanced technology that can automatically track, retarget and remarket to users to make sure they're being seen. By next year, many small businesses could be equipped to compete with much larger organisations.
We may also see

Health: turning research into solutions faster
Healthcare is on the edge of an exciting frontier as, across the country, several new and established health hubs are creating healthcare ecosystems that bring together research, industry and community. The Hunter Medical Research Institute has become world famous for fast-forwarding select scientific discoveries into clinical applications, as has Adelaide BioMed City, which is helping fuel the South Australian economy.
The University of Wollongong, meanwhile, is doing something similar in the aged care sphere by building Australia's first university-based retirement community in which new models of patient-centred care can be tested. Together, these innovations shine a spotlight on the rise of collaborative health hubs delivering real results for community, academia and industry.
We may also see:

Agriculture: the sky-high rise of vertical disruption
Next year, California-based Crop One plans to complete the world's largest vertical farm in Dubai, United Arab Emirates. A $40 million joint venture with Emirates Flight Catering, the 120,000-square-metre facility will produce a daily harvest of 2,700 kilograms of leafy greens without herbicides or pesticides, and using just one per cent of the water needed in outdoor fields.
A possible solution to the twin pressures of population growth and continuing loss of arable land, vertical farming uses factory-style precision to achieve faster, uninterrupted production all year round.
Currently there are barriers to wide uptake, such as cost and the high demand for power. However, with the development of more sustainable technologies and growing interest from venture capitalists, vertical farming could provide fresh food locally in urban settings and where land and water are scarce.
We may also see:

Finance: more private investment in the next big thing
Australian support for local start-ups is seeing a rise in investors and investment models specifically geared to funding the next big thing. Crowd-sourced funding, angel investing and venture funding are all expanding to connect budding entrepreneurs with finance from established business owners. Albeit from a small base, venture funding alone has increased significantly in Australia within the last decade.
Often entrepreneurs themselves, many investors get involved in private investment because they love the start-up space. However, they still expect returns and regulation has increased to formalise and protect the growing amounts invested.
We may also see: