A woman's place in the kitchen manufacturing business
Hard work and commercial nous acquired on the fly have helped Queenslander Carmel Sales turn a small-time cabinetmaking business into a multimillion-dollar manufacturing powerhouse.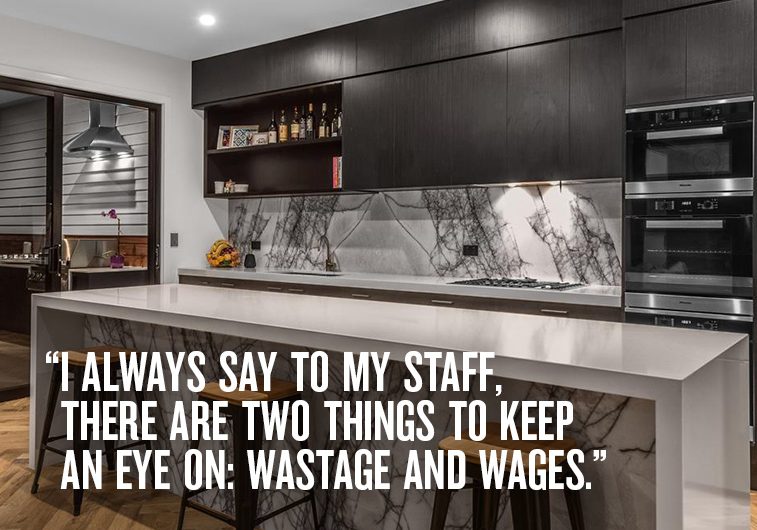 Searching The Courier Mail classifieds for her next business opportunity back in 2000 resulted in former secretary and sandwich bar owner Carmel Sales taking out a loan to acquire Imperial Kitchens, a sideline venture being offloaded by a Brisbane builder.
Eighteen years on, she's still at the helm – but not of the small-time cabinetmaking concern she took over back then. Under Sales' leadership, Imperial Kitchens has gone from producing five kitchens a week to 45 a week, for customers as far afield as Toowoomba and the Sunshine Coast.
The business employs a staff of 70 and has an annual turnover of more than $14 million. Last year it began investing heavily in automation to ensure its competitiveness into the next decade.
Fighting for family
Sales migrated to Australia from the UK in 1977, with her mother and three brothers, one of whom suffered from a severe disability. The desire to ensure her mother was financially secure begat a work ethic that saw her leave school at 15, complete secretarial studies and start earning.
"Very early on, I felt it was up to me to make a difference to our lives, to make sure mum was looked after, with money in her wallet, and I knew I'd have to work hard – that's what set me on this path," she says.
Sales made her first foray into the commercial arena with the purchase of a shopping centre sandwich bar in 1994 but, six years on, began seeking more profitable opportunities.
"I love what I do but, as a business, kitchens weren't the driver initially," she admits.
"I went looking for a business to make money to give me what I wanted to achieve, and I very quickly determined not to settle for the status quo at Imperial – I wanted to grow it into something bigger, to make it the very best business it could be."
Wages and wastage
Sales' determination to offer keen pricing and speedy service has resulted in Imperial Kitchens building a customer base of about 70 developers and builders across south-east Queensland.
Tight margins are the norm and pursuing efficiencies a perennial imperative.
"It doesn't take much to sink you in the building industry if you're complacent – if I had been, we would have folded in the first year," Sales says.
"I always say to my staff, there are two things to keep an eye on: wastage and wages. If you're priced right, running efficiently and not throwing product out the back door, there's a bloody good chance you'll make it!
"But if you don't look after one of those things – if your staff are standing around not working or if you're throwing materials out the back door – you're kidding yourself if you think it doesn't matter."

Embracing automation
Along with other Australian manufacturers, Sales has identified automation of the shop floor as the key to remaining competitive.
In late 2017 she outlaid a seven-figure sum for two digital CNCs (computers that control machine tools) which have sliced production times in half and reduced labour costs accordingly.
The equipment represents an essential investment in the company's future, according to Sales.
"You have to make sure there's no fat anywhere in your operation," she says.
"Costs increase, staff need pay rises… we need to work really hard to throw more profit to the bottom line to be able to cover those things and remain viable long-term. Automating will enable us to do that."
Diversifying into domestic
The additional production capacity automation has delivered helped Imperial Kitchens mount a sales push into the domestic market, in the form of Imperial Private Label – a design and build service for mum-and-dad renovators.
It's a sideline Sales hopes will account for 30 per cent of turnover by 2020 and provide a buffer against the volatility of the commercial building sector.
"It's a completely different market segment which has a lot of potential – people don't have much awareness of what's available domestically," she says.
"We have a great value product and offering it to the private market benefits us as well as our buyers. It's profitable business, which is good for cash flow."

Partnering with NAB
Imperial Kitchens has been a NAB customer from the outset – "from the day they agreed to back me in buying the business".
"On a commercial level, I knew we were a risk, but what they were getting in me, was someone who was determined it was going to be a success, if hard work had anything to do with it," Sales says.
"NAB has financed everything since then – our relocation to bigger premises in 2005, equipment finance for machinery, further expansion of our factory, our automation initiative… as I've wanted different levels of funding for different things, they've always been there."
Two decades of cooperation has created a partnership characterised by trust and goodwill.
"I have a great relationship with NAB and I value that relationship," Sales says.
"I would never go anywhere else because they've stuck by me when maybe other people wouldn't. They've had belief in me and hopefully I've demonstrated why.
Recipe for success
Her lack of formal education has seen Sales by necessity acquire commercial knowledge – and considerable acumen – on the job. She says focus, tenacity and willingness to take advice have enabled her to overcome obstacles and weather two decades of construction industry ups and downs.
"If I have a problem I never dwell on it – I own the problem and I look for a solution and I work until I find it," she says.
"If anyone ever tells you business is easy, they're lucky. I've found it enjoyable, challenging, rewarding – not easy!
"But I have an enquiring mind and I've surrounded myself with good people who I've listened to. Staff need a leader and I've always endeavoured to lead by example."