Are we an entrepreneurial nation?
Australia is a high performer in academic research – yet when it comes to commercialising that research, we rank last in the industrialised world. It's time for change, says the Chairman of NAB.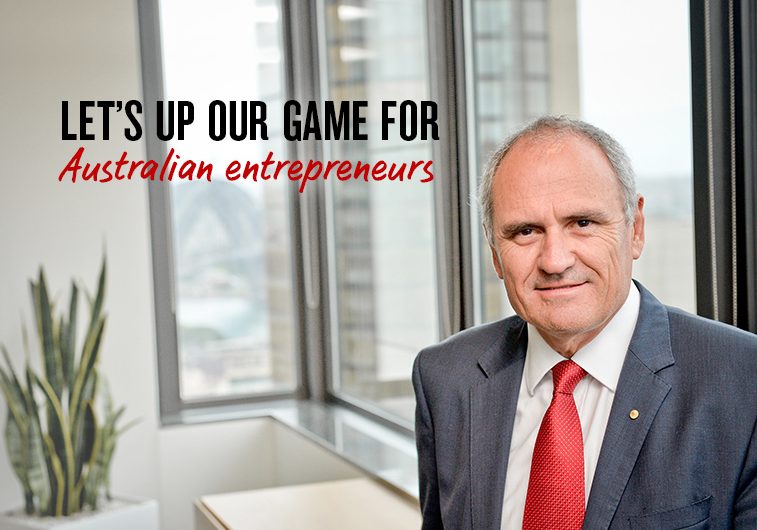 Our entrepreneurs and businesses should work to overcome the country's commercialisation gap and turn our world-class research and development work into thriving businesses. That's according to National Australia Bank Chairman and former Treasury Secretary Dr Ken Henry.
Launching a guide for entrepreneurs in Brisbane, Dr Henry said Australia had world-class universities and best-in-class researchers, which present great, but largely unrealised potential for the commercialisation of research.
Described by Dr Henry as a "phenomenal resource", the 300-page Entrepreneur's Guide, sponsored by NAB and the Australian Securities Exchange, was launched at Myriad 2018, a three-day technology and innovation conference delivered in partnership with the Queensland Government.
The Entrepreneur's Guide provides advice on the business journey from start-up to scale-up to initial public offering and covers the financial, legal and strategic aspects of growing a business.
Time for change
Dr Henry noted that in the last two years Australia has slipped from 17th to 23rd in the Global Innovation Index.
"When I moved to Canberra in 1984 to start my career in public policy, I learned early on that whilst the Australian government invested quite a lot in research and development, especially through the existing tax concession, we had at that time very low private sector investment in research and development, and an extraordinary commercialisation gap," he said.
"Today, in 2018, the commercialisation gap still exists.
"This is a gap that we, in this room, can help to fill. NAB is not waiting. We want to be involved in this work because we have an aspiration to help close the commercialisation gap," he said.
"We have to be able to figure out how to help people like you, everybody in this room, to realise your commercial ambitions. We in NAB want to foster an entrepreneurial culture."
Finding the pivotal 'gap' moments
In chapters contributed by NAB experts, the Entrepreneur's Guide reveals that while Australian start-ups have increasingly better access to capital, there is a worrying lack of funding for later-stage start-ups wanting to expand.
Early-stage growth companies face a pivotal 'push-on or plateau' moment when they need funding to make the step up.
Known as scale-ups, these businesses are looking to increase market share, develop new products, grow the team and enter new markets. They typically have 10 or more employees and average annualised growth in turnover (or employment) greater than 20 per cent a year over a continuous three-year period.
"The rate of scale-up growth in Australia is significantly slower than start-up growth," the book states. "Australian start-ups are less likely to make it to Series A and later funding rounds than those in Europe and North America. As the start-up process has simplified, barriers to scale-up have persisted."
Funding our own businesses
The book notes that while venture capital funding has grown immensely over the past five years, and is now eight times larger than in 2013, there is still significant room for improvement.
Venture capital investment as a percentage of gross domestic product (0.023 per cent) is less than half the OECD average (0.049 per cent) and ranks behind New Zealand, Latvia and South Africa. Australia also ranks last amongst OECD countries for commercialisation of research.
"A notable outflow of entrepreneurial talent and significant underfunding in the Australian technology sector has occurred and is partially attributable to the substantial government and private sector focus on resources and commodities since the turn of the century," the book states.
"This situation compelled many Australian technology companies to source funding overseas or relocate completely to access growth capital, engendering a relatively young and underdeveloped [venture capital] sector."
At the book launch, Dr Henry highlighted remarks in the guide by StartupAUS CEO Alex McCauley, who points to several strengths that Australia has in entrepreneurship: from high rates of technology adoption and a relative ease of expansion overseas to strong start-up fundamentals like access to funds and liveability, a robust domestic talent base, and government support.
He finished by outlining why entrepreneurship is so important.
"We want to ensure that Australia is a place that creates great jobs for present Australians and future generations… that people can live in Australia, the best country in the world, and have careers that could be accessed anywhere in the world," he said.