Australian Housing Market Update: February 2020
Housing market update shows the rebound in Australian housing values has continued into 2020.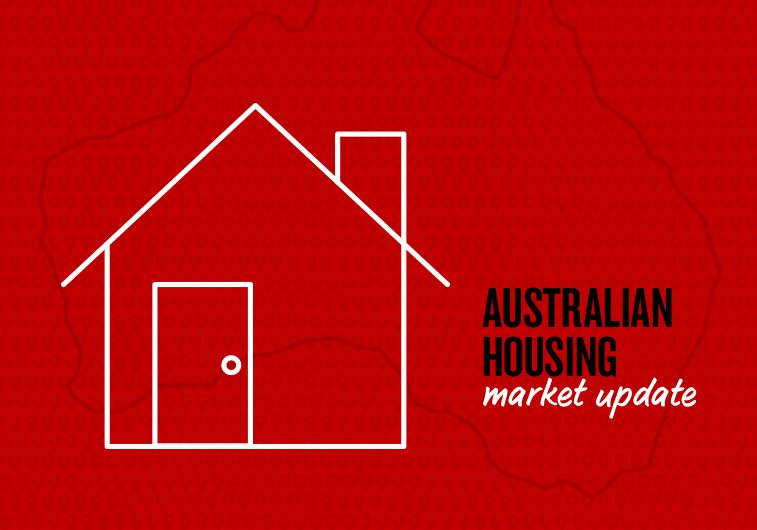 The February 2020 housing market update shows the rebound in Australian housing values has continued into 2020 with CoreLogic's national home value index up nine tenths of a percent over the first month of the year. The latest figures take the annual growth rate to 4.1%; the fastest pace of growth for a twelve month period since December 2017.
Watch the video now to get the national update.
Find out the latest news for each capital city by clicking the link and watching the videos below or read the full February 2020 Housing Market Update Transcript

Sydney
Brisbane
Melbourne
Adelaide
Perth
Transcript summary
Housing values were higher in January across every capital city and rest-of-state region, apart from regional South Australia, where values held firm over the month. Such a wide-spread rise in home values shows the recovery trend is spreading away from Sydney and Melbourne to other areas of the country where housing is more affordable.
Across the capital cities, Sydney and Melbourne continued as the leaders for capital gains after recording more substantial declines during the recent downturn. Values increased by 1.1% and 1.2% over the month respectively, while Hobart (+0.9%) achieved a higher growth rate relative to most other regions. The remaining capital cities generally saw a mild rise in values over the month.
Across the rest-of-state markets, the strongest conditions were recorded in regional Tasmania, where values were up 1.3% over the month, followed by regional Western Australia at 0.9% then regional Victoria and regional Queensland, both eight tenths of a percent.
Although there is an apparent recovery across all of the capital city and rest of state regions of Australia, the speed of growth has lost some momentum over recent months. The national dwelling index slowed from a recent monthly peak of 1.7% in November, to 0.9% in January.
Seasonal effects provide some explanation for the slowdown, with our seasonally adjusted index implying the time of year shaves about 1 basis point of growth from the December reading and 2 basis points from the January reading.
Factoring in the seasonal affect still shows a reduction in the speed of growth across most markets, especially Sydney and Melbourne where affordability constraints are once again becoming more pressing. As advertised stock levels rise over the early part of the year, we could see further dampening of growth rates in these already unaffordable markets.
Nationally, housing values have recovered by 6.7% since finding a floor in June last year, however CoreLogic's national index remains 2.2% below the October 2017 peak.
With housing values rising at the quarterly pace of 3.7%, we are likely to see a nominal recovery in the national home value measure within the next two-to-three months.
Four of Australia's eight capital cities are already showing home values at new record highs: Brisbane, Adelaide, Hobart and Canberra. Sydney values need to recover a further 5.4% before posting a nominal recovery and Melbourne values need to see a further 1.2% lift. Perth and Darwin will take a much longer time to see values recover. Although the Perth market seems to be moving into a recovery, housing values remain 21.3% below their 2014 peak and Darwin values are 31.8% below their peak.
Overall, the January results show a continuation in the recovery cycle, and confirms that many of the smaller capital cities have already seen housing values recover from the recent downturn to reach new record highs.
Of course, January can be a hard month to read the housing market. Seasonal factors deliver a reduction in sales activity, auction markets become quieter and listing numbers drop sharply. Through February we will receive a much better feel for housing market trends as activity returns to normal.
Despite the seasonality, there is evidence to suggest that housing value growth rates are tapering in Sydney and Melbourne, although with values rising at more than 1% month-on-month, this pace is still unsustainable considering household income growth is sluggish and housing affordability challenges are worsening.
The ratio of housing values to household incomes, based on data to September last year, has risen to 8.5 in Sydney and 7.4 in Melbourne – that's up from a recent low in the June quarter of 8.2 and 7.2 respectively. Since September, the ratio of dwelling values to household incomes is likely to have increased further considering the low rate of income growth together with higher housing values. Housing remains more affordable relative to the highs of 2017, however it's clear that affordability is once again becoming a formidable barrier to higher buyer participation in Australia's largest cities.
Smaller cities, including key affordable regional markets where economic and demographic trends are healthy, may offer some insulation from these affordability constraints.
Looking ahead, interest rates are expected to see further reductions, which, along with consistently strong population growth, is likely to continue to support housing demand. From a supply perspective, new housing construction remains in decline, despite the uplift in dwelling approvals over the past few months. This may lead to undersupply pressures across the new housing sector later this year, providing support for housing prices through the year.
A big test for the market will be advertised supply levels. As the market moves out of the festive season slow down, we are expecting more home owners to take advantage of the strong selling conditions and recovery in housing prices.
Advertised listing numbers remained below average through most of 2019. We're expecting the number of homes available for sale to also rise in 2020, which may result in a wider range of choice. The knock-on effect could dampen the sense of urgency to purchase housing, and could mitigate more rapid growth.
If you interested in staying in tune with housing market trends and economic factors affecting the market, you can visit the research pages at www.corelogic.com.au.