Barbershop boys: Kings Domain duo on social, celebrity and personal branding
No room left at your local hairdresser? Men, it's time to pamper yourself.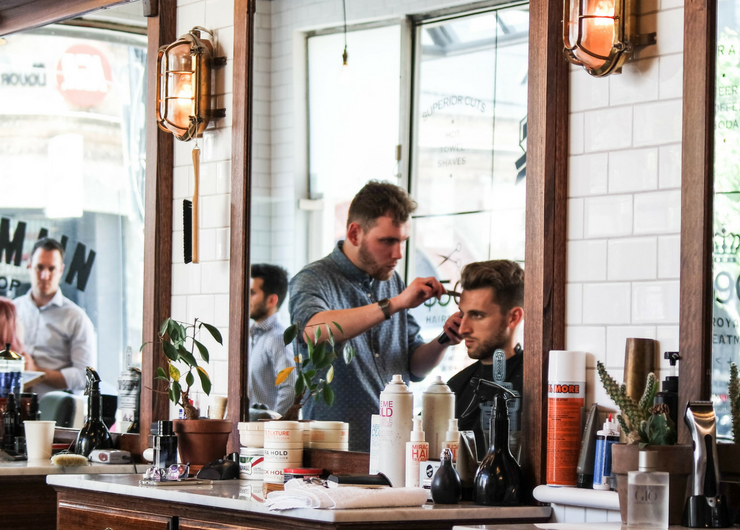 Celebrity hairdresser Joey Scandizzo ran out of room in his hair salon. It was clearly time to open a barbershop – with a difference.
When celebrity hairdresser and entrepreneur Joey Scandizzo opened his latest venture in Melbourne, Kings Domain Barber Shop, his underlying rationale was to clear a little space for his original salon's female clientele.
"A few years back, before we had first opened King's Domain, we were servicing a huge number of male clients in our salon," explains Scandizzo.
While he appreciated that he had a regular, loyal client base of men, it did create a problem. "The males were taking all our primetime appointment spaces and our female clients couldn't get in for an appointment."
Looking to the past

Enter Scandizzo's former apprentice, Aaron Chan, who was keen to set up an old-style barbershop for the modern day. A trip to Argentina was his inspiration. Recounts Chan: "During my stay in Buenos Aires I had my first ever barbershop experience – before then I had only ever had my hair cut at a salon."
While the barbershop was nothing fancy – and neither he nor the barber spoke each other's language – it offered a truly relaxing experience. It also got Chan thinking about where he wanted to take his hairdressing career. "I [decided I] wanted to create a salon-type experience for men in a relaxed barbershop setting, what I like to now call a 'modern barbershop'."
The result is truly indulgent by any measure, as evidenced on the Kings Domain website. "Each cut is tailored to your face shape and personality and includes a wash, massage, cut and style. It's our job to make sure you walk out of Kings Domain feeling sharp and looking downright handsome."
A shave is no ordinary affair, either. It involves a classic hot towel shave with a straight blade razor, and all the while you can soak up the old-style ambience while sipping your choice of coffee, soda water or cold craft beer.
The rise of the barbershop
King's Domain is not the only modern barbershop in downtown Melbourne.  Over the past few years, numerous businesses have sprung up around Australia.
One reason cited for the renewed interest in specialty barbershops is the concurrent rise in facial hair. Certainly, the hipster beard continues strong in Australia – and worldwide. According to Scandizzo, there has also been a marked increase in interest in grooming from male clients and men in general, the demographic being men aged between 20 and 40 years old.

Interestingly, Scandizzo points to social media as the impetus. "The biggest influence I feel in this has been the rise of social media. Things like Instagram in particular have allowed people to put themselves and their style out to the masses and people can now follow their favourite people, which is hugely influential."
Chan doesn't see barbershops like his own going out of fashion anytime soon. "I think the modern barbershop trend is here to stay. The question is what makes a modern barbershop? I think barbershops that don't evolve and incorporate some modern conveniences and small luxuries will find it hard to compete with those that do. As they say, adapt and survive."
The fact he and Scandizzo have already extended their original South Yarra shop and opened two others is an indication that they are surviving just fine for now.

The business of the 'me brand
Joey Scandizzo is one hairdresser who should have his finger on the pulse. Aside from winning numerous hairdressing awards, he is reputed to be Australia's own 'stylist to the stars'. His regular clientele includes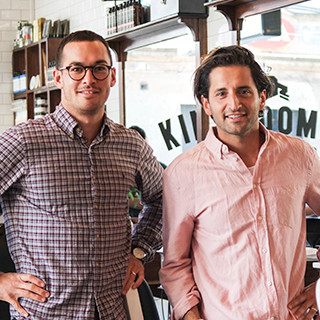 Harry Kewell, Rachel Griffiths, Hamish Blake and Lisa McCune while he has gained celebrity status himself on television shows as Beauty & The Geek ("Makeovers") and The Biggest Loser.
"Having a presence within the industry is really important," says Scandizzo. "It keeps you relevant. As soon as you're absent for a while the next go-getter or up and comer will step in to fill the void."
Putting his personal brand centre-front is a must. "It's an important part of our business because people relate me personally to our salons and barbershops. So maintaining a recognisable and reputable brand personally correlates directly to our business. They are one and the same."
It requires some adjustments along the way, however. "Fashion is ever-evolving and to stay ahead of the game my brand has had to continually evolve with it. I think the more you mature, the greater your understanding of where you want to head and what you want to represent. This is something I have to constantly reassess. As things change around you, so too can the direction you choose to take your brand and what you want to stand for."