Bright idea to big business: lessons from a home-grown success
'Build it and they will come' – that's the belief that drove Brisbane businessman Justin Montesalvo to grow his bright idea from blueprint to thriving high-end camper trailer maker.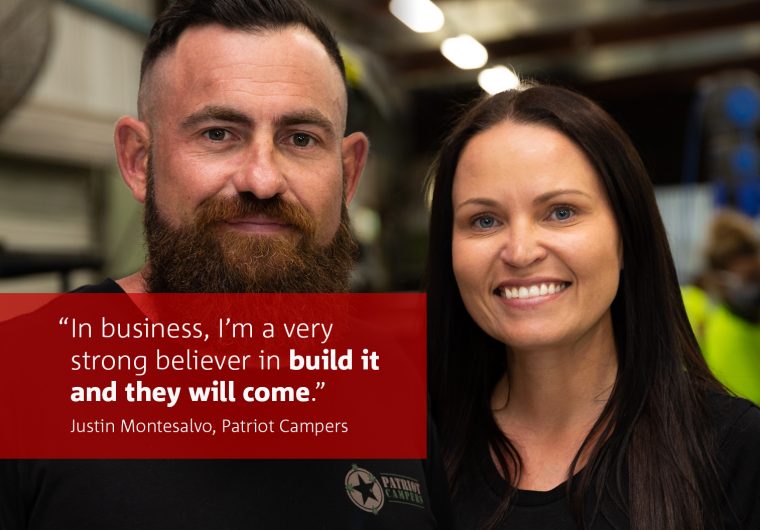 Escaping to the great outdoors was always the default weekend plan for Brisbane sheet metal worker Justin Montesalvo and his young family. To that end, they splashed out on a new camper trailer in 2012 and put it through its paces over the Christmas break.
The experience was underwhelming. "We did some research and thought we'd bought the right thing, but we quickly realised it was too heavy and didn't suit our family's style of camping – there was nothing on the market that really did," Montesalvo recalls.
Returning from the trip, Montesalvo closeted himself in the office at Express Metal Products, the components business he'd founded several years earlier, and got busy with a pen and paper, roughing out and refining a blueprint for a better product.
"My ideas all centred around the way our family travelled at that time – we wanted something lightweight that could be set up quickly but with the right amount of bedding space and room for the kids' gear," Montesalvo says. "At that point, it was all about us; building the specific camper trailer that really met our needs."
From bright idea to big business
Fast-forward eight years and Montesalvo is at the helm of Patriot Campers, a thriving manufacturing business with a workforce of 180, and growing. The company's award-winning high-end campers, Supertourers and toy haulers, have found an enthusiastic market, at home and abroad.
They've also spawned a television series, Patriot Games, which features the Montesalvo family taking the range off-road in some of the most rugged and spectacular locations in Australia and the US.
Turning his sketches into a business and brand that's well on its way to achieving iconic status in the outdoor adventure space began with the construction of a prototype, in the workshop after hours.
"The first night when I towed that trailer home, I went via three or four different friends' houses to show them – I was so proud of what I'd created," Montesalvo says.
"Each one, when they saw it, went, 'I'll have one'. It was at that point I thought there was commercial value there. That realisation immediately turned into, 'Let's use this business that we already have to create a product of our own'."

A standalone start-up
Doing so without disrupting Express Metal Products' existing operations was a priority. That's why Montesalvo established Patriot Campers as a separate entity, with its headquarters in rented premises a few doors away.
"Express Metal Products was a mature, profitable business that was virtually running itself, and what I didn't want to do was change the processes I'd created there to turn it into a camper trailer business," he explains.
Instead, Express became the fledging enterprise's main components supplier. Had Patriot Campers failed to take off, relatively little would have been lost.
"If it didn't work, if the market wasn't there, then we'd put it down to experience," Montesalvo says. "It would just be a case of 'We tried that and it didn't quite work'. I'd still have had the old business and the nirvana camper trailer I'd always wanted, so it was always going to be a win-win."

Finding a backer that gets it
Manufacturing is capital intensive and, initially, Patriot Campers struggled to access the funding it needed to start producing trailers in volume.
"Obviously if you have the backing of investors or private equity, or you're a publicly listed company, then away you go," Montesalvo says. "But we were none of the above and we were doing it with our own cash reserves."
Teaming up with NAB saw all that change and business take off. With the bank's support, Patriot Campers was able to invest in plant and equipment, establish an assembly line, relocate to larger premises and access trade finance.
"A major part of the establishment and success of the company has been having the backing of NAB," Montesalvo says. "We've been through hard times – it was a real struggle the first three or four years – but they've been with us the entire way and we've come out the other side.
"NAB has just always 'got' what Patriot Campers is about. They understand the vision and the dream and they've supported that vision financially, as we've turned it into reality."

Back your belief
It's been a tough journey, but one other entrepreneurs shouldn't be afraid to embark on, Montesalvo believes, if they understand their target market and believe their bright idea has legs.
"In business, I'm a very strong believer in build it and they will come – I always have been," he says.
"If you can see there's a gap in the market and there's a product that can fill it – for us, it's about enriching family life – then find out what people really want with that product, create it, test it, modify it and get it out there."