Engaging with Indonesia
Indonesia is Australia's 11th-largest export market and 12th-largest trading partner. From what to wear to business meetings to how best to manage the decision-making process, we share tips to help Australian businesses prepare for opportunities within the world's 16th-largest economy.

Indonesia is Australia's 11th-largest export market and 12th-largest trading partner. Agricultural goods – including wheat, sugar and live animals – make up the bulk of our exports to the archipelago, while crude and refined petroleum are Australia's biggest imports from the world's 16th-largest economy.1
1 The World Bank, gross domestic product ranking table, 2013).
Fast facts
Capital: Jakarta
Official language: Bahasa Indonesia
Population: 248 million
Imports from Indonesia: $6.013 billion
Exports to Indonesia: $5.160 billion
 Source: Austrade
GDP (current US$) 2013: $870.3 billion
GDP growth 2013: 5.8%
Source: World Bank
Business tips
Indonesians, especially the Javanese, consider outward displays of respect very important.
Decision-making frequently occurs through consensus, so attempting to force a decision can have an adverse effect on negotiations.
A common Indonesian term is "jam karet" (rubber time), which means a meeting won't necessarily start on time for any number of reasons – getting stuck in traffic is common. And while RSVPs may go unanswered, this doesn't mean the guest won't come – they may even turn up with friends.
"Yes" can simply mean, "yes, I hear you", not, "yes, I agree"; so ensure your message has been fully understood.
Have plenty of business cards to hand out. However, never offer them (along with anything else) with your left hand. And treat the business cards of others with respect when they're handed to you.
Invitations to business functions often state 'lounge suit/batik'. Long-sleeved batik shirts are regarded as the equivalent to a dark business suit and are frequently worn by both Indonesians and resident businessmen in Jakarta. Trousers, shirts and ties are also common business attire. Women's business clothing is becoming dressier. Avoid wearing revealing clothing such as sleeveless shirts or shorts.
Pork is prohibited for religious reasons, and while alcohol is not widely consumed, Indonesians generally tolerate its consumption.
When presented with tea or coffee, always wait for your host or hostess to drink theirs first. It's also considered polite to at least sample the food or drink offered – though in meetings these are often not touched until the end.
Avoid pointing as it's considered to be rude. Also, showing the soles of your feet when seated is considered offensive, particularly if your soles face anyone in the room, so always place your feet flat on the ground.
Source: Austrade
 Exports
Australia's major goods exports to Indonesia, 2013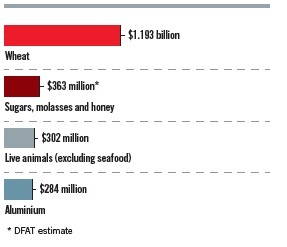 Imports
Australia's major goods imports from Indonesia, 2013
Key resources
There are a variety of organisations to help Australian businesses enter the Indonesian market including:
NAB's representative office in Jakarta can provide information and research on key consumer, agriculture, energy, natural resources and health sectors in Indonesia, and facilitate introductions to leading sector stakeholders and officials. Talk to your NAB Business Banker to find out more or visit nabasia.com
This article was first published in Business View magazine (Summer 2014). For more articles and interactivity, download the iPad edition of Business View for free via our app, NAB Think.
More from NAB: