Technology central to prosperity: Australian National Outlook 2019
There's one factor above all others that can help lift a nation's productivity growth and boost its prosperity and living standards according to a recent report by CSIRO, NAB and 20 other organisations. That factor is technology adoption.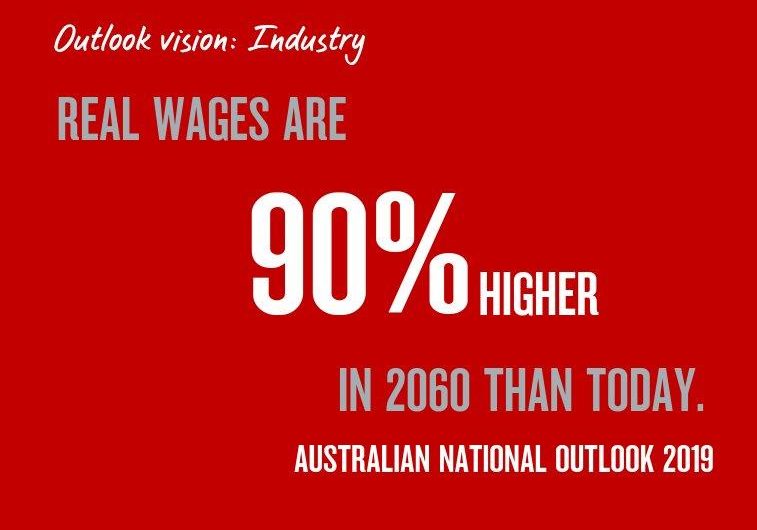 Productivity growth enabled by technology has been identified as central to the vision defined in the Australian National Outlook 2019 report, which draws on the latest scientific data and outlines the challenges facing the nation and how we should respond.
"The rate of broad technology adoption is the most important differentiator between national economic performances and has been shown to account for at least one-quarter of real per capita income growth," the report states.
The report envisages two possible scenarios:
Under the Slow Decline scenario, Australia drifts into the future. Our GDP grows at only 2.1% annually and real wages are just 40% higher in 2060 than they are today. We've continued urban sprawl, consume significantly more energy and make only modest emissions reductions.
In Outlook Vision, we reach our full potential. The GDP grows at 2.8%, real wages are 90% higher and we're at zero emissions with potential for negative emissions.
To achieve the better future, we need to make major shifts in five aspects of our society and economy:
Industry
Urban design
Energy
Land use
Culture
Industry shift
Increased productivity is central to achieving a better living standard by 2060. In fact, the researchers estimate the productivity increases will account of 52% of the difference in economic growth between Outlook Vision and Slow Decline.
The Australian National Outlook lays out a pathway to reach that goal, focussing on three key levers:
Increasing the adoption of technology
Investment in skills
Developing export-facing growth industries.
Over the past three decades, Australia's annual overall productivity growth has averaged just 0.6%. The Outlook Vision scenario sets an extremely high bar for productivity growth, rising steadily to average close to 2% by 2060.
Adopt technology
Achieving this ambitious target will depend to a large extent on the adoption of technology, which the researchers emphasise is all technologies – new and old, and mechanical and human processes, not just digital.
Digital technology, however, has a particular role to play. "The digital economy may offer further productivity gains above historical levels because it's still believed to be in an 'installation phase', where technologies are just emerging and are localised to certain industries and companies. Productivity gains may not become visible until the 'deployment phase', where widespread adoption enables the full potential of the digital economy to be realised," the report states.
The complexity and the rapid rate of technological change means that collaboration is key to supporting technology adoption and how it spreads in businesses and industries, but Australia performs very badly on this measure.
The authors say larger organisations can play a leadership role in technology adoption by sharing lessons and strategies with smaller firms and start-ups to help them support, develop and transition employees during periods of technological change and disruption.
Build human capital
Human capital and how effectively people can work with technology is an important driver of productivity and is responsible for nearly 20% of the GDP growth experienced under the Outlook Vision scenario.
Of particular importance is management performance. Some 50% of the productivity gap between Australia and the better performing US economy is explained by better management.
Two areas in particular stand out:
How skills are allocated
People management.
Compared with international peers, Australia is inefficient in its level of over-skilled and under‑skilled workers, which alone is estimated to translate into direct productivity loss of over 6%.
The report outlines there are considerable benefits to be gained from improving management scores: a single-point improvement as measured on a five-point scale is associated with an increase in output equivalent to a 56% increase in the labour force or to a 44% increase in invested capital.
Mathematics and other STEM skills assume new importance because mathematics has been found to be a good proxy for the types of skills needed to develop, adopt and work with technology.
Importantly, however, technology and artificial intelligence aren't expected to replace human skills such as creativity and collaboration. Therefore, these skills should be continually developed across the workforce and combined with technical subject matter.
These skills will grow in importance as workers navigate the changing workplaces of the future. In fact, people can expect portfolio careers – potentially having 17 jobs and five careers in their lifetime, perhaps in industries that don't yet exist, the report states.
Pursue growth industries
To achieve the Outlook Vision, Australia will not only need to nurture its traditional industries but also create new competitive advantages that will support new industries.
These include improvements in attracting investment and a collaborative, world-leading education system. It also assumes that Australia has a competitive regulatory environment which promotes innovation, has the policies to sustain productivity growth, and one that considers innovation systems rather than just addressing market failure.
These advantages will support new technology-enabled growth industries and business models, such as the value-adding and diversification opportunities that exist at the intersection of traditional sectors like manufacturing and services.
The report highlights several growth industries where Australia could thrive, including healthcare, cybersecurity, agriculture and education.
The report also highlights the hydrogen industry as having growth potential for Australia. As the world transitions to a low‑carbon economy, demand for Australia's traditional energy exports, like thermal coal, are predicted to decline. Australia can draw on its extensive natural resources, namely solar, wind, fossil fuels and land to produce hydrogen for low emissions energy generation and in industry, the report states.
In response to the report's findings, NAB will back Australian tech-innovators by allocating $2 billion of funding over five years to help build and grow their emerging businesses, including providing loans, facilitating access to capital markets and supporting companies with transactional banking and risk management. Find out more about this commitment.
For a more in-depth analysis of the report findings, download the executive summary or the main report. Or access an overview of the other four shifts required to achieve Outlook Vision: