How life in our cities will change: Australian National Outlook 2019
According to a new report by CSIRO, Australia will have well-connected, affordable capital and satellite cities that offer equal access to quality jobs, lifestyle amenities, education and health services if three levers are implemented.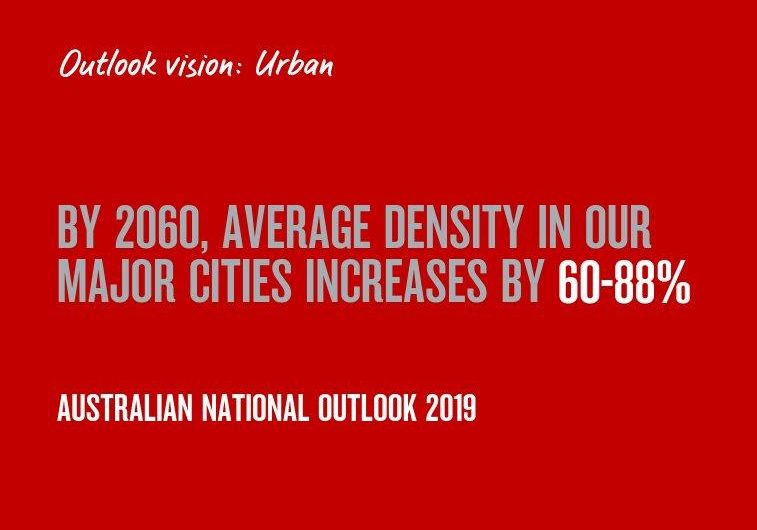 By 2060 life in Australia's largest cities could look very different.
A majority of people will live in well-designed apartments, semi-detached homes and townhouses, closer to the city centre or clustered around one of several high-density precincts. Communities will have more diversity, made up of a mix of different housing types, services and employment. And the health workers, teachers and emergency services personnel we rely on will be able to live in the communities they serve.
Rather than travelling to the city centre on a spoke-and-hub public transport system or battling traffic in our cars, we'll use a mix of autonomous and shared vehicles, and mass transit to get to work at our nearest city centre less than half an hour from home.
It's a vision outlined in the Australian National Outlook 2019 report, which lays out the challenges facing the nation in several key areas and how we should respond.
The report – by the CSIRO, NAB and 20 other organisations – draws on the latest scientific data and states that Australia is at a crossroads, and we face a stark choice – strive towards a more positive future of growth and prosperity or suffer a slow decline.
Slow decline
Under the Slow Decline scenario, Australia drifts into the future. Our GDP grows at only 2.1% annually and real wages are just 40% higher in 2060 than they are today. We've continued urban sprawl, consume significantly more energy and make only modest emissions reductions.
Outlook vision
In Outlook Vision, we reach our full potential. The GDP grows at 2.8%, real wages are 90% higher and we're at zero emissions with potential for negative emissions.
To achieve Outlook Vision, we need to make major shifts in five aspects our society and economy:
Industry
Urban design
Energy
Land use
Culture
The urban shift
Australia's population is expected to increase to 41 million by 2060 with the four largest cities increasing their share of the population from 58% to 66%.
How we accommodate those people and plan our cities will be a key determinant in achieving the Outlook Vision for our cities:
Average density increasing by 68%
Urban vehicle kilometres travelled reduced by up to 45% per capita
Greater social cohesion and inclusiveness.
Plan for multicentre cities
As some international cities have grown, there's evidence a single city centre can become a stumbling block for better living, business and mobility, and cities including London, New York and Seoul have three or more CBDs surrounded by complimentary districts.
Additionally, achieving the Outlook Vision requires the average density of major cities to increase by 80% to 90%, with multiple high‑density precincts not just in the city centres. Australian cities are planning for this with Perth's strategy to absorb about half of new population growth as infill development and the Sydney plan to become 'a metropolis of three cities'.
Australia's larger cities have approximately 1,600 people per square kilometre – a low average density when compared internationally indicating potential for greater urban density.
Density also helps create more social connectedness than the periphery expansion experienced in Slow Decline.
Embracing diversity, as Singapore has done, is also important. "By bringing diverse groups of people closer together, the analysis suggests that Singapore is better placed to utilise people's skills, knowledge and entrepreneurship. Interaction amongst the population is also believed to foster inclusiveness, building trust, cohesion and understanding," the report states.
Diversify housing and land use
Mixing housing, services, employment and green spaces in smaller areas creates destinations in the form of diverse local precincts that provide people of different occupations and incomes better access to jobs, services and recreation, the report states.
In the Outlook Vision, Australian cities have land and housing mixes that allow more people to live comfortably in cities.
The vision strongly favours medium-to high-density dwellings to the point where they become the dominant form of habitation in Australia, with well-designed apartments, semi-detached homes and townhouses making up just over 50% of the housing stock by 2060.
The greater mix of housing types has several benefits. It allows more people to live closer to a richer set of urban jobs and amenities, and to stay within their community throughout their life stages. Importantly, the increased mix of housing offers reasonable accommodation for those working in essential services, education, health and personal services.
Enhance transport infrastructure
As a result of better planning and transport infrastructure, urban vehicle kilometres travelled per capita fall by as much as 45%, compared with less than one-quarter under the Slow Decline scenario.
Much of the improvement is facilitated by greater population density and multiple city centres. "As more transport choices and diverse travel routes criss-cross the city, '30-minute cities' can be realised, making work, shopping, socialising and services closer, increasing productivity," the report states. "At the same time, car dependency will fall and walking and cycling will be preferred options to the now-closer jobs, education and health services."
Likewise, population plays a key role in the viability of mass transit, where rail, light rail and rail-like bus services move the most passengers per hour and will work in tandem with autonomous vehicles. This combination will be "revolutionary", the report states. "Autonomous vehicles provide a new low-cost, on-demand service for trips between home and more frequent mass-transit services."
In fact, based on current car usage, a single shared car could do the job of 10 private vehicles.
In addition to improving cities, there's a significant opportunity to both preserve the strength of inland regional towns and rural communities, and invest in the growth of regional satellite cities with strong connectivity to those capitals.
Under Outlook Vision, by 2060 approximately 5 million more people would choose to live outside capital cities, choosing more spacious, traditional housing options and suburban lifestyles. It would also help improve the quality of life in capital cities by limiting population density.
In response to the report, NAB will be announcing significant commitments informed by the report findings.
For a more in-depth analysis of the report findings, download the executive summary or the main report. Or access an overview of the other four shifts required to achieve Outlook Vision:
Speak to a banker