Life in the Lucky Country 2021: Is Australia still a great place to live?
Global pandemic boosts feeling of Australia as the lucky country.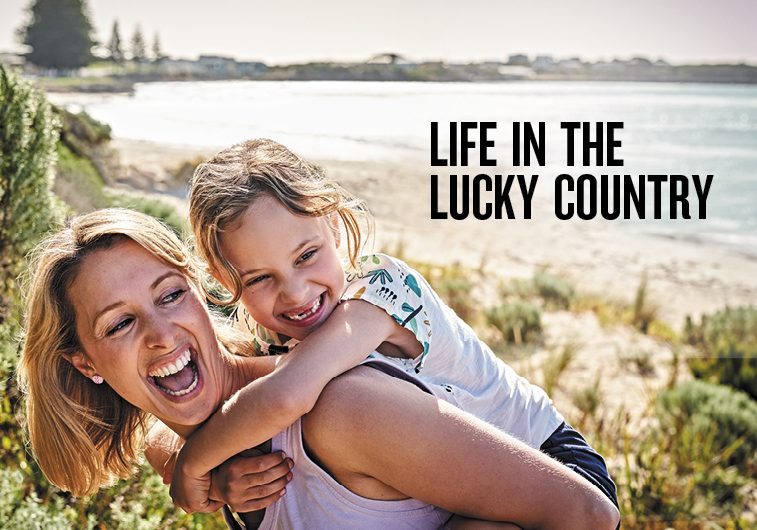 Despite the enormous challenges of the past year, including widespread bushfires and COVID-19, Australians are more optimistic than ever about the prospects of the nation.
NAB's annual survey 'Life in the lucky country' found 94 per cent of Australians agree down under is a great place to live. This is the strongest result since the survey began five years ago and up six points on last year.
When asked if Australia would still be a great place to live in 10 years' time, almost 7 in 10 said yes, up from only 55 per cent just 12 months ago. Fewer than 1 in 10 people believe Australia won't be a great place to live in 2030.
NAB Group Executive Business and Private Bank, Andrew Irvine said: "The survey confirms the strong sense of optimism we're seeing in businesses right across Australia.
"This optimism combined with those factors which make this such a great country bode well for our businesses, small and large as we begin our rebuilding the economy.
What makes Australia so special? For most Australians (over 7 in 10), it's our access to open spaces, beaches and parks. Australia's performance in containing outbreaks of COVID-19, resulted in safety and security rising one place to second. Coming in third was our general lifestyle and friendliness of our people.
Almost 1 in 2 Australians cited our relatively stable and strong economy as a positive factor – up more than any other factor relative to last year.
Other key drivers of liveability include: our clean environment and unique natural wonders; access to affordable and quality healthcare; and our democratic system of government.
"Aussie businesses are already leading our road to recovery as they invest, create new jobs and in turn, create new opportunities," Mr Irvine said.
"By mid this year we are, we're expecting the economy will be back to pre-COVID levels, 18 months earlier than we initially predicted a year ago. Today Australia really can be considered a lucky country, thanks to the work of so many to contain the virus and support the economy – this has helped to put cash in the system and kept as many people as possible in jobs."
Leigh Worcester from Food & Desire in Albert Park, Melbourne said: "The pandemic hit us hard but as restrictions begin to ease and the bookings start to flow in again, we too are feeling a wave of optimism about the future. It's been great to see that that the wedding market is still strong with couples determined to push ahead with their events despite this being such an unsettling time – that's got to be the ultimate sign of hope. We're now looking forward to the re-emergence of the corporate market in 2021 after a strong December month of sales where we saw Aussies out there spending money and supporting their local businesses."
Learn more in the NAB Special Insight Report Life in the lucky country 2021: What makes Australia a great place to live