Markets Today: On the road to nowhere
Quiet night but S&P 500 ekes out a third successive record daily close. Stronger than expected US PPI a reminder that supply chain disruptions are still with us.
Todays podcast
Overview Back on the Chain Gang
Quiet night but S&P 500 ekes out a third successive record daily close
Stronger than expected US PPI a reminder that supply chain disruptions are still with us
GBP softer notwithstanding Q2 GDP up 4.8% in Q2; AUD and NZD back down inside familiar ranges
NZ manufacturing PMI this morning, RBA officials testify in Canberra, US consumer sentiment
Now we're back in the fight, We're back on the train, Oh, back on the chain gang – The Pretenders
And just before we start, for any of you afflicted by triskaidekaphobia  on this Friday the thirteenth, just be careful out there today (or rather for most of you in Australia, in there – after all, remember most accidents occur inside the home).
It's a struggle to identify a dominant theme in markets overnight, perhaps not too surprisingly given we're in the midst of the northern hemisphere summer holiday season and, dare I say it, market are apt to meander through August as we await what should be some year-defining market events in September and when the depth of market participation returns to something resembling normality – namely the August US payrolls report and then September FOMC meeting. We do at least have the Fed's Jackson Hole symposium to look forward to later this month, though that is still two weeks away (starting August 27). AUD/USD sitting at 0.7337 this morning, inside a range of just 0.7316 to 0.7389 this week, about sums it up. That and the S&P 500 eking out a third successful daily closing high (hardly worthy of a news headline these days) while bond yields are, at 10-years, a couple of basis points higher than where we left them yesterday evening, at 1.36%.
On theme that does rate a mention is ongoing evidence of supply chain bottlenecks – hence the lame link to today's song title – evident in the strength of US producer price inflation overnight.  Both headline and core July PPIs came in 1.0%m/m, against expectations of 0.6% and 0.5% respectively, with headline now  at new post pandemic year-on-year high of 7.8% (from the prior record 7.3% in June). Yesterday's Japan's PPI came in at 5.7%, its highest since 2008.  As evidence of these disruptions, Bloomberg reported that China had shut down a terminal which accounts for around a quarter of business at the world's third busiest container ship port after a Covid-19 case was discovered.
This is but one reminder that any easing in supply chain constraints will likely be a drawn-out process. In the car sector, as well as ongoing chip shortages, production by Toyota, Daihatsu and Ford has been suspended or disrupted in plants across Thailand, Malaysia and Indonesia in recent weeks because of the spread of covid, while freight costs continue to rise. The WDI Composite Container Freight Index – measuring the cost of a 40 foot container shipped from Shanghai to Rotterdam, hit a new high of $9,489 yesterday.  At the end of April it was barely half this at $4,984, and before the pandemic, just $1,238. On Wednesday, markets drew some comfort from the slightly softer than expected US CPI data, but whether or not the recent inflation spike is indeed mostly transitory, as per the 'official' Fed line, is a question that is unlikely to be answered until well into next year.
In other overnight US economic news, US initial jobless claims fell slightly, to near their post-Covid lows at 375k from 387k, in line with expectations. UK GDP in Q2 was a ripper at 4.8% (quarter, not annualised) albeit exactly in line with expectations, marking its rebound as the strongest anywhere in the developed world (Austria at 4.3% is the next closest I can find, at least at this hour of the morning).
Despite the UK GDP number, GBP is one of the weakest G10 currencies overnight, down 0.5%, along with a similar falls for the AUD (also -0.5%) and NZD (-0.6%). Only the NOK (0.1%) is firmer against the USD in the last 24 hours, even though oil is off 0.5%, while the DXY USD index is coming into the New York close about 0.1% stronger.
Given that GBP has been a currency outperformer in recent weeks, generally seem linked to a largely successful re-opening of the economy in the context of very high levels of community immunization – vaccinations plus antibodies from high rates of past infections, the latter unlike Australia and New Zealand – the post-GDP reaction looks like a classic case of markets 'buying the rumour and selling the fact'. If so, one wonders if we might get the same reaction on the USD if the Fed gives the green light to QE tapering next month? (In which respect, much will depend on what they then indicate in terms of the initial pace of the taper).
US bond markets are ending in New York with 10s up just 1bp, 2s +0.4bps and the 30-year barely changed, the latter after a 30-year bond auction was deemed to have gone okay, largely in line with recent averages, unlike what was considered a very good 10-year auction earlier in the week. Earlier, European bond markets finished mixed, with the German 10 year benchmark up 0.5% bur Euro-periphery yields down 1.5-2.0 bps.
Finally within the 0.3% rise in the S&P 500 to another new record high, a mixed sector performance saw the Health Care sector fare best (-0.8%) and Energy the worse (-0.5%).
Coming Up
NZ has the BNZ-Business NZ Performance of Manufacturing Index at 8:30 AEST (last at 60.7)
RBA's Head of Economic Analysis Bradley Jones, and Head of Financial Stability, Jonathan Kearns, appear (virtually presumably) before the Joint  Standing Committee on Trade and Investment Growth in Canberra (from 11:20 AEST)
The PBoC is due to announce its latest monthly liquidity operation sometimes between today and Monday (though more likely Monday). A cut to the one year Medium Term Lending facility (MLF) rate, stuck at 2.95% since April 2020, is generally not expected, but there is mounting speculation it will be before long, just not as soon as this month.
On the US calendar, we have the UoM Preliminary Consumer Sentiment Index, with as much interest in the inflation expectations reading as sentiment itself.  The latter is expected at an unchanged 81.2, and 1-year inflation expectations at 4.6% down from 4.7% in July. 5-10yr expectations were last at 2.8%.
Market Prices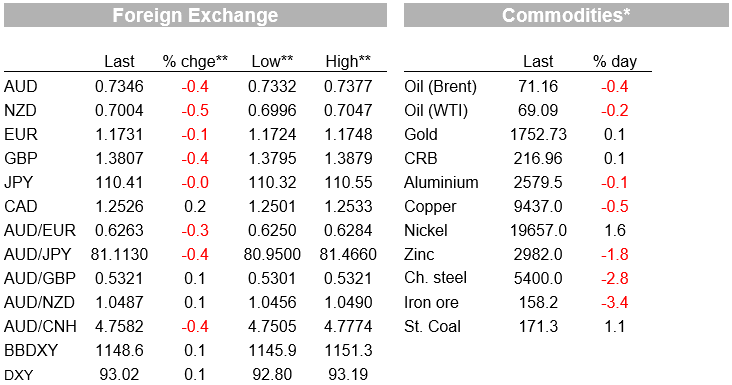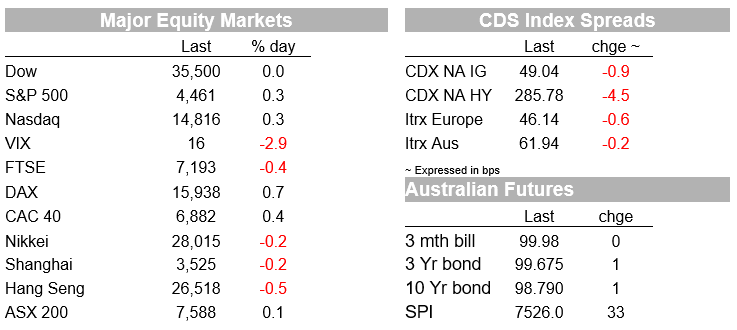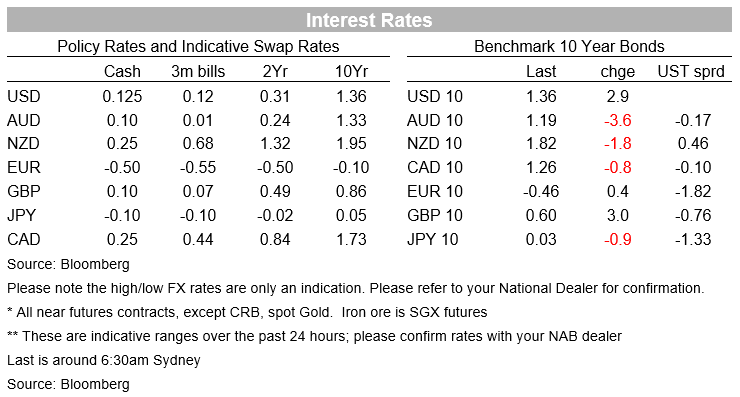 For further FX, Interest rate and Commodities information visit nab.com.au/nabfinancialmarkets